50 Shades of Silence
is creating A Documentary
Select a membership level
50 Shades of Silence Patron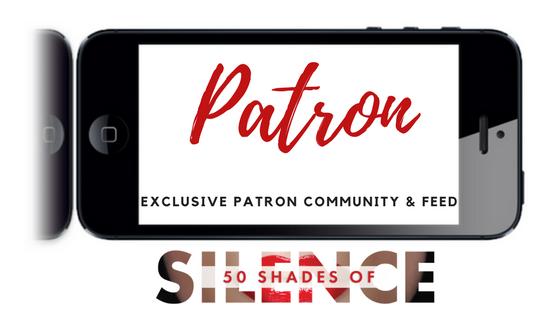 Access to the PATRON ONLY FEED where I'll be posting about upcoming interviews and collaboration and the team and I want your feedback! Want us to explore a specific topic or place? Just say so!
Join the conversation with other 50 Shades of Silence supporters and comment in the Patreon Exclusive feed. 
50 Shades of Silence Crew Member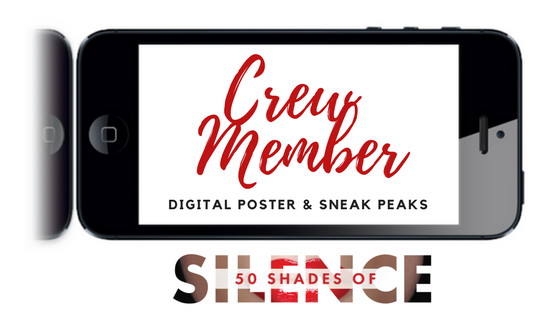 Commemorative 50 Shades of Silence DIGITAL POSTER
Go behind the scenes and be the first to get "SNEAK PEAK" and insider information direct from me and the 50 Shades production team. See "EXTRA MATERIAL" not included in the documentary or book.
Plus all previous rewards
50 Shades of Silence Production Assistant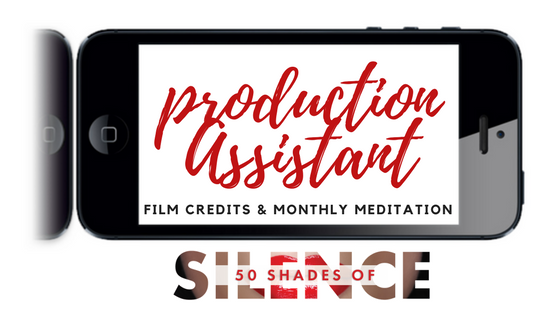 You are so incredibly generous, and we want to say THANK YOU! You'll get all the previous rewards, plus YOUR NAME will be included in the SCROLLING CREDITS at the end of the documentary.
Special Monthly Guided Meditation
Plus all previous rewards
About
THERE IS NO BETTER WAY TO END THE SILENCE AND SHAME OF ASSAULT AND ABUSE THAN TO SPEAK OUT ABOUT IT. THAT'S WHY I'VE MADE A COMMITMENT TO FILM A DOCUMENTARY.
In my early research about cyber stalking and harassment, cyber bullying, and revenge porn I have discovered some startling facts. Nearly 50% of online users say they have faced some sort of harassment online. The number of cases of victims rises daily, suicide and self-destructive behaviors are happening more often and more content is created and shared by the nano second.
What's worse is the lack of tough penalities for predators, slow responses and no responses from Internet companies to remove such content and a huge lack of international involvement with the overall safety for our online identities.
I know this all too well. My name is Darieth Chisolm and I was cyber-stalked and cyber-raped by an ex boyfriend in Jamaica, who also threatened to kill me. When his terrifying and real threats of killing me for not returning to this controlling relationship was not working for him, he used a different weapon - a cellphone- and he loaded it with my naked body and fired into cyber space. He created a website with harassing memes and naked photos and videos of me, that he took without my knowledge or permission while I was sleeping. The website has since been shutdown but the emotional scars remain.
As a professional woman, with a 30 year career as a television news anchor, entrepreneur, author and life and business coach, I was devastated. I was ashamed, humiliated and embarrassed by the actions of a jealous, controlling and obsessive ex-boyfriend. I crumbled for months in silence, with so much disbelief and anger. I was paralyzed by what these public impressions might do to my celebrity and credibility.
I went to court, seeking both civil and criminal charges, with little to no remedy or satisfaction, and I quickly realized that there are feeble laws to protect cyber-crime victims, particularly in international cases like mine.
ENOUGH IS ENOUGH, IT'S TIME TO TAKE ACTION
I've spent over 3 decades in television and media, in front of the camera, and now I will take you behind the scenes, into in the law offices of attorneys, into the court rooms of judges, into the board rooms of online companies and into the living rooms of victims and survivors.
I will ask lawmakers, why can't you protect us and toughen penalties for perpetrators?
I'll encourage the accountability and responsiveness among online companies. We will explore how to promote social responsibility for texting, posting, and sharing online, and work to restore dignity and respect to victims and survivors.
It's no doubt, this is a huge undertaking and it will take countless hours of pre and post-production to bring this documentary to life. We are committed. Our projected budget for the 50 Shades of Silence documentary is $500,000.00 it's a bare minimum that it will cost for us to make this film.
THAT'S WHY WE NEED YOUR HELP TO RAISE FUNDS 
Every single dollar that we receive from you will increase the value and the quality of this documentary and help us tell our story with more clarity, find solutions and provide support and direction. We need your help to make this possible.
I have assembled a team and a production crew, from literally all over the world, and we are mapping out a plan for production, travel, research, equipment, etc, not to mention post production and the final product – the chance for you to host 50 Shades of Silence film screenings in your community, school, churches and organizations.
This will give you the chance to invite in representatives in your community and open this topic up for true discussions. You will also be able to download the documentary on your computer and watch it from home.
HOW THIS WILL WORK FOR YOU 
Here on Patreon you choose the monthly subscription amount of your choice in exchange for exclusive experiences & behind-the-scenes content, plus special goodies, swag and bundles.
Let's talk about how this works. As a donor, your patronage in our exclusive community will give you:
Behind the scene footage of the documentary
Early Bird viewing specials
Tickets to events and fundraisers
Exclusive promotion and collaboration
Extra material not included in the book or documentary
Acknowledgement in the finished product
Story collaboration
Swag: T-shirts, mouse pads, computer paraphernalia, etc.
Leather bound exclusive commemorative journal
Monthly guided meditation
and so much more.
It's that simple, you get to allocate from $5 to $500 monthly.  You decide and we deliver. Together we create, not only a documentary, but a movement.  
Please choose your monthly subscription commitment, come along for the journey and help us end the silence. Anything can help, and we also ask that you share on social media and with your friends and family.
WHERE WILL YOUR MONEY GO 
I work with an amazing team that is helping me make this great quality documentary for you. Your support makes it possible for me to work with these talented people, and allows me to focus on making a great film for YOU!
COMMONLY ASKED QUESTIONS   
Do I have to pay in US Dollars? NO - Pay in any currency! As this is US based website, everything is written in Dollars, but you can use any currency and it will be automatically converted.
How much content will we release a month? Some months we will be rocking and rolling, traveling, shooting, interviewing, taking you inside and up close and personal. Some months, may be a bit slow, depending on production and quite frankly money raised. That's why we need you to commit monthly to keep this project moving smoothly.
I don't have much money, can I still become a Patron? Yes, please only sign up to donate what you can easily afford. Every dollar counts. Thank you.
Can I stop donating in the future if I can't afford it? Yes of course! You can log in to change or cancel your pledge whenever you want.
I'm still confused. Can you help me? Absolutely! If you have questions about using Patreon, or encounter any problems with the signup process, the Patreon support team is really friendly and helpful! You can send them a message by
clicking here
. If you have questions specifically about my page or rewards, my music, or just want to say hi, you can send me a message at
[email protected]
REVIEW REWARDS AND PLEASE MAKE YOUR PLEDGE
Wow! This means we are officially off and running. Thank you for your early support! We won't disappoint!
1 of 4