Adopt a Pig CA
is creating Animal Rescue
Select a membership level
Odd's and End's
All donors are extremely important to us and every single dollar helps us get one step closer to another life saved. ❤️🐽❤️
Each donor in this tier will receive a personalized welcome email with photographs of the pigs you've helped to rescue, upcoming events, pigs still needing rescue, and ways our donors and volunteers can participate in Adopt a Pig's community awareness.
Chip in for gas!
The expense of transporting pigs to safety is critical and every penny we collect to cover transport costs is vital in making our mission successful.  
Every donor in this tier will receive exclusive rescue photos of each pig during the rescue ride, their freedom walks and being introduced to their new foster or adoptive families, along with details of each story and the plan for their futures. These will be sent out monthly and consist of each pig from that month.
Feed a Pig!
Limited (50 of 50 remaining)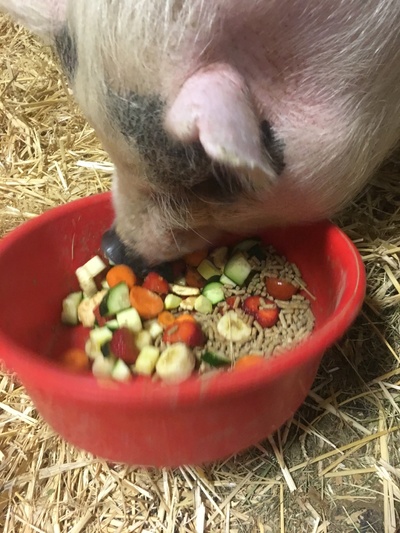 Sponsoring a pigs monthly feed bill is 1 - 1 1/2 bag(s) of pig pellets and hay with occasional snacks and treats to makesure every pig has a full belly and well rounded nutrition. 
Every donor in this tier will receive a personalized welcome email introducing you to 'Adopt a Pig',an 'Adopt a Pig' key FOB, pictures and videos of the specific pig you're sponsoring, along with his/her story, the goals we have for your pig and wonderful changes you see as each pig becomes healthy and lives a safe and happy life. 
About
We are a group of animal advocates trying to make a difference in this ever growing population of neglected, abandoned, abused, unwanted and forgotten Potbelly pigs. We work tirelessly every single day to find safe and loving homes, transportation to get them there, partnerships to free them from shelters, and the resources to get them spayed and neutered. Educating people has become key when we feel our entire battle is being fought uphill. Our rescues, shelters and sanctuaries are busting at the seams and we're quickly running out of private homes to give safety to these amazing animals. The laws need to be changed to slow down the breeding, spaying/neutering needs to be a requirement, adoption and educational events need to happen to increase community awareness and the beauty, intelligence and human/animal bond need to be showcased so people that aren't aware of this escalating problem can become part of the resolution. Without the support and donations from the wonderful people who chose to stand in our corner and help pick away at this epidemic, we would have to close up and go home! There is nothing more true then 'it takes a town...' when it comes to making moves and making differences! Thank you, Thank you, Thank you!! You're quite literally helping us save lives!