Amanda R. Jants
is creating mixed media doodles!
Select a membership level
Savvy Sketchbooks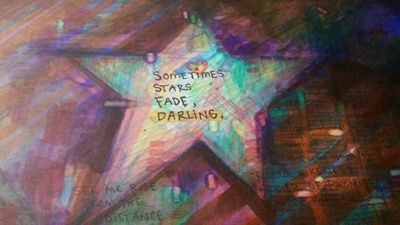 Pledge a sustaining $2 per month... 
ONE-TIME:  Recieve one (1) inked coloring page in my distinctive style via email!
RECURRING: Access to patron-only process sketches uploaded at least once per month!
Cosmic Copics
Pledge a sustaining $5 per month and receive...
ONE-TIME: personally-illustrated thank you card! <3
RECURRING: access to patron-only polls! Here's where you get to influence my art-making: vote on content, concepts, and future projects!
Partners in Crime
Pledge a sustaining $10 per month... 
ONE-TIME: Receive one (1) freebie of your choice + occasional extra updates/posts :)
FREEBIE OPTIONS:
> coloring page, laminated scripture card, laminated bookmark, magnet, sticker... (still adding options; open to suggestions!)
RECURRING: 
> Access to patron-only polls = you get to influence my art! 
>Weekly W.I.P (Work In Progress)
> Sneak-peaks into future projects, commissions, characters, etc.
> OPEN FOR COMMISSIONS! (Subject to change based upon demand, schedule, etc., so that I don't hit burnout <3)
About
(above is my new intro video for 2019 - enjoy!)



WELCOME!


I illustrate brightly-colored images with a range of visual-art mediums; mostly cute little creatures and other OC's ("original characters"), 'cause they make me and others smile. :)
SUBJECTS = I love sketchnotes, adorable creatures, pop-surrealism, color+composition studies, woodland animals, OC's (original characters), and more :)
MEDIUMS = acrylic, watercolor, markers, colored pencil, and collage -- I am constantly experimenting with new mediums and techniques! 
STYLES = creative journaling, abstract, mark-making, etc. Playing around obsessively with abstract... 'cuz good composition is hard. <<.



Thank you for visiting (those who are new), and THANK YOU to my dear friends who support my creations!!





ABOUT PATREON:




Patreon is a membership platform for creators. You get to support the creators you like; they get to make more cool stuff. That simple. Depending on your monthly pledge amount, you receive different "rewards": access t

o patron-only polls, process sketches, personally illustrated thank you notes, commission privileges, free sketch requests, etc.
Unlike other "crowd-funding" sites, Patreon aims to support the creator for the LONG TERM. Patrons get rewarded for pledging, and the creator gets to continue creating!

This Patreon page is my chance to share everything I can with you AND for you to communicate with me!

MY SHORT-TERM GOALS:
> make a shiz-ton of art as a therapeutic outlet :) a.k.a: FILL AS MANY SKETCHBOOKS AS POSSIBLE (XD)
> Increase my personal vulnerability regarding chronic illness and mental health.
> gather a community of patrons and creators as a support system! <3
MY LONG-TERM GOALS:
>continued education - I would LOVE more professional coaching in the arts!! (BFA, MFA, individual classes...)
>  full-time artistry - as a sustainable means to support myself
> personal medical research for self-validation into chronic illness, brain injury, and mental health.
To my HEROES who already invest in my art -- THANK YOU!!<3 The dream of a future in the visual arts is starting to feel very "real". Having patrons is an honor and privilege that I don't take lightly. You're amazing! :)
Happy Creating!
-Amanda Jants
Every patron gets one (1) extra freebie mailed to you! + longer sketchbook videos, because 45 seconds is wimpy, I know... XD

1 of 5
By becoming a patron, you'll instantly unlock access to 51 exclusive posts
By becoming a patron, you'll instantly unlock access to 51 exclusive posts
Recent posts by Amanda R. Jants