Amber Button Artist
is creating whimsical mixed media art!
Select a membership level
Turquoise Button
Turquoise Buttons are the first level of support. To thank you for supporting me each month, Turquoise Buttons will have access to product reviews, random art ponderings, quotes, lyrics, periodic exclusive sped up art videos and photos of pages in my journal that I won't share anywhere else. 
Jade Button
In addition to getting the same access as the turquoise buttons, Jade buttons are thanked for their support with a look into every project I am creating, additional product reviews, and occasional time-lapse videos. I will also share exclusive looks into digital products for Crafty Button Design and original art for my Etsy shop before they go on sale.
This tier includes the 4-month video series collaboration with artist Danielle Mack! Each video posts on the first Friday of the month August-November 2018!
Violet Button
In addition to receiving the same rewards as all previous subscription levels, Violet buttons get exclusive printable collage sheets monthly. These are digital collage sheets that will not be sold in any of my shops and can easily be used in your art journals, junk, journals, planners etc. Violet buttons will also get periodic digital kits or elements that can be used for digital art journaling.
About
Art keeps me sane. It grounds me and gives me something that is just mine, something to share with others. Art gives me purpose and creativity, self worth and love. yes, that all sounds super cheesy which it very well may be, but it's also true.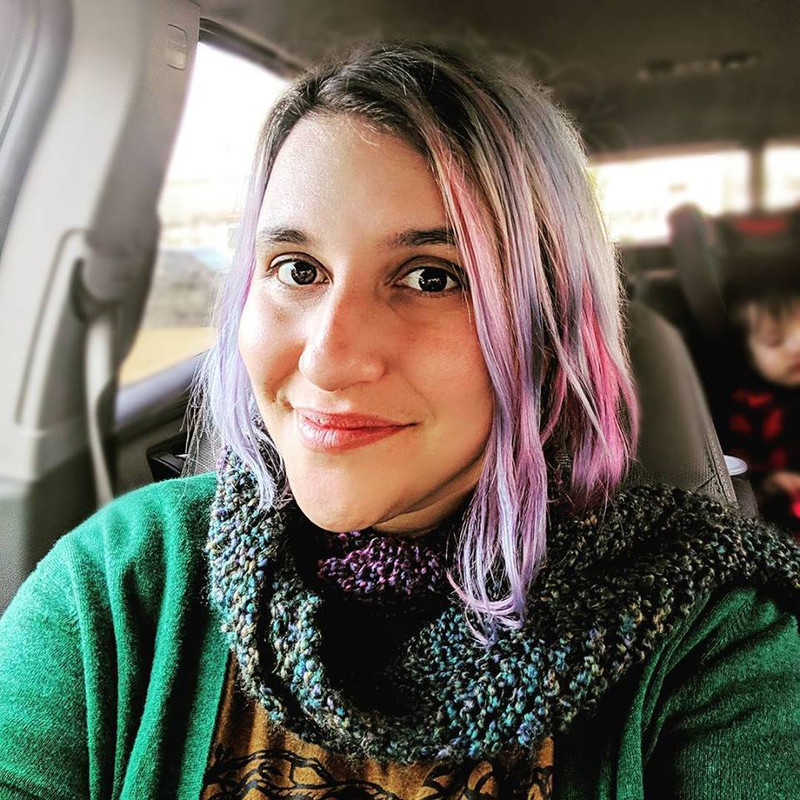 As a mother of four, it's hard to carve out anything that is mine, especially with a toddler around! I found art as a child in a family full of eccentric artists and spent many weekends helping out as art shows where it was amazing if any of the artists made enough money to cover their booth. So I love that I get to be an artist in a time when I can share my art online with the world. 
I was diagnosed with Ankylosing Spondylitis in 2011 which left me in a lot of pain and un-able to work again. So I chose to get my degree in graphic design from my hospital bed. As I learned more about art and treatments helped me to become myself again, I started to sell my art digitally as Crafty Button Design and then started to paint and create again as I did as a child. I create every day and now record my process and journals several times a week. It's part of me. Come hell or high water, I create. The laundry will fold itself right? 
I am so lucky to have an amazing hubby who works long hours and comes home to help with the kids and the cleaning so that I can rest and create. I truly would not be the artist that I am without him.
As for what I create, I consider myself an art journaler or mixed media artist but I also create solely with ink and watercolor these days. I just love the watery goodness and unpredictability!
I love to share my art, the process and what I learn along my journey with the world. You can find me on instagram @amber_button_artist but here on Patreon I will be sharing exclusive process videos, extensive journal flip throughs, printable collage sheets and coloring pages, art supply reviews and more! 
In addition, I have come together with the super talented Danielle Mack to create a series of watercolor mixed media faces through time-lapse instructed videos which are now included in the $5 tier. These videos will post on the first Friday of each month August through November!
I can't wait to share my artsy little world with you!
Amber Button
My current computer is a 6-year-old Macbook that is literally held together with duct tape under my desk hooked to a monitor and so it's not the best for video editing.
I would love to purchase a new desktop computer that is optimized for handling video editing and will run Photoshop and other large programs flawlessly. This way I can create as many videos and collage sheets for my patrons as possible.
I have also worked into my goal some money to purchase new art supplies for creating supply review and art process videos.
1 of 1
Become a patron to
Unlock 32 exclusive posts
Connect via private message
Recent posts by Amber Button Artist