Amy J Smith
is creating Conscious Content for Communitty
Select a membership level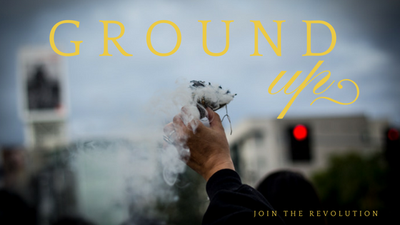 Ground Up
Social Media Blast

Recognizing a Patron or a cause of their choice (with a link). Like a small tip, this is the foundation. Small figure donations we can grow from.
Foot Soldiers on the Ground
Social Blast
Early Access to Content
Behind the Scenes
       
Early Access to articles with access to unreleased images from actions, events and interviews.
Igniting the Shift
Social Blast
Exclusive Content
2 - 5x7s Prints
        Choice from 50 recent Action Images
About Amy J Smith
Through establishing a strong,
self-sustaining
creative community, we can begin paving a path for new solutions, not tied to the corporate ladder of the current media main streams. Creating media that breathes life back into the Rights of Freedom of Speech and Freedom of Press should be our priority as artists and activists. Our community of revolutionaries, activists and thinkers can build an energy together, one piece at a time, mobilizing more than retweets and hashtags, but mobilizing the paradigms which have long need a shifting.
The intentions with this page, continue to expand community and provide the resources we need to work towards a work owned media company. While, building community ... linking with like minds that see the potential of worker owned companies in the media world. Ultimately, building a system that allows for our team to continue expanding not only the future of the company, but expanding our passions and skill sets individually in order to continue creating work owned companies within the industry inter-departmentally.
#DivestLA | Los Angeles (2016)
Who?
In me, you will discover an organized creative with a self-propelled diligence that manifests itself in notebooks with words and in frames of captured light.  I've always gone against the grain of the mainstream and through my art I have stuck to my values and ignored work from the studios. I see a bigger future for all of our art--an art expression outside of the exclusive academia markets.

I have been politically influenced my entire life, coming from a home where stocks were discussed frequently and riding the tractor was a daily, I was taught to take my voice to my politicians at a very early age. Currently, I volunteer my photography and writing to various grassroots organizations and candidates in and around Los Angeles, while organizing with frontline community organizations.

For 10 years, I sought out photographers as mentors and learned the fundamentals of retouching, lighting and editorial structures. Infront of the camera and behind the camera, I found my passion for creating imagery that speaks more than to sex appeal. Using creative arts as an outlet for political messaging has a big influence on national dialogue as our communities continue to see beauty as something to seek after. I look forward to creating more conceptual editorials based around our social issue messages with editorials that pair investigative stories about our communities. 

Building sustainable economic artist communities will make the shift towards creating in depth content a lot easier than if we keep taking on mainstream media individually or continue selling our ideas to their studios.

Take a look at the Rewards to the right for details on how you can join the community and be a part of the planning of our worker owned media company. The goals provide for building a team, establishing a registered company and opening up for feedback from the community. I look forward to hearing from individuals, organizations, and local businesses in regards to the issues facing our neighborhoods.


Hollywood, CA - 2017
What?
Social Justice, Climate Justice, Economic Justice...The echo chamber is already limiting our thoughts in real life and then factor in the social media algorithms, and then the monopolized media narratives, and it is no wonder that a majority of the world is following the same pop culture news and the same militarized propaganda war themes. We shift that paradigm, we the content creators and activists.

James Baldwin didn't argue and fight with those who saw the world differently than he--he engaged in dialogue and shut down those filled with ignorance, he spoke wth consciousness, not argumentative hatred. Facilitating conversation of opposing views and investigating issues from both sides of the fence, is how we can establish dialogue with respect and attempt to come to some sorts of solution for the future of our communities.

All of the media created from here, will be submitted for editorials to print publications, all proceeds received from any publication will be given to the community organization covered.

To build these content streams, we must build community. Join the team today, your rewards are on the right and the goals on the left. We can't compete with CNN one on one, but together we can dilute out the washed up narrative of mainstream media. Beyond fellow content creators, we will be seeking organizations who are in need of creative content for their causes or events.

portraits : Lasting memories of communities, generations, activists, and lifestyles.  With portraits we can recognize a lot about a neighborhood and the activist that speak up for their justice.

reporting : Covering local events, producing digital content for local organizations and activists that list the demands and historical context of the issue being covered. Bring to light the voices that speak for the many.

writing : Feature length articles of real life characters facing the harsh realities of dealing with social injustice. These feature length pieces will be submitted as op-eds for publication in print and digital means.

exhibitions : Initiating discourse through debates, art shows and film screenings. Bringing together activists and entrepreneurs for a night of community building and fun.

Content I would like to create:
Photo Book - 2016 to Now (Poetry, Photography and Design)
Based on Reality Drama - Obligations (120 pages, based on reality drama, 3rd draft)
Documentaries on Social Issues - The Human Pursuit of Happiness, Alert: Save Public Schools, Factory Fall, Corn in America, Protect and Serve.
Why?
A majority of the population is bombarded by media every single moment of every single day. Billboards, advertising, commercials, pop ups...yet a majority of it is mindless (distracting) entertainment. Our every day lives are reflected back to us through daily digital streams, yet too often, these streams of thought distract us from engaging with one another and distract us form pursuing our own thoughts...disguising our impressions as connections. Give life to your impressions by joining the community...let's build to be a part of something bigger than ourselves, a part of the shift that moves the World forward. The Goals to the left outline exactly how together we can build a new paradigm in media. The business plan is drafted with market research complete.

Through main stream media, we continuously see rapidly spewed headlines, with super quick set ups, little to no investigating, and all about gore. When overwhelmed with headlines, our short attention span sweeps the past headlines under the rug and on to the next brutal headline. Again quickly brushing that one off as the next headline is under the screen already scrolling. Let's put an end to the bogus content creators in mainstream media "journalism".
We have the ability to direct a new narrative...we are the ones we've been waiting for.
Previous Work:
When it comes to bootstrapping a start up, I understand the battles that we're up against, I also recognize the competition we're up against in the content development industry.  We're not seeking to compete, we're seeking to build coalitions and content. We seeking to shift the paradigm and give a voice to those who have been left without a megaphone for their voice. We the content creators in Hollywood have that megaphone and we're ready to use it.

In the past, I have created videos to help friends' companies, non-profit organizations and stories that I felt passionately about. I have always had in mind a non-profit media company, and now with the introduction to Richard Wolff and Gar Alperovitz, I have mapped out a business plan and market research for exactly how we can build a new studio, one owned by the workers and developed by the workers.

These projects below, had zero budget, all of these are fellow creatives getting together and creating. Passion projects spawned new creativity throughout the years, while I ran around working for others' projects and businesses. Now with the research, the plan, the equipment. . . we can build beyond passion projects and studio funded projects. Let's be the studio that ultimately funds others' projects and works daily on our passion projects while changing the World at the same time.

Camera/Post:
March for Our Lives Los Angeles
from
Amy J Smith
on
Vimeo
.
Camera/Post:
DP/Camera/Post/Sound
Justice
from
Amy Smith
on
Vimeo
.
Camera Operator:
Post Production:
(Photo by AirButchie)
[email protected]
| 
www.AmyJSmith.com
|
www.Facebook.com/AmyJSmithPhotography
@AmyJSmithLA (Twitter, Facebook, & IG)
Rewards and Goals may adjust based on supply chains and community suggestions. The list of events will grow and shrink based on suggestions from the community.
Notebooks: 

(

additional graphics/images will be available)

Daily I write, filling up notebooks, after long days of working.  Each $500 will allocate time to research and publish a new article or a series continuation. 

After 12 hours on set, there is nothing more draining than researching banking industry annual reports, finding out the juicy details on the newest reportings, and then compiling those stats into feature length stories. With small figure donations from our community of activists, we can fund better content and develop content which speaks for our communities. Allocating time for investigating and interviewing industry minds.

Seeking to replace one of those long production days, creating for someone else, with investigating and writing my own story. These articles will then be submitted as op-eds and/or feature length stories into online/print publications. Distributing stories of value into the mainstream media.



1 of 4
Recent posts by Amy J Smith
By becoming a patron, you'll instantly unlock access to 1 exclusive post
By becoming a patron, you'll instantly unlock access to 1 exclusive post