Arcanum Order
is creating vlogs, cosplay, convention coverage, digital art, and tutorials!
Select a membership level
A single chicken nugget
Trust me when I say a little goes a long way! It's like you're giving me chicken nuggets, and all these chicken nuggets add up and make me smile and have a fulfilling day! If you pledge $1 or more you will receive:
Patreon exclusive WIP photos of cosplay, drawings, animations, and videos.
Early announcements before I post them publicly (conventions, events, updates, etc.).
My eternal gratitude!
Quite a few chicken nuggets
$10 is a lot of chicken nuggets! $10 or more will gain you access to:
Occasional JoinMe, Skype, and Google Hangout sessions!
Exclusive helpful tips, tricks, and tutorials that I normally can't be assed to post elsewhere. You'll be helping me get out of bed to do things!
Access to full res. photos of my cosplays because we all know Facebook kills the quality of literally everything. Now you can have a fancy wallpaper with my ugly mug on it. That's pretty neat! You must be a patron for around a month.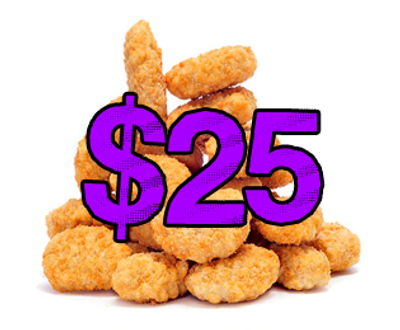 Lots of chicken nuggets
You will get everything else above but this also grants you access to:
A personalized thank you letter hand-written by me, telling you that I appreciate you!
Access to sessy (NSFW) photos.
About Arcanum Order
Hello! I'm Arin. I am currently based in the L.A. area. I'm a self taught artist and animator, vlogger, and cosplayer. I've been "cosplaying" since I was 11 years old where my first costumes were made from cardboard and bed sheets. I didn't start "officially cosplaying" until my first convention in 2011. 
I've been drawing for as far as I can remember. I started "animating" traditionally when I was a young child. It began with storyboards made from printer paper that would stack up like text books in my bedroom. I didn't transition to digital animation until around the time I began cosplaying, where I self-taught myself with just MS Paint and Windows Movie maker. I began filming videos when I was eight on my parents' VHS tape recorder, which is a massive and weighty device to those who are unfamiliar. My brother and I would make videos about Pokemon in our basement in the home I grew up in a suburb of Cincinnati. In high school I began a web series on YouTube with one of my best friends known as
Happy Critical Day!
, which is now continued as
Happy Critical Day! Reconstruction
. My first vlog was at my very first convention, and I've been hooked ever since.



I've always been artsy, and for a long time I knew my long term career was going to be somewhere in the film, animation, and entertainment industry. I aspire to pursue a career in film, which is one of the main reasons why I continued to run my YouTube channel. However, with YouTube constantly changing their policies with the newest "demonetization", I am at risk for losing revenue for vulgar language that has inexplicably become a staple of my content. While Adsense does give out some revenue, I wish to expand more independently by using Patreon for not only more stability, but to also give back to the community. One of my goals was to be able to do what I love, while also ultimately making people happy.





Coming out with regular content, especially with the costs of travel, conventions, and cosplay really adds up and isn't a stranger to being defined as expensive. The support I get on here will aid me in producing more regular content by attending more conventions to see you guys, affording better equipment, cosplays, photos, and more, while also still giving back and being true to my supporters. It's a win-win, right? I am hoping someday that this Patreon will help me reach my final goal in my career, and I can't do it without you.



Thank you so much!


If I were to hit $1K per month, it'd help me give you better rewards such as cosplay prints!
1 of 2
Recent posts by Arcanum Order
By becoming a patron, you'll instantly unlock access to 11 exclusive posts
By becoming a patron, you'll instantly unlock access to 11 exclusive posts