Art by Seere Belith
is creating Digital Illustration and Character Design
I've had this page up and running for some time now so its time for a few updates! I, owner and operator of Art By Seere Belith, am a stuck at home mom! I have been recently diagnosed with epilepsy and as such I am not legally allowed to drive a car until I can prove I have been seizure free for a year (yay me!). So in the mean time I will be focusing on my art work! I have big things planned, from a serious web comic series to some fun goofy comics for WebToons. I am working on perfecting my 3D modeling and printing skills, as well as improving my painting skills as much as possible. I knit, crochet, sew, and do macrame on the side. Soon I will be investing in a resin casting kit for some jewelry projects I have planned (and a possible Etsy store). I am also learning how to animate!
I have a small following that is building steadily, so I made this Patreon in an effort to reward the people that support myself, my family, and my craft. I am not always able to take on so many commissions so I think this will be a wonderful way to send big thank-you's to my wonderful community.
Keep your eyes peeled! A lot happens in my life so my work flow is slightly less than steady, but the art I produce (as I am told) is totally worth the wait.
(Do to occasional gore and nudity, this page will be marked as "mature". I apologize for any inconvienience.)
Babiest of Patrons
Access to lineworks, including coloring sheets, templates, and free to use bases
Access to works in progress, sneak peaks, and previews
My VIPeeps!
Access to tutorials
VIP status- grants access to my Discord Server and commissions during closed commission periods
First dibs on raffles, trades, adopts, etc.
Plus all previous rewards
Patrons of the medium size
1 Monthly mail gift (macrame keychains, small jewelry items, crochet pouches)
Access to Pay to Use bases created by me (without extra charge)
Plus all previous rewards
My truly generous patrons tier 1
Cameos in upcoming web comic strips (1 per person)
1 Monthly illustration of your original character (limited to bust, badge, or headshot, digital only)
Plus all previous rewards
Truly generous patrons tier 2
Prints of your monthly character art, laminated (limited to 8.5x11 inches at the moment due to equipment limitations, limited to US)
Flat body full color illustrations of your characters (please message me your reference sheets for this either here or on Discord)
Plus all previous rewards
Truly generous patrons tier 3
Full body shaded character pieces with a simple background (digital only)
Plus all previous rewards
Truly generous partrons tier 4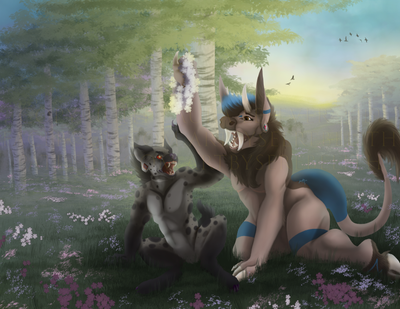 Full body shaded character piece with complex background and option of +1 character
Plus all previous rewards
Those who throw all their money at me
$100 or more per month

∙ only 2 left
Full body shaded multiple character piece, printed and signed
One RedBubble item of $50 or less on me
Plus all previous rewards
This would be enough to pay for our Internet bill, so I can keep bringing art to all my wonderful followers!
1 of 4
I've had this page up and running for some time now so its time for a few updates! I, owner and operator of Art By Seere Belith, am a stuck at home mom! I have been recently diagnosed with epilepsy and as such I am not legally allowed to drive a car until I can prove I have been seizure free for a year (yay me!). So in the mean time I will be focusing on my art work! I have big things planned, from a serious web comic series to some fun goofy comics for WebToons. I am working on perfecting my 3D modeling and printing skills, as well as improving my painting skills as much as possible. I knit, crochet, sew, and do macrame on the side. Soon I will be investing in a resin casting kit for some jewelry projects I have planned (and a possible Etsy store). I am also learning how to animate!
I have a small following that is building steadily, so I made this Patreon in an effort to reward the people that support myself, my family, and my craft. I am not always able to take on so many commissions so I think this will be a wonderful way to send big thank-you's to my wonderful community.
Keep your eyes peeled! A lot happens in my life so my work flow is slightly less than steady, but the art I produce (as I am told) is totally worth the wait.
(Do to occasional gore and nudity, this page will be marked as "mature". I apologize for any inconvienience.)
Recent posts by Art by Seere Belith
Babiest of Patrons
Access to lineworks, including coloring sheets, templates, and free to use bases
Access to works in progress, sneak peaks, and previews
My VIPeeps!
Access to tutorials
VIP status- grants access to my Discord Server and commissions during closed commission periods
First dibs on raffles, trades, adopts, etc.
Plus all previous rewards
Patrons of the medium size
1 Monthly mail gift (macrame keychains, small jewelry items, crochet pouches)
Access to Pay to Use bases created by me (without extra charge)
Plus all previous rewards
My truly generous patrons tier 1
Cameos in upcoming web comic strips (1 per person)
1 Monthly illustration of your original character (limited to bust, badge, or headshot, digital only)
Plus all previous rewards
Truly generous patrons tier 2
Prints of your monthly character art, laminated (limited to 8.5x11 inches at the moment due to equipment limitations, limited to US)
Flat body full color illustrations of your characters (please message me your reference sheets for this either here or on Discord)
Plus all previous rewards
Truly generous patrons tier 3
Full body shaded character pieces with a simple background (digital only)
Plus all previous rewards
Truly generous partrons tier 4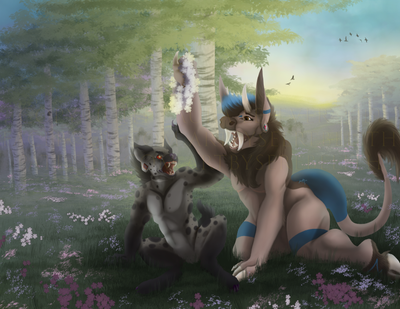 Full body shaded character piece with complex background and option of +1 character
Plus all previous rewards
Those who throw all their money at me
$100 or more per month

∙ only 2 left
Full body shaded multiple character piece, printed and signed
One RedBubble item of $50 or less on me
Plus all previous rewards