ArwenStarsong
is creating Music, Youtube Videos, and Art.
Select a membership level
Generous Tip
Generous offers dont always have to be big. Even the smallest amount of pocket change goes a long way. And for that, I thank you. The fact you care enough to spare a dollar is great and I appreciate it a lot!
JOINING THE COVEN...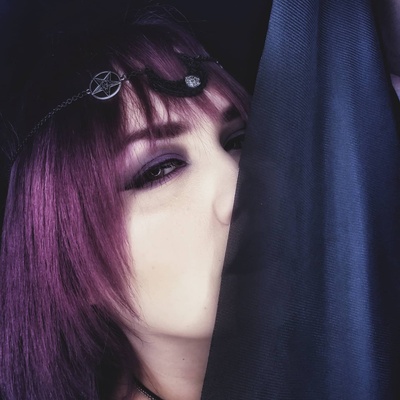 BTS content & patron-only polls
Private Community where you can chat all you want with me and others who like the music.
Early access to updates, tickets, releases
OFFERING.
Limited (20 of 20 remaining)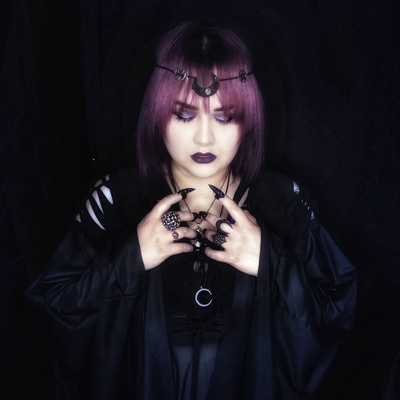 Exclusive access to unreleased content from the archive
EXCLUSIVE Livestream Hangouts
Personal Handwritten letter of gratitude with a printed and signed photo.
And everything in the previous tier
About
🤘🏻HELLO and Welcome to my Patreon Page! 🤘🏻
I'm ArwenStarsong and I create
Original Metal Music, Metal and Rock Covers, and Original Soundtrack/ Instrumental Music
. I also paint from time to time and create jewelry✍ (Upon Request). I am the
vocalist and founder of Sun Lay Silent, multi- instrumentalist 🎹🎻🎤, lyricist
, and
classically trained soprano with a demonic growl to match
. ;). I have self- produced 2 Original full- length metal albums and one instrumental album and I use Youtube as my main creative outlet to exhibit my creations and cover music. I also have very active social media accounts where I exhibit my stupidity, including a
Gaming YouTube
channel where I host hangouts and play games, an
ASMR Channel
where I post tingly stuff, and a
Makeup Channel
where I post Makeup stuff. :P. This past year, I (along with Markuss Carcass and my boyfriend, Vincent (Crixsis) Gutierrez) founded Symphonic Power metal band, Sun Lay Silent and we are working to get our debut EP in order. <3 below are my pages. (Sun Lay Silent has yet to have a Spotify, but that's in the works).
🕯Why Support Me?🕯
Supporting me means
you are helping me continue
to do the songs and videos I create
1-3
times a month (depending on my health and schedule)
.
I also make commissions for musical projects and composition and voice act for original projects as well
.
Each cover, original, and composition takes a TON of passion🥺, sweat😰, tears😭, TONS of coffee☕, and LOVE❤.
Pledging to this channel in the amount of your choice means that you are supporting the work I do, paying for the production of the videos and music,
AND
you are also helping me support my band, Sun Lay Silent, which has a lot happening very soon! 💥
I have spent 10 years chasing this dream of becoming a rock star, and with your help, it is becoming a reality!💥And for that, I am grateful and eternally indebted to you. <3. ❤My band and my dream cannot be without you! ❤
🕯How Can You Help?🕯
Patreon is a
GREAT
way for you to support the music and get access to exclusive content, livestreams, artwork/ concept art, and rewards! By becoming my Patron, you are a HUGE part of my journey (and my band's) and will have a ton more involvement in the processes of the making of my music, getting a say/ giving feedback before releases (pre- release access), any traveling I do for videos and photo sets, behind the scenes/ sets for videos, and a chance to make new friends and share content! I am grateful for the community that is starting to come on my social media and having one here to interact with would be very fulfilling and refreshing. This is the place where those who are REALLY into the music can hang out, discuss it, and also talk about random stuff with me. (I need friends guize. I'm a lonely potato. 🥔)
As a Patron,
you choose your price per creation
and you get to choose a mini reward package (bigger and better rewards to come). You
can choose to pause or cancel your subscription at any time
and also
set limits
as to how much you want to donate so you
don't overload your bank
! With all that in mind, this means 💰
I fit PERFECTLY with your budget💰
! If you cannot support me in the financial aspect of my journey,
there are ALWAYS my social media pages AND MY BAND'S
where you can send love my way, listen to the music, and see what's coming up! But being a patron means you get
MORE ACCESS
to what's to come. :P And trust me when I say that you're gonna wanna have access. You're gonna get to see a brand new band grow from the ground up, and not many get to Chronicle the journey from the very beginning!
THIS PAGE WILL HAVE A LOT OF SUN LAY SILENT BEHIND THE SCENES AND TEASERS BEFORE THEY'RE AVAILABLE ANYWHERE ELSE.
💸Where does your money go?💸
I know people do not appreciate when people ask for money. To be honest, the pure thought of doing so makes me grossed out🤢. It is your hard earned money, so you'd want whatever you purchase or donate to be worth your while, right? Bear with me, though🙌🏻. I think you're gonna like what I have to offer. And every bit goes toward the following:
🎵THE STUDIO I AM BUILDING.🎵 To make it better, I would like to purchase some professional level VST plugins for the program. I am trying to achieve the best quality recordings I can get. I am talking EPIC cinematic soundtracks AND EPIC POWER METAL. My band needs these plugins to achieve the sound we are looking for! Doing so will make EVERYTHING I have done thus far look like child's play and it will TRULY bring my visions (and my band's) to life!
🕯A possible rehearsal space🕯 so we can store our equipment and also have a place to live stream and film more stuff for you guys. This will take A LOT. as we may need to either rent a space or build it from the ground up.
Creating the covers can take a LOOOOONG time and I think it is about time I start to find other musicians to collaborate with🤝🏻. I want to be able to pay them for their services and to appear with me in videos as well! I have lots of talented friends that I would love to show you! But before that can happen, I have to give them the payment for their talents! This includes hiring photographers📸, film makers📹, and paying for production 💽(Studio Sessions and Mixing/ Mastering) as well! This will also give way to higher quality content.
I want to purchase a new keyboard🎹... as my current Clavinova one is broken and I would like to get something portable for travel. I want a Yamaha Mod X 80 or a Nord Stage Piano or Stage Keyboard/Synth. It will not only be used for making music, but also possibly be in shows for Sun Lay Silent and live streams with me! Having the new keys would be a huge help and make the music making a lot easier!
I also want to get back to attending vocal lessons🎼🎤. And to also take mixing and mastering classes and other seminars to get my stuff in order. Having the funds to pay for coaching in all these fields will help me IMMENSELY. I have a few talented friends I would like to hire to help me refine my voice further and also teach me new things about producing music. I know that I still have a ton to learn and with the help of the right teachers, I will be closer to achieving my full potential! It would also be awesome to take some violin lessons... 🎻lol!
The money would also go toward helping both myself and Sun Lay Silent produve more music, higher quality video content including MUSIC VIDEOS and traveling for touring once Covid 19 lockdown restrictions are lifted. We want to show you more but do not have the right tools at the moment! We have exciting things in mind such as a drone, a 4k camera, and more. We also have merch in mind already and would like to have physical distribution for our upcoming EP📀 and shirts👕.
ANYTHING YOU GIVE HELPS. NO MATTER HOW LITTLE. <3

- I also paint from time to time. :) And I also take requests from time to time to do so. If you want a unique painting, you can drop me a DM and we can discuss your idea and figure out a good price. :).
🌋My ultimate goal is to make a living from doing the thing I love most: making music. 🌋Your pledge gets me closer to achieving that goal and also helps my band be able to achieve the same thing!
*** any instrumentals you download from me MUST BE CREDITED if you are going to use them for your own covers or commercial use. Any person who uses my work with no permission will be penalized. I know this is harsh, but I HAVE been cheated before and no one likes to have their hard work go uncredited.

As more of you join my journey, the rewards will get better! stay tuned, you guys!
hello to every person who has donated so far to the music! i am very glad you are here! to show you how excited i am, i am gonna do a live stream to welcome you personally, hold a Q&A, give a small little piano and vocal performance for you guys! hangouts are fun and i promise to make it fun! :

1 of 1
Become a patron to
Connect via private message
Recent posts by ArwenStarsong