Aussie Four Wheelers
is creating 4x4 YouTube videos
Select a membership level
Keep Making Better Videos
We love what you do, this is just to support you
Thank you, you're the best!
Send us your favourite pic and I'll edit it with an AFW logo either somewhere on the pic or on the vehicle as a sticker lookalike.
I'm shouting you a coffee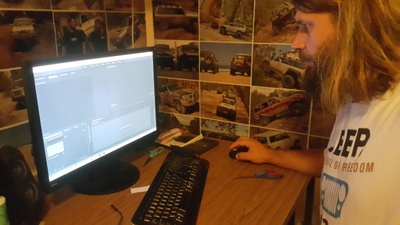 One coffee a month to help you stay up editing during those long nights.
Get a sticker in return posted to your mailbox
Thank you for your support!
I'm a serious supporter
I know it's hard to keep videos regularly published
I'm getting an AFW t-shirt sent to my address
I will get a mention at the end of the 'AFW Show' series
About
G'day guys, it's Musa from Aussie Four Wheelers. I started publishing YouTube videos back in early 2011 and never thought that it would be a permanent thing. It first began as a medium for easy sharing of videos with friends who join us on our trips.
Since then, the channel slowly grew and took off. There was a lot of demand to keep filming these awesome trips. As a result, YouTube has now become my life. It has now reached a point where it is affecting my everyday life and my daily job. The little income I get from YouTube itself cannot sustain me.
Last year, after my leg injury, I have consulted with a professional videographer and took on most of his advice; I have started expanding the channel to produce the content in a variety of areas for you and at the same time I have slowly started upgrading my equipment to give you even better video quality. I have invested too much of my time into this in these past seven years to give it all up just like that.
Since the onset of 2018 I am struggling to publish one video a fortnight, whereas I used publish weekly videos for the past two years before that. My dream is to eventually do top quality video content for you guys full time, at least twice a week. This is why I am here on Patreon. This is an opportunity for you to support me and make these videos happen, and in turn, you can have a private conversation with me and have a chat about anything offroad related.
If you like what I am doing and consider buying me, as a stranger over the internet, the equivalent of a coffee, I would very much appreciate it. We will always keep our videos free. Aussie Four Wheelers have become something that gives me purpose and a mission. In future, I dream of expanding it and welcome new people into their dream job to share some of this load with me (and others). The more you support me, the more I will be able to do for you. All I can promise to you is that I will do the best that I can and invest as much time and love into YouTube as possible, without being irresponsible. Thank you for your ongoing support. It really is a huge deal for me and I very much appreciate it.
What I will do with your money:
- I will invest more time in the making of videos, especially the longer ones, 30 minutes to an hour (I know from your PM's that you hate anything below 20 minutes).
- I will continue upgrading our equipment, i.e. cameras, lenses, computers for editing and storage. Hopefully one day will have it in 4K.
- I will fund events and trips and anything associated with organising.
If you do not have the ability to give me anything, then don't feel obligated to do so at all! You can still keep enjoying watching our videos for free. I want people who want to see this channel grow, to invest in it by selecting suitable rewards tiers.

Thank you so much for all your support! I appreciate it more than you can imagine and it will really help me out!
When I reach $500 per month, I'll feature 1 patron a month in my vlogs.
1 of 1
By becoming a patron, you'll instantly unlock access to 15 exclusive posts
By becoming a patron, you'll instantly unlock access to 15 exclusive posts
Recent posts by Aussie Four Wheelers