Being Tea
is creating tea skills & meditation classes
Select a membership level
FRIEND OF BEING TEA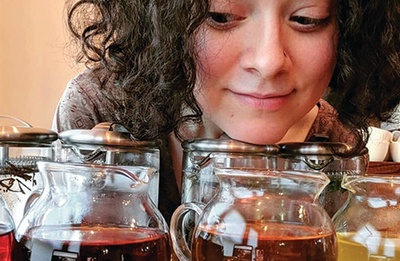 Thank you for being here and supporting independent education! Includes access to Being Tea patron-only feed, guest interviews and occasional special edition/seasonal workshops.
STUDENT OF TEA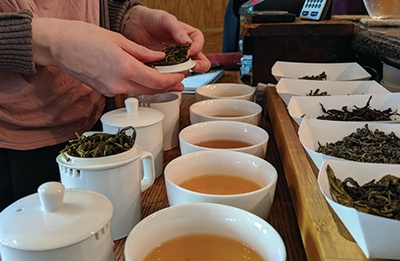 Student of Tea members receive 1 new class each month, and have access to a curated selection of 30+ core classes from my library. Topics include:
Tea Skills: Brewing mechanics, cupping and comparative tasting, category explorations.
Tea Meditation: Mindfulness training and tea education for mental and physical wellbeing.
I produce new classes every month, all year long. They are 45-60 min long and appropriate for all levels. 
Includes access to Being Tea live classes and special events!
PRIVATE TIER for SALESFORCE
Exclusive Being Tea tier for invited Salesforce employees. 

Full access to Being Tea member resources, new classes and library of 50+ tea classes. Topics include:
Tea Skills: Learn how to brew and enjoy tea at home, get to know different categories, and enjoy culture exploration.
Tea Meditation: Keep calm and connected with tea meditation classes for mental and physical wellbeing.
Includes access to Being Tea live classes and special events!
*PROMO CODE REQUIRED TO SIGN UP*
About
Hello there! I'm Suzette Hammond and since 2003, I've been working as a professional tea trainer, educator, and taster. After spending more than a decade developing and managing training programs for leading tea companies, I created my own company - 
Being Tea
- to offer educational opportunities to a wider audience. My work in this area has been recognized with a World Tea Award for Best Tea Educator. 
Being Tea is my endeavor to offer education that's accessible, affordable, and geared toward everyday life and enjoyment. I truly believe that magic happens when we touch tea, rooted in the connection to our sensory self, and that we are better for it.
---
This service (hosted here on Patreon) is a membership program for continuous online tea education. 
I create fresh, new classes every single month for members, plus offer continuing access to class archives. 
  UNIQUE FEATURES OF THIS PROGRAM  
1)
All members receive classes in BOTH tea skills and tea meditation.
Skills classes include topics like comparative tasting and brewing experiments, while meditation classes include exploration of tea for mental well being and mindfulness. Tea is not just a product to consume, it's a millennia-old living culture and health-supporting practice. 
2)
This program is very purposely NOT a certification system.
This is to allow tea explorers to engage with tea as more of a life path, hobby, or supplemental professional education, without the implied goal or financial pressure of testing. 
3) You're learning from a REAL human being!
Members can ask questions anytime and receive real answers. The classes are me just directly teaching, no editing. Classes are developed with a seasonal mentality in mind, to emphasize our very human connection to environment and tea. 
---
Teaching and developing pathways for tea education is what I do for a living.This work takes funding and continuous support: Tea equipment, tea, software, hosting services, marketing, plus research time and testing, etc. 
As the community grows, I'll have runway to develop new membership levels and even offer tea scholarships. I also want to be able to offer students supporting tools and gear for study. Consistent membership support makes it possible to offer affordable, creative educational content for people to enjoy all year-round.
---
  GOT QUESTIONS?  

Reach out to me with questions at
[email protected]
Or, if you'd like to see what this is all about right now, go get yourself some tea, start the water heating, and
take my complementary Welcome to Tea course.
  Thanks for visiting! I hope to see you in class soon!
© 2020 Suzette Hammond ("Being Tea") All rights reserved. All images, copy, and product descriptions are the property of Being Tea.
This milestone is a crucial one, as it means that teaching online is a sustainable operation for me. More consistent stability each month is key to ensuring this can be done for the long haul. I can also invest in better video and archival equipment at this stage of funding.
1 of 3
By becoming a patron, you'll instantly unlock access to 140 exclusive posts
By becoming a patron, you'll instantly unlock access to 140 exclusive posts
Recent posts by Being Tea