Summer & Remy
is creating The Bitcoin Travelers
Select a membership level
Daily video expedition updates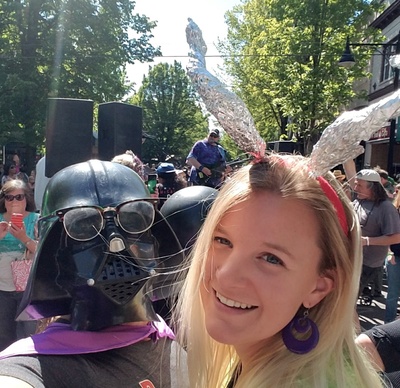 Access to patron-only content
Basic subscription to daily adventures
Postcards from Around the World!
1 Handwritten postcard each month from the country we're in -- with a personal message just for you. From us.
Make a collage. Start a flip book. Plaster your living room walls!
Exotic treasures from around the world
Once a month we'll find a locally made, exotic, unique gift -- and mail it to you. 
Start a collection. Display unique treasures. Inspire conversations with friends. All purchased with Bitcoin -- locally -- from across the globe.
About
Around the world
-- on 1 Bitcoin.
Can it be done?
We're on an expedition to find out.
From hipster-filled Portland, Oregon across the wide ocean to exotic China -> Taiwan -> Thailand -> the Philippians -> Cambodia. Then the Trans-Siberian Railway from one frosty end of Russia to the other. Ending in stout old England. 
This expedition ... it's ambitious. Handfuls of languages. Dozens of cultures. Thousands of people. 1 Bitcoin.
Along the way we'll:
1) Meet people. A great many people. Some will love Bitcoin. Others hate it. The vast majority won't know anything about it. We'll document our conversations with them all.
2) Adventure! Strange foods that might still be alive. Dangerous hikes leading to breath-taking panoramas. Grimy city streets lined with black markets selling exotic treasures. People of every culture with incredible stories waiting to be told.
3) Survive. Tickets for planes, trains, and automobiles, warm food in our bellies, and even roofs over our heads -- will be paid from 1 Bitcoin.
4) As Bitcoin Journalists -- We'll visit and interview representatives of major ICO's and blockchain companies. NEM, Ripple, Neo, Monero and myriad more.
We don't know how this will end. Bitcoin could keep rising and fund our whole trip! Then again ... Bitcoin could absolutely collapse. But we won't give up. We'll be like Bear Grills -- eating spiders on sticks. It's England or Bust! On 1 Bitcoin.
After all, as we always say:  "Start with a mystery -- end with a history"
Join us! Summer and Remy -- The Bitcoin Travelers.
Recent posts by Summer & Remy