Bowler
is creating Youtube Videos
Select a membership level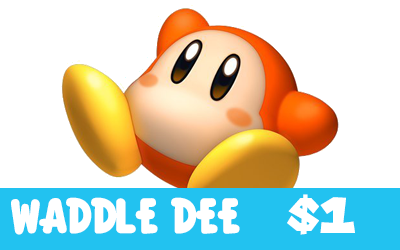 Waddle Dee
THANK YOU!
Even if it's just $1, any amount is a huge help.
 NAME IN ENDCARDS - Even for just $1 for only 1 month, you will have your name in the end card of all my videos.
DISCORD ROLE - You'll receive the Patreon Supporter role on my discord server.
A PERSONAL THANK YOU - Instead of some generic thank you message, i'll personally thank you and talk to you if you'd like on my discord.

Waddle Doo
The Waddle Doo $5 Tier gives you
all of the rewards from $1
plus some bonus
goodies
for your extra support! 
PATREON REQUESTED VIDEOS - Ever want me to make a certain video? Well you can suggest anything from a character guide to a tier list video and i'll take all the patron suggestions and put them in community voted polls for my next video! 
BONUS CONTENT - Unlisted videos of SSF2 Beta testing, Bug Reels, Unfinished Videos, and the highest quality meme videos , will be shown here periodically for Patrons only.
EARLY ACCESS VIDEOS - I'll Share videos on Patreon within 24 hours before they release publicly, so you can be one of the first to see it.
Bandana Dee
Oh baby, $10 is A LOT of money. This rank is for people who are financially able to and want to help support me.  
<3
PERSONAL DISCORD ROLE - I'll let you get your own personal color / role name that will be specific to you! 
 PLAY WITH ME - If you've ever wanted to play some matches with me but haven't got the chance, here is your chance! Weather you want to destroy me or try and get some advice, i'll play some matches! (Even if our connection isn't so good). 
About Bowler
Welcome to my Patreon!
Hey, Bowler here, or Mike if we're going by a first name basis here. Welcome to my Patreon, and thank you for taking the time to check it out! I'm a
Smash Bros Content Creator
on
YouTube
who primarily plays
Super Smash Flash 2 and Super Smash Bros. Ultimate. 
I make all sorts of videos, from informative guides for new players, to fun unusual skits, and somewhat funny videos with my friends, having fun playing a game we love. I try and mix a little bit of comedy in with my informative videos so there's always something for everyone. Some examples of my favorite videos i've made so far are 
If SSF2 Was a Shonen Anime and 
10 Types of SSF2 Players
. So if you're new to the channel, I hope you enjoy my content and if you want you can support me and get some cool bonuses here!
So why Patreon?
I created a Patreon as a ways of supporting myself in my effort to grow as a content creator, or in simpler terms, it's a more reliable way to grow as a content creator than
YouTube
revenue.
YouTube
is very inconsistent and always changing, with new changes to algorithms, demonetization rules, and all sorts of other new
"useful"
changes they like to push out. Supporting me on Patreon helps make content creation much more consistent. It helps give me a back bone and allows me to start taking
YouTube
more seriously as a possible career path. However unlike many other Patreon's, i'm not in a dire situation financially, if you have the funds and want to help me out then I would love it, but if your not able to afford it, it's all good, I've been there and can understand, don't pledge if you don't have a stable financial situation. So to summarize, Patreon will help me grow as a creator more consistently and helps deal with the inconsistency that is
YouTube
Ad revenue.
What if I don't have any money?
That's okay too!
I understand that many SSF2 Players are in pretty shaky financial situations themselves, so don't feel obligated to pledge if you can't feel safe doing so. I'm not doing horribly financially, luckily
YouTube
has been pretty good to me, so only pledge if you have the funds to do so and want to support me. However if you want to support me but can't pledge, that's fine too, there's plenty of other ways to do so! Watching my videos, with or without ad block (although whitelisting my channel from ads would help!) supports me more than I could ever ask for, so even if you just watch my videos,
thank you!
Even if you can't pledge, I'm still very grateful to have people who watch my content, this Patreon is just for the people who want to support me and can afford to do so (and get some pretty rad perks from it).
Consistent Content Creation (CCC for short!). No more messy schedule, for $50 a month I can start taking youtube more serious and start looking at content creation as a profession, which means working more and hopefully unless there are unplanned interruptions, 2 videos a week at least (and maybe even streams!)
1 of 1