Brian A. Bernhard
is creating Weird Art, Bizarre Music, Crazy Comics & Other Curious Things!
Select a membership level
About Brian A. Bernhard
Howdy my lovely weirdos, thanks for making your way to my Patreon page!
I'm a maker of things, delightfully-twisted and sarcastically-strange things. These things come in many different shapes, sizes and formats – from paintings, illustrations & photography to music, writing & video.
I call these things art.
Art is weird, it's subjective, it's lonely, it's powerful, it's a struggle, it's beautiful, it's ugly, it's everything, it's nothing, it's a community and sometimes it changes the world.
I have some amazing things planned for the future of our weird world and I would be thrilled for your to come along for the ride!
By subscribing to me on Patreon, you instantly become a patron of the arts…specifically my arts. Following me down this patron path will lead to many great things for both you and me:
The more support I get, the more time I can afford to provide you with your daily dose of twisted art.
I will send some of you exclusive patron ONLY autographed & personalized post cards featuring one of my original works of art.
For higher level subscribers, I will share my deep-rooted madness…a look into my inner psyche…I will make a somewhat irregular creative process video journal…where I yammer on about creative shit and answer any question you may have about anything I make.
Even higher levels of support will get all the madness in all its raw unedited glory, every hour of every minute I spend making a piece and interacting with you guys will get posted on here for you all to binge watch.
Keep your eyes tuned into the rewards section; I will be adding new rewards at various levels from time to time, as inspirations for new ideas strike.
If you haven't figured it out yet, Patreon is an artist subscription platform, a micro-crowdfunding site…where you (the patron) can support people (hopefully me) creating things & stuff you find add value to your life. You do this by pledging any amount of loot you see fit, on a monthly basis, to help me purchase art supplies, buy food and pay bills, in exchange for exclusive Patreon ONLY subscriber rewards. In addition to all the weird shit you will get from the rewards section, each time you folks help me reach a milestone goal, I will make a special limited edition gift just for my patrons, celebrating you all helping me reach an awesome milestone.
Lets embrace all this weird shit together, I want this community to be a celebration of all the eccentric weirdos, strange oddballs and creative wackjobs who have influenced and inspired me through out my life. Let's not hide in the shadows or suppress our eccentricities in order to fit expectations, let this community be an explosion of colorful curiosities. Join me in my journey to #EmbraceTheWeird, #QuestionEverything & #CreateTheUnexpected!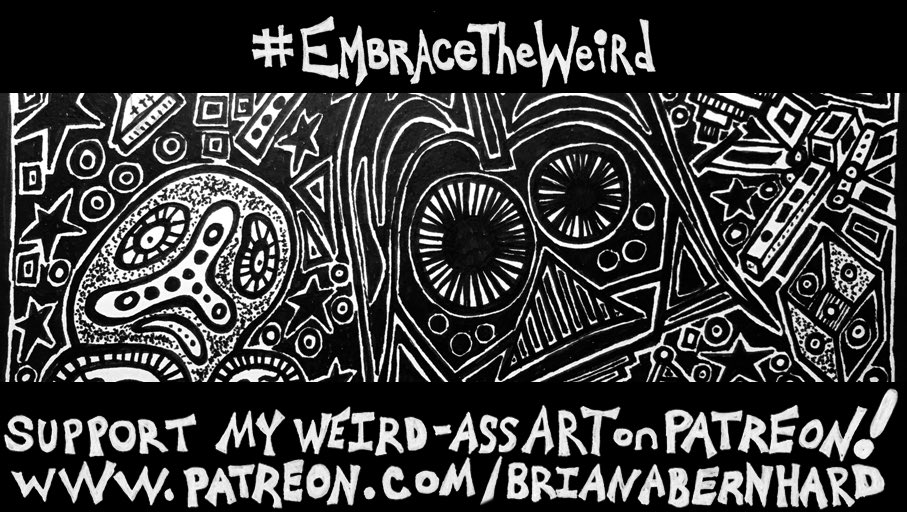 I will do quick sketch portraits of all my $5 patrons who want them! 
1 of 4
Recent posts by Brian A. Bernhard
By becoming a patron, you'll instantly unlock access to 25 exclusive posts
By becoming a patron, you'll instantly unlock access to 25 exclusive posts