CinemaSins
is creating sins videos & podcasts
Select a membership level
Original Sinner
The early sinner gets the worm! Which is to say… you get everything early!!
Every CinemaSins video early!
Every Music Video Sins video early!
Every TVSins video early!
Every SinCast episode early!
Occasional Bonus episodes in your own podcast feed!
Bonus Member only Sins Videos during SinWeek!
Live stream of 1 SinWeek Panel or SinCast recording!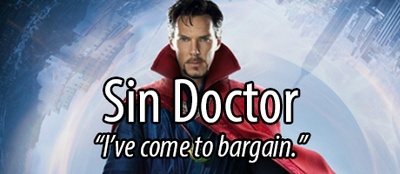 Sin Doctor
Your vote is our command! You are in control!
All previous perks!
Vote on SinCast Minipod films!
Vote on TVSins Sweeps Month themes!
Vote on which movies to sin!
Live stream of 2 SinWeek Panels or SinCast recordings!
Hows the Peeping?
Seeing is believing!
All previous perks!
Monthly video hangout with Chris, Jeremy, and Barrett!
Be the first to hear about news!
Chat about recent movies!
Get your questions answered!
Live stream of ALL SinWeek Panels and SinCast recordings!
About CinemaSins
Reading. (ding)

Welcome! We at CinemaSins are fortunate to be able to make silly sins videos for you every week. We do not take it for granted.

But so many of you have asked for TVSins, we've made that a reality.

And in order to help us pay for the production of TVSins videos, as well as help keep our podcast ad-resistant*, we are launching membership opportunities for our hardcore fans. And we're keeping it simple. Four levels, four types of rewards.

As with everything else we have done over the last six years, we will be willing to learn and evolve with this. We may add stretch goals. We may add another tier or two, or tinker a bit with rewards. 

The point is that… we aim to continue offering our fans free sins videos and free podcasts for years to come. And for those that have a few dollars lying around and that see some value in the rewards we are presenting… we want to give another layer of awesome to the Sin Fan experience. This includes early access to sins videos and podcasts, live video chats, picking what we sin, an invitation to annual SinWeek festivities, and more!

If you don't have much extra scratch lying around, no sweat. Or if you want to donate for a few months and then stop so you can spend that money elsewhere… no hard feelings.

*"ad resistant" is a phrase coined by Jeremy, the narrator of CinemaSIns, during the writing of this text. It speaks to the relative rarity for the SinCast to have advertisements AND to the true fandom the guys have about a product or service when it DOES crack through and get mentioned. We only do podcast ads for companies with products or services we have used and loved, and that's a promise, and it's one we intend to keep.

New Mash-Up Video!

Ever since we did our White Olympus House Has Fallen Down Mash-Up fans have been asking for more. Well, if 2000 people jump on board we're on it. Will it be volcano movies? Asteroid movies? Animated CG ant movies? Only one way to find out!
1 of 1
Recent posts by CinemaSins
By becoming a patron, you'll instantly unlock access to 467 exclusive posts
By becoming a patron, you'll instantly unlock access to 467 exclusive posts