Searnold
is creating Completely Different Comics
Select a membership level
$1 is a great way to support a month of comics!
I will love you forever.  Even after I die, and the entire universe has returned to nothingness, my love for you will live on.
As a bonus, I'll send everyone who signs up a pdf of my thesis comic, Lately Something's Changed.
Everything listed above, PLUS:
BEHIND-THE-SCENES 'STUFF'

Access to behind-the-scenes stuff.  You'll get to see full-resolution, unlettered artwork.  Each month, you'll get to vote on which idea I should turn into my next "Completely Different Comic."
Everything listed above, PLUS:
"BEHIND THE HERO" BONUS LINE

Come up with any line of dialogue, and I will find a way to work it into my ongoing webcomic, "Behind the Hero."  Have an inside joke that you want to see featured?  Want to give a shout-out to a friend or family member?  Do you have an idea for a line that you think there's absolutely no way I can make work?  Bring it on!  This is one of my favorite creative challenges.
About Searnold
Hullo hullo.  My name is Searnold.  I've been writing indie comics since 2008, and am now working on transitioning this from a hobby into a career.  I highly recommend watching the video above, as I feel like I did a great job of expressing everything I wanted to about my Patreon.  But I know some people aren't into that, so here's a quick breakdown.
WHO?
Searnold.  (That's me.)
WHAT?
I'm creating comic books, and I'm asking for your support.
WHEN?
I post a new story on the first of every month.
WHERE?
At
www.CompletelyDifferentComics.com
WHY?
 (Should you care?) Donating on Patreon supports the creation of free content that then gets distributed online. Instead of buying a comic book, reading that comic book, and then putting it on the shelf to rot for all eternity, if you donate that money to a comic project on Patreon, long after you finish reading the comic, hundreds and maybe even thousands of others will have the opportunity to read it, too.
HOW?
(Can you help?)  By supporting me here on Patreon!
There's a lot more information below about the work I do, the work I've done, why I'm on Patreon, what my goals are, and what I'm doing with the money, so keep reading!
What is "Completely Different Comics"?
On the first of every month, I post a brand-new, self-contained, comic-book, short-story.  You can see from the thumbnails below that this allows for a wide variety of stories in a multitude of styles, genres, and settings.  And I really enjoy this project because it gives me the opportunity to explore whatever themes, characters, or emotions I may be in the mood for from month-to-month.
This video will tell you a little more about some of the stories I've been able to tell thus far.  You can scroll down to the bottom of this page to read a complete sample story, "Vices", or you can head over to
www.CompletelyDifferentComics.com
to read them all.
What is "Behind the Hero"?
I could talk about "Behind the Hero" for years.  Because, well, I've been creating it for years - it was the first 24-page full-color comic book that I ever self published, way back in 2009 
[which you can read by clicking here!]
 Nowadays, it lives on as a webcomic (updated every Saturday) at
www.BehindTheHero.com.


I grew up on shows like "The Tick", "Freakazoid", "Earthworm Jim", "Darkwing Duck", and "Powerpuff Girls" - which have all heavily influenced "Behind the Hero."  It's silly.  It's tongue-in-cheek.  It's got a little meta-commentary, and the characters are well aware of their own tropes because they read the same superhero comics we do.
I have an unending pool of stories I can tell about Speedee and his friends, and part of the money from this Patreon will go towards making sure the comic continues to come out on a regular basis.  If you're the type of fan who wants to know more, check out the video and I'll yammer at you about the history of the comic and its characters and the "plot" (such as it is).
What are Bonus Lines?
My friends and I make an annual crusade to Emerald City Comic Con and share a booth together under the name "Imaginary People."  Year-after-year, it's consistently the highlight of my comic career.  Conventions, in general, are always a rewarding experience, but getting to share that experience with some of your best friends makes it that much greater.
One year, inspired by my artist friends (who were making bank drawing custom-ordered commissions), I spent some time thinking, "Is there anything I, as a writer, can create on-the-spot the way artists draw commissions?"  The answer was "yes" and the solution was "bonus lines": for a $10 donation towards the making of "Behind the Hero", fans could come up with any line of dialogue, and I would find some way of working that line into a future strip.  This was a far more successful promotion than I ever hoped, and over the years has turned into one of the most enjoyable creative challenges I've ever experienced.  Anyone who donates $10 or more to my Patreon gets to come up with a "bonus line" of their own, and to fuel your creativity, here are a couple examples.     

What Other Rewards Are You Offering?
There's a lot of different "stuff" available depending on how much you donate each month.  All of the rewards are listed along the right edge of the page, but here's a video where I talk about them so you don't have to read.  (Ewww, reading.)

Tell Me More About Your Goals:
I'm very excited about the potential projects that your support will allow me to create.  You can see a list of my goals over to the right, but I'm also happy to tell you all about them in this video.

Tell Me More About Searnold:
This here is my "official" bio.  But if you watch the video below, I'll give you the "unofficial" version.
Searnold has wanted to be a writer since he was in elementary school, where he would spend his recesses coming up with stories instead of playing with other children. He studied philosophy at UC Davis and then got a Master's in Writing from CSULA. His first professional break came in 2010 when he sold a short prose story called "Tabula Rasa" to Fox's Neopulp website (which, sadly, no longer exists.)
Since then, Searnold has written for a wide variety of mediums, including theatre ("A Fairly Obvious Parallel"), webseries ("Teacher's Lounge"), movies ("Don't Fall Asleep"), and his most favoritest: comic books ("Behind the Hero", "Lately Something's Changed").  Currently, Searnold resides in a cabin in the mountains outside of Los Angeles, serves as personal assistant to comics legend Scott Lobdell, and writes comics for CompletelyDifferentComics.com.
... Those were originally placeholder videos, but I decided to keep them because... well, because bears.  Here's me talking about me.

Other Upcoming Projects:
The real purpose of this Patreon is about more than just supporting my current projects.  I want to use this money as a foundation to continue to build my creative career.  I have so many projects that I would love to bring to life, and I hope that as this Patreon continues to grow, I can begin to save up some funding for them.  If you're interested in listening to me talk about what some of those future projects could be, then you'll definitely enjoy this video.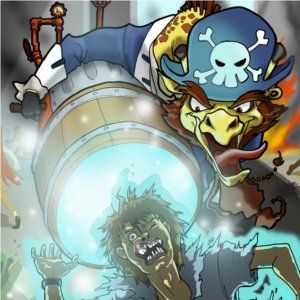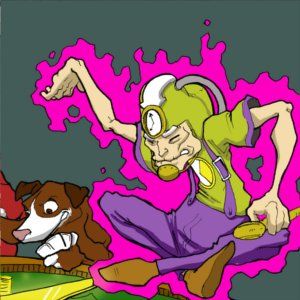 Completely Different Comics Presents: "Vices"
One last thanks for taking the time to check out my Patreon!  Feel free to tell your friends about it.
Hire a Letterer:
My first goal is $75 a month.  For this amount, I could afford to hire a professional letterer for all my comics.  Not only will this increase the quality of the comics, but it will also open up about 20 hours of my time (per month) to do more writing.
1 of 7
Recent posts by Searnold
By becoming a patron, you'll instantly unlock access to 10 exclusive posts
By becoming a patron, you'll instantly unlock access to 10 exclusive posts