Dave McRae
is creating YouTube commentary videos about movies
Select a membership level
Hey Folks! Level 1
By supporting the Hey Folks level you will have your name added to a Patreon list which will appear at the end of my videos. You will also get access to select Patreon exclusive images, photos, and updates as well as Patreon Only LIVE AMAs which will run for 60 minutes.  
I'm Your Boyfriend Now! Level 2
By supporting the "I'm Your Boyfriend Now" level, you will receive all the perks of the "Hey Folks" level in addition to having access to the Saturday Movie Night LIVE Feed. However, having the opportunity to vote on the movie title to be watched during the LIVE feed is open to level 3 Patrons only.     
Team McRage! Level 3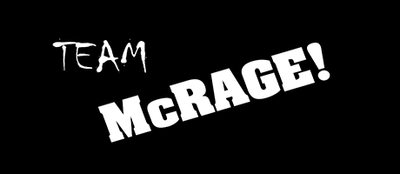 The Team McRage Level is for the hard core supporters of the channel. Team McRage supporters will have access to all the perks of the previous tiers.
PLUS you will also get a 30 second (AUDIO ONLY) Horror Movie Trailer Voice Over with my movie trailer voice announcing you as the star. The trailer will be professionally mixed and mastered in my professional home studio. 
You will also get access to all Patreon exclusive images, photos, and updates.    
You will have access to THORAZINE, the HALLOWEEN MOVIE SERIES ONLY LIVE AMA which I do twice a month. You can ask me anything about each and every one of the Halloween films; the series, the past, present, and future. Let's talk nothing but HALLOWEEN!
THE HORROR HOUR. A twice a week LIVE AMA ( Currently on hiatus ) every second Saturday morning at 11am. 
And finally, a LIVE Movie Commentary called SATURDAY MOVIE NIGHT. In the weeks leading up to the Saturday chosen, I will present to you 5 movie titles to vote on, and the one that receives the most votes will be the winner and the movie I end up watching. 
If you have the title in your collection, feel free to watch along with me. Broadcast is LIVE for Level 2 and 3 Patron members only. Voting is for level 3 Patrons only. However, the video will be made available to everyone else on YouTube after the broadcast. 
It would be best if questions during the LIVE feed were centered around the movie being watched. 
About

WHO AM I?
I am a full time professional voice over artist and independent film-maker based in Toronto Canada. I'm a three-time (2015, 2016, 2018) Voice Arts Award Nominee for Outstanding National TV Promo, Best Voice Over. My voice has been heard on thousands of radio and television commercials, network promos, movie and game trailers, narration, and animation across North America, and around the world. Movie trailers include Disney/Pixar's Inside Out, Warner Brothers' Lego Batman, Sony Pictures' Peter Rabbit, and Disney Studios' Big Hero 6 to name a few. For more information on my work, please visit...
www.thevoicemann.com

I am probably best known to the online community for my Halloween fan films, Halloween movie and classic horror knowledge, my brutal honesty, industry insight, and objective understanding of the film-making process. My Halloween fan film, 
Halloween: The Night HE Came Back
, was the first Halloween fan film to have ever been shot (in part) on location in Pasadena, California. 
"Dave McRae is the John Carpenter of Halloween fan films."
 -
iHorror
WHY PATREON?
"Hey folks! How ya doin'? Dave McRae here!" is probably the first thing you'll hear me say on my YouTube videos. I'm new to Patreon, but decided to take the journey so I can better raise additional resources to help allocate my time for this channel away from my professional life. I want to be able to make this channel apart of my regular schedule. By doing this, I can deliver more entertaining, fun, and informative commentary. As a full time professional voice actor, time is of the essence when wanting to create content for my channel.
THANK YOU
I started my YouTube channel in 2006, but only recently began putting my face out there. The response from all of you has been fantastic! I really appreciate each and every one of you who has subscribed to my YouTube channel, in addition to those who will support it here on Patreon. I am flattered there are so many who are entertained by not only what I have to say, but my silly and crazy theatrics ;)
As a long time fan of all things movies, in addition to a nearly 20 year career working in the entertainment industry, it's so wonderful to be able to have an outlet where I can express my love (and frustration - McRAGE!!) of all things movies to you. You guys rock!
Reaching 100 Patrons would begin to allow for a greater allocation of time towards generating a steady video upload. 2-3 videos a week (sometimes more) and more frequent AMA's.
1 of 1
Recent posts by Dave McRae
By becoming a patron, you'll instantly unlock access to 324 exclusive posts
By becoming a patron, you'll instantly unlock access to 324 exclusive posts