Debbie
is creating Impressionistic Paintings for Veteran and Community Activities
Select a membership level
Your Favorite Image Free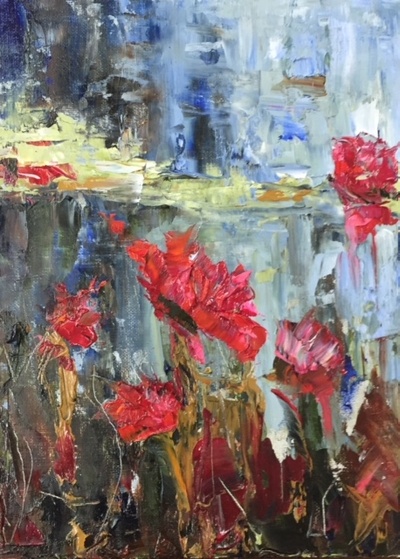 For your $5 pledge, I will email you a .jpg image of your favorite painting to print for personal at-home use. 
Free Image and Donate a Painting
For your $5 pledge, I will email you a .jpg image of your favorite painting to print for personal at-home or notecard use. Additionally, for every 30 -$5 pledges I receive, I will donate a US Flag or appropriate oil painting to a veteran or community group to use in their fund-raising efforts. 
Custom Painting for You
Limited (1 remaining)
I'd love to paint your favorite
still life
or scenic l
andscape
from a
photograph using oil on cotton canvas, any size up to 24"x 24."  And if you'd like, I'll post it free for all to enjoy with your credits.  You will have the opportunity to purchase it for only $250 plus shipping.  If I have more than one new patron during a month, I'll have a drawing to determine the winner.  I'll leave undrawn names in the running for future drawings! I'll also email you a .jpg image of your favorite painting to print for personal at-home use.  
About
    There is much beauty in America and our everyday lives IF we choose to see it -- I do, and am inspired to paint it!  Hello and thank you for taking time to learn about my endeavor to create beautiful impressionistic art to share with military Veteran and community organizations. You can be a part of this venture with a simple monthly gift to create US flag and Americana inspired original paintings to share.  Thru my Art, I hope in a small way to encourage patriotism, community involvement and an appreciation for the beauty and freedoms we enjoy as Americans.  We are exposed to bombardments of negativity daily, so I aim to produce paintings that coax a smile, convey a feeling of happiness, or express a sense of tranquil pleasure. 
    I'm retired, a disabled US military Vet of 27 years, and small business owner since 1992.  I'm married to a retired Army Vet, and have a daughter and grandson.  I began painting about 8 years as therapy to cope with an unexpected musculoskeletal pain disorder and its debilitating effects of my active life.  Painting has given me a joyful outlet despite these challenges.  It's opened a window to see the beauty around me, and most importantly given me the means to express it creatively and colorfully on canvas.  You're invited to be a part of this creative process!
    I give as much as I can, but painting supplies and schools are expensive.  I
 rent studio space in Russellville, Arkansas.  Although I don't have a formal art education, I'm fortunate to paint with Beau Arts Academy inductees and other artists who generously share their talents and knowledge with me. But I"m working on it! I returned to college in January to pursue a Bachelor Degree in Fine Arts at Arkansas Tech University. You can become a true "Patron of the ARTs" in my exclusive community of friends and shelp me hare paintings freely with community and Veteran organizations to aid in their efforts to care and share with others.  Thank you. Deb

p.s.  Here is a list of my giving:  
 --For several years, I've given original oil on canvas paintings to the"
Arkansas Freedom Fund" who helps disabled Vets through rehabilitative sports and outdoor activities, for their fundraising activities.  I'll continue to support this group. 
--I've given to "Homes for our Troops" who build specially adapted custom homes nationwide for severely injured post-9/11 Veterans.  I would like to give more paintings to this group for vet's homes. 
--
I monetarily support Outward Bound, a group that works to re-energize Vets through adventure and outdoor challenge. 
I'll continue to support this organization and others like it.
--I love to support community events such as the Russellville 100th Anniversary Historic Train Depot celebration where I exhibited several of my flag paintings in support of the military troops who live, have lived and have passed thru our community over the years.

--I  support the River Valley Arts Center and have a solo exhibit scheduled with a percentage of sales going back to the center.  
--I've given images of my paintings for publication to support the River Valley Veterans Memorial Park.

My resume:
--My art is on exhibit at "Gallery 307," downtown Russellville, AR. 
--2019 juried into the Heart of America Artists Association's Arkansas Bicentennial Territory Collection and published in the Arkansas Territory Collection Book, a traveling art exhibition that commemorates the 200th year of Arkansas Territory. The eighty paintings and drawings, created by a diverse group of American artists, are a unique look at the people, places, objects, stories and cultures from the region which encompasses Arkansas and Oklahoma. Hardback cover. Interior pages color printed on 70 lb paper. 122 pages. 11 x 8.5 inches.
--Solo Exhibition at the River Valley Arts Center, August 2018. Russellville, AR.
--Oct 2017 and 2018 
River Valley Arts Center "Artist Invitational Showcase"  Exhibitions. (2nd Place and Honorable mention) 
--Jun 2017 Community ArtWalk Special Exhibit
, pictured in About Magazine & the AR Democat-Gazette.

--In 2016, my vintage Americana painting "Party Line III," a 20x16, oil on canvas was selected for inclusion and published in the book "Art of Living" an Arkansas Hospice Silver Anniversary Memorial book.

To attend oil painting workshops, take online/DVD training from Artists Network and other online sources and attend Art events.   These are two of the workshops I'd especially like to attend someday: 
  -Robert Moore workshop at his studio in Delco, Idaho.  It's an intensive 5 day program with a balance of classroom, demos, painting and critique.  
  -Douglas Fryer-Scotsdale Artist School workshop "Suggesting Reality," reinforces an understanding of composition and form, explore methods to break up and strip down the subject, then reconstruct it in new and surprising ways...subtleties, variations, lines, textures and colors that enliven our senses and captivate our interest; the suggestion of the passage of time; the relative states of motion and stillness.
1 of 2
By becoming a patron, you'll instantly unlock access to 1 exclusive post
By becoming a patron, you'll instantly unlock access to 1 exclusive post