Donna Otter
is creating Stories
Select a membership level
Dollar Delights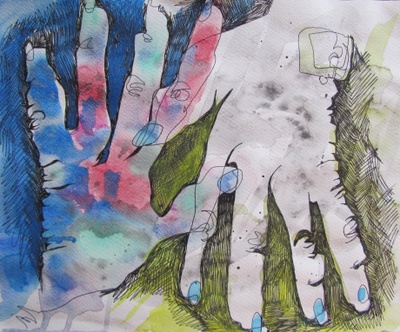 This gets you to the party and in-the-know. Weekly blog post including some combination of: donna's diary, news about story & writing events, and inspirational resources.
Fab Fives
Monthly video (or eventually podcast) designed to inspire your writing or storytelling. 
Tender Tens
Monthly blog and inspiring video PLUS a seasonal piece of magnificent mail art! (In Portland, that means 4 times a year!) Check out www.longlivesnailmail.com to get a taste.
About
Hey there! I'm a diarist and storyteller, who'd love to devote myself even more deeply to this most fascinating and meaningful passion, of crafting stories, from life. I've kept a diary for the last fifty years and been telling stories at The Moth storyslams for the last two years, which has given me even more stories! Keeping track of life's events, experiences, and relationships has been a comforting pasttime, and shaping the multitudinous material has helped me make meaning from the chaos.
After winning a Moth GrandSlam, and being invited to the Moth Main Stage in Santa Monica, it seems that Life is affirming something for me- that this thing I've done all my life, tracking story, has become something of value and interest. At this age, I would very much like to focus my time, energy and resources on that which I love, and which many of you love as well. Can we do this together?
The other day when I was summoning the courage to work on this site, I pulled a tarot card, the 10 of worlds, or coins, and found that Jessa Crispin's book,
The Creative Tarot
gives a great description of what I'm aiming to do:
"THIS CARD ASKS YOU TO FIND YOUR COMMUNITY. NOT ONLY TO HELP YOU IN YOUR WORK, BUT ALSO TO HELP OTHERS IN THEIRS. IT MAKES THE PROCESS OF CREATIVE WORK, OFTEN CARRIED OUT ALONE IN ROOMS WITH SHUT DOORS, MUCH LESS LONELY."
And this: "The Ten of Coins is a community. It's wealth that can be spread around. By wealth, I don't mean money, although it can mean that. It's generosity of spirit, of attention, of assistance. It's a group of people who can come to one another's aid, and offer support and fraternity. They bring one another stability."
My great desire is for this site to become a place where we can find each other, where I can share my resources, and be inspired by yours. 
Also, this page will hold my story videos, which you do not need to be a patron, to view:
See more of my story here: 
STORIES ON VIMEO 
Time to start a diary podcast! Sounds so fun. I'll include a diary-story, and interview some great diarists of our time (Lois Sunrich, Steve Podry, Greer & Wes, Serra Sewitch-Posey)... what about visual journalists? What about memoir comics? So many juicy options here!
1 of 1
By becoming a patron, you'll instantly unlock access to 46 exclusive posts
By becoming a patron, you'll instantly unlock access to 46 exclusive posts
Recent posts by Donna Otter