Dylan Sara
is creating connection, making ink and drawing people
Select a membership level
Thank you!
Thank you! You like what I do and I like you. Follow me on Instagram for my most regular updates. In the Patreon feed you'll have access to high resolution images of my work, and maybe a few ink recipes along the way.
Collector
You'll receive a 14.5x14.5cm mini print. To save shipping costs these will be sent every two months.
Draw together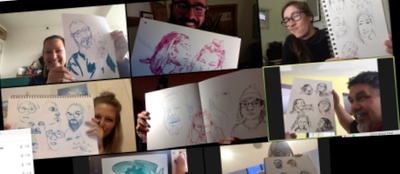 Every Tuesday I host an online portrait sketching sessions, join us and have a great time drawing together. Be part of a lively focused international group practicing and growing together.
You'll also get mini prints every two months.
About
Thank you for visiting my Patreon page and a huge thank you to all of my Patrons for their support. You're helping enable me to do the work that I love!
My name is Dylan. Grown in Australia and ripened in Europe I now reside in Fairytale Germany with my wife and two sons. I was called to Europe by folktales and mythology, by its people and the places they inhabit.
In the act of creation I connect to my subject, I connect to the materials I use, I connect to my intuition. By making my own materials I connect to nature and this also flows into the work. In an ideal situation the viewer of the work has their own experience of connection, with the person portrayed and with a moment of stillness, observation and reflection.
The act of going into nature with my kids and workshop participants or alone and foraging to create my own art supplies has become a central element of my work. Minimizing waste, strengthening that connection to nature and realizing my place within it. This is something i'm honored to share and take great pleasure in seeing others falling in love with this process.
Teaching and organizing a drawing group has opened up the opportunity to accompany others on their own experience of creative intuition and learning. The corona situation has shifted this teaching, sharing and co-creation online and disconnected from geographic limitations. I hope some of you will join me live online, to draw together or watch me paint and converse.
I hope you'll enjoy joining me in this new chapter. Tell your friends and help spread the word, let's create and share together.
With love
Dylan
Patreon is a platform where people can support creators. If you enjoy my work and would like me to continue creating and sharing the process and and artwork with you this is the place to support me. In return for your patronage you get exclusive access to content, to sketches, personal stories, retelling of myth and who knows what else may come! If you are a first time Patron you can find answers to most of your questions here
FAQ
. Becoming a Patron is simple and it's easy to adjust your pledge whenever you want.
A collective thank you to feel the support of many hands. Reaching this goal my monthly material costs, rewards and postage will be covered.
1 of 4
By becoming a patron, you'll instantly unlock access to 25 exclusive posts
By becoming a patron, you'll instantly unlock access to 25 exclusive posts
Recent posts by Dylan Sara