Rina Ward (Eades)
is creating Nerdy Fantasy Items
Select a membership level
Discord
For those that don't have a lot to donate you can still come join me on discord. We will play TTRPGs and video games, I will do occasional workshops and Q&As, and general hanging out and chatting on the discord.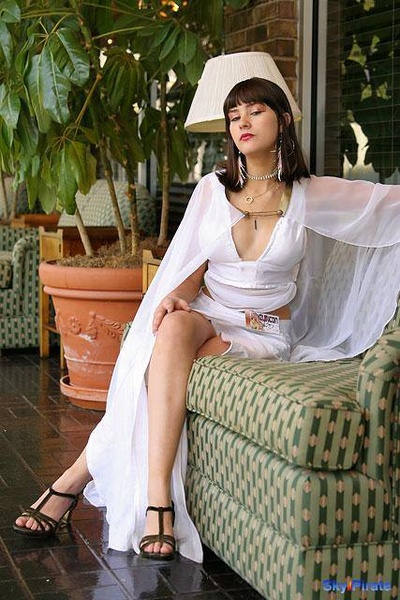 Digital Prints
Each month I will upload photos from a shoot I have done that will be patreon exclusive. This reward will be available to everyone at this tier and up. At no point will these photos contain nudity that shows nipple or pelvic floor.  
Gamer Squad
Support my gaming side. Join me in playing games, just watching me stream on twitch, talk about games with me on discord, workshop some dungeon master ideas with me. I want to get a monthly table top gaming night going on my discord server and you are welcome to join! Or even if you just want to join me in some of my video game streams. Just don't be a dick to me or other players please. Lets have some fun! 
About Rina Ward (Eades)
So who am I? My name is Rina Eades, many also know me by my gamer tag DamaliBanks. Creative soul, lover of animals, and gamer. I love creating things, from jewelry to cosplay and so much more. I am a huge Geek/Nerd and I'm proud of it. I love fantasy! Games, books, movies, it doesn't matter. I also love sci-fi but fantasy is my top genera. My favorite fantasy creature is Dragons! I even have a dragon tattoo on my back that I designed based on the art of an artist I admire. I play both table top games like D&D and video games of a wide variety. I really enjoy painting minis for TTRPGs but I love making things from scratch even more. I love to cosplay and lately have been working on some original designs. I also love making dice and potion jewelry, dragon egg figures, occasional steampunk pieces (when I get my hands on some gears and things), and candles which I make the molds for myself. (you can find videos of me making candle molds and doing test pours on my youtube and twitch channels.)
So why have I made a patreon? Because people love to support artist of all kinds but don't necessarily want to buy the things they make. Also because as a gamer I know I have some twitch followers who would love to show me some support. For those that do love to buy the things I make I also have merch subscription boxes available as patreon rewards. What ever your reason for coming across my patreon I hope that I can can bring some enjoyment to your day with the content I create.
I have a discord server to help make this into more of a community then just yet another patreon where you subscribe and you get rewards. I want to get to know those of you who are into things like dragon eggs, dice keychains, potion necklaces and other things like that. I want to find people like me who want to talk about minis they have painted, cosplays they are working on, get some D&D games going and the like. The discord will be for everyone who subscribes, friends, and my TTRPG group. Let us come together and nerd/geek out. 
So how does each reward tier work? I'll break things down for you here by each tier. 
Discord - everyone gains access and it is available 24/7 tho I will not be on it 24/7, but when I am on feel free to chat with me so we can become friends. I will have some locked channels not available for patrons, don't fret tho. Its because my real life bleeds into discord now and then and if I'm trying to have a private conversation with someone like my dad for example I need a place to do that. Or I might be in the middle of a game session and I can't personally handle a lot of cross talk because of an auditory processing dysfunction I have. Rarely will I be in a locked channel where patrons can't come chat with me. 
Gaming Squad - For those of you who enjoy watching me stream games but don't care much about the other stuff here on my patreon. Do you want to play some table top games with me? maybe play video games with me while I live stream? Dungeon Master workshop discussions more your style? Well then this is for you. I am always looking for more people to play games with, all I ask is that you don't be a dick to me or the other players.   
Digital Prints - Once a month I will upload my top picks of pics done in a photo shoot with a photographer. These will vary greatly over the life of my patreon. My sense of style changes with time, as does the cosplays I am working on. You never know what kinds of photos each month will hold! Never at any time will these photos contain nudity in which you see my nipples or pelvic floor tho. But from my varying cosplays, bondage themed shoots, outfits I have collected over the years, and just fun shoot ideas I have in mind there will be plenty of pictures to come for years! 
Cosplay Support - This is for those of you who are fans of my cosplay. You will be have access to photo shoot pictures just like the digital prints tier, but you will also get to partake in polls now and then when I just don't know what cosplay stuff I should work on next. As this tier grows in support I will also let you guys decide what some of my cosplays should be with those polls. I have been working on some original designs lately but I still have a list of characters I want to do. I also want to try my hand at several techniques for different kinds of cosplay, so over the years I may remake a few cosplay pieces to try and improve them.
Candles - You pay for a bundle every month. Each bundle will contain at least two candles of different scents, but each month the bundles will vary. I have little dice bag sample candles, Small dragon egg candles, a 55mm D20 candle, and a pirate skull currently. I am planing to add many more shapes to this list as I am able to afford more silicon to make molds. Such as a larger dragon egg shape that will have little dragons inside them, a Tiki idle, a ghost, a mushroom, and many more ideas to come. The scents I have available right now are Vanilla, Pumpkin Spice (still not exactly right but working to get the blend just right), Dragon's Blood (the more cinnamon smelling variety), Green Tea, Cucumber Mint, Fresh Rain, Lavender, Coffee Bean, The Void (mystery scent). And I plan to add more scents with time such as Sakura blossom, coconut, egyptan musk, and more.  
Dragon Eggs - With the dragon eggs I will be sending everyone the same design each month, but a new design every month. There are two sizes available small and large, to change which one you will receive each month just change your pledge tier. I love painting my dragon eggs and coming up with new designs and color patterns all the time. I am currently looking into getting an airbrush to do even more amazing things with my dragon eggs, but they are expensive so its one of my patreon goals to be able to afford one.   
Eades Beads Loot Crate - Each crate will be full of all kinds of things I make. Dragon eggs, candles, jewelry, keychains, painted minis, a signed print of me and more. As you give me feedback about the crates you received I will try to customize them a little more to your tastes. example: you tell me you don't like candles, then I would stop putting candles in the crates I send to you. Each month's crate will be different from the last, and each person's crate will vary slightly especially once I can start to tailor them with the feedback you give me. 
If you head over to my facebook or instagram you will be able to see tons photos of the things I have made in the past and am currently working on. If you are interested in buying something you see then just contact me on my facebook page.   
www.facebook.com/eadesbeads

twitter: @EadesBeads
Instagram: Eades_beads
www.twitch.tv/damalibanks 
www.youtube.com/channel/UCp1DE0RHOyg2ALDl5D5Zsrg
Thank you so much for reading about my patreon, I hope you enjoy my content! 
Schedule a monthly game night on discord where we will play games like D&D, Gamma World, Fallout 76, and more.
1 of 5
Recent posts by Rina Ward (Eades)