EL REY AND THE EMPRESS
is creating JAZZ IN THE JUNGLE
Select a membership level
SEEKER
 IN SEARCH OF KNOWLEDGE!

"Wisdom is not a product of schooling but of the lifelong attempt to acquire it." Albert Einstein

This tier is for those who support our quest to share our adventure and help us inspire others to begin and/or continue adventures of their own.

You're never too old (or too young) to learn something new!
Patrons will receive:
Monthly Blog Subscription
Direct contact with us to answer their where, when, why and how questions!
Crusader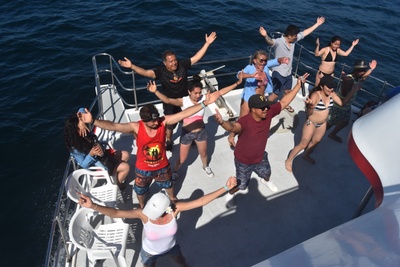 "Opportunities don't happen. You create them."-- Chris Grosser
This tier is for those who believe in sharing and wish to help us inspire others to achieve the success they desire and excel in their life's work.
Crusader's will receive:
Monthly Blog Subscription
Downloadable CD
Video links to live "Jazz In The Jungle" events
VENTURER
"Creativity and artistic endeavors have a mission that goes far beyond just making music for the sake of music".  Herbie Hancock

This tier is for those who are serious enough about living the dream to actually visit us in Mexico and are considering a long term rental or investing. You have to get to Puerto Vallarta by your own devices but we will provide transportation to and from the airport if you book your vacation residence through us.
We will pick you up from your Puerto Vallarta residence and treat you to a day in Mismaloya where we will have lunch in a cafe on our beautiful beach. 
At lunch we will answer any questions you have and spend the afternoon sharing the experience of living in paradise, and/or you can just enjoy the day swimming and enjoying the flora an fauna of our beautiful location.

After lunch we will take you Tequilla tasting. If you're still up to a little more fun you can chose an activity like horseback riding, snorkeling, water boarding, massage... We're locals so we get the best deals.

Venturer benefits include:
Blog Subscription
Downloadable CD
Video links to live "Jazz In The Jungle Events"
A day on Mismaloya Beach including lunch and Tequilla tasting.
 Round trip transportation from your Puerto Vallarta residence to Mismaloya. 
About
"EL REY and the EMPRESS"
SHOUT OUT TO OUR MEMBERS!
As you know, our mission is to entertain, enrich and expand a global community for jazz through performance, education and advocacy.
We are so happy to be able to report our challenges and successes.
With your help we have established ourselves as artists in the Puerto Vallarta community and we have begun several projects focusing on our goal to create "Jazz in the Jungle", our cultural center to help advance the appreciation, understanding, and performance of jazz.
Thanks for making a difference. By giving to "Jazz in the Jungle" you are supporting the development of the next generation of jazz greats and the creation of outstanding concerts and innovative programming, and helping to preserve the rich tradition of America's music.
Your free subscription gives you access to many of our stories. Your paid membership provides you with the full content of our site, gifts, discounts, video streaming and direct contact to us. 
Your support of our creative efforts enables us to continue sharing our stories and our expertise. To those of you who have been consistently supporting us throughout the last six months we say thank you, thank you, thank you!

We look forward to your continued support! 
OUR MEXICO
Mexico is a beautiful magical place where we chose to export our skills and experience. It is a warm and welcoming environment. This is a place where friendship is important and people work to live instead of living to work.
Now our life is like a wonderful movie and we are free. We live in a comfortable little house five minutes walking distance from the beach. We live on the edge of the jungle. 
We have a small garden with banana, sour sop and gondo berry trees. We get the fruit for our margaritas for free. 
The river runs right past our front door and is lined with lush guayaba and mango trees that provide sweet snacks on the way to the beach
. 


The ocean 
is full of fish that we don't need a license or permission to catch.
We learned how to thrive in Mexico for as much as 60% less than it costs to live in the states. Our dollars go much, much farther than they would in the USA or Europe. It's nice to have more money left over at the end of the month. If you're on a fixed income it's like getting a raise.  

We want to show you the Mexico we know. We want you to experience the freedom that we have found. We want you to experience living in abundance.   

ABOUT US
Do not wait; the time will never be 'just right.' Start where you stand, and work with whatever tools you may have at your command, and better tools will be found as you go along. George Herbert

We were heavily invested in the work hard long hours, "put your nose to the grindstone" myth. That's no way to live. Most of what we got in return was a bloody nose.

Between the two of us we have over 50 years of experience promoting and producing music in the U.S. and Europe. In the last several years we've learned how to be successful in the field of vacation rental management.

We have exported all of our knowledge and experience into the development of a unique community in a unique part of the world and we are inviting you to come and reinvent yourself here on the Mexican Riviera. We invite you to be happy. We invite you to be free. We invite you to join us on "the fun side" of the wall.


EMPRESS 
is an accomplished jazz singer, actress, musician and teacher. After performing in Broadway musicals, TV,  soap operas and the New York night club circuit, Empress found success in the U.S. and Europe starring/co-staring in musicals including "The Lion King", "The Buddy Holly Story", "Hair", "Sister Act", "Freedom Train" and many more productions.
Empress was so popular in Europe that she settled in Germany, where she became fluent in the language and started a cultural center featuring a jazz club. 
The concert venue, Wilhelm13
has been running successfully since 2010 and is a cultural hub in the city of Oldenburg where Empress was personally honored by the Mayor for her volunteer work in promoting traditional American music in Germany.
EL REY
As General Manager and Program Director El Rey (aka. Rejj Smooth) was an innovator at XRadio.Biz "...a radio station broadcasting on the internet aimed at creating a network for the mainstream of independent music..." 


He also created and hosted a successful celebrity jazz show spot lighting established and new artists in the genre. His weekly talk show titled the "Sheeples Court" scrutinized religion, politics, culture and the news items of the day from 4 different view points as he interviewed iconoclastic guests including Craig Sotkovsky a.k.a. "The Prophet" - a world renowned financial expert, A.J. Watkins a.k.a. "The Right Rev. Rhino" - an elder in the Church of God In Christ, and Adam Schneider aka. the satanic "Spiritual Hacker".
"We were the innovators of internet streaming and were the first in the Las Vegas market to stream live to cell phones. Being based in "Sin City' and exclusively supporting independent music helped us grow a following of 70 million worldwide listeners over a period of 5 years."



Empress and I met in Las Vegas when I decided to start producing shows on my own. We quickly recognized that we could combine our talents and raise our level of production. 

Producing events in Las Vegas turned out to be a good preparation for our productions in Germany and Mexico!




OUR GOAL


We want to inspire you to think outside the box and find places where your creative talent and desires can be realized to the fullest. We will share with you the why, when, where, what and how of our adventures. Our goal is to address those things keeping you up at night so you can reveal and focus on your mission in this world.



1.  We are establishing a cultural center we call " Jazz in the Jungle". Jazz in the Jungle is unique because we are sharing our legacy in a cultural environment that welcomes diversity. It will be the center of our community building activities. A place for information, resources, building relationships and having a good time dining and listening to live music.



We have selected a location that is spiritual, peaceful, exotic and sitting between the jungle and the ocean. We are sharing our musical traditions with a new audience, in a culturally rich community of musicians and music lovers! 



2.  Community development is our focus. We encourage you to come to Mexico and explore the opportunities. We will guide you and reveal possibilities about revenue, industry and location and we will mentor individuals on how to succeed in this new and exciting environment.



3.  We offer vacation rentals to our members, tours to Mexico's protected wildlife preserves and cherished landmarks, and fun sports activities including horseback riding, snorkeling, zip lining and fishing.  

We have access to the Multiple Listing Service for all of Mexico. There are over 208,000 interesting properties that we can rent, lease, sell or manage. And we have 42 other sources of properties

Another aspect of our project involves purchasing farms with water rights and land that we can develop for homes and to produce food. We believe generational wealth is the ultimate level of freedom and security.




WE HAVE LEARNED THROUGH EXPERIENCE HOW TO EXPORT OUR SKILLS.

We created value in the U.S. and we have created value in Germany. We are creating value in Mexico based on our experience, expertise and past successes in the industry. With your support we will continue to grow our international network creating opportunities in Europe, Mexico and our ultimate market - Africa. 





HOW CAN YOU HELP?


We need more members of Jazz in the Jungle! We are building a community so that all of us to can be happy and free. 

The information we have to share is totally for your empowerment. You can subscribe to our blog for free and read about our adventures, or you can show your support by becoming a patron.
Your membership entitles you to many valuable offerings including CD downloads, discounts and free dining. As a member you get access to unpublished information. We will share our knowledge, encourage and mentor your personal quest. You can also contact us directly if you have questions about moving to, vacationing or purchasing property in Mexico.

Make a single donation or make a monthly contribution. Become one of our pioneer founders. Your donations, large or small will help build the base we need to purchase properties and develop this community. You will be helping to develop a community of expats who will cultivate fundamental and essential tools for facilitating the development of generational wealth for our children, grandchildren, great...
And we will do this in an atmosphere that will help, keep our jazz culture alive and inspire and motivate generations of artists.

Become a member of this community on "the fun side" of the wall or click here to make a one time donation:  https://www.paypal.com



Recent posts by EL REY AND THE EMPRESS
By becoming a patron, you'll instantly unlock access to 9 exclusive posts
By becoming a patron, you'll instantly unlock access to 9 exclusive posts