Fayeren Art
is creating traditional portrait artworks and speed painting videos
Select a membership level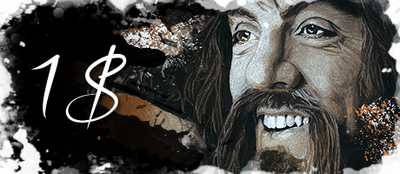 Big thanks! And early access to my work!
• You have my most profound thanks till hell freezes over!
• Also you can view every new artwork at least two days earlier in a bigger size here on Patreon before I'm going to share it on the other social networks.
 - Little by little I'm going to upload the artworks in a bigger size I've made in the past.
Artwork request
• All previous rewards!
• Animal or movie / TV serial character / actor / actress artwork by your choice.
- If I'm open for artwork requests you are free to submit one to the request posts I'm going to make now and then.
I'm going to make an artwork with high priority decided by a poll among all requests. Everyone can participate in that poll.
Slowed down and longer speed painting videos! + Real Time Videos!
• All previous rewards!
• You get
access to slower and longer speed painting and drawing videos
. I'm posting slowed down and longer videos of my published speed painting videos on YouTube here on Patreon! 
• New! Additionally real time sections up to 2 hours!
About Fayeren Art
Hello and welcome on my Patreon page!
I'm a self-taught artist and a trained digital media designer, who
loves
to draw and paint.
Actually if I don't draw or paint for a few days I get in a really bad mood. You can say drawing and painting is my
life
!
Did you decide to become a part of my journey of art? I want to thank you with all my heart!
Because with
your help
I'm able to manage my day easier and to purchase the
needed material
for more artworks and videos! :)
I'm a very intuitive artist and mainly I don't know why I am doing what I am doing. So it's very difficult for me to explain such things. Therefore this isn't a Patreon-Art-Tutorial page. I am only an artist not a teacher.
But I am here to share as much of my art as possible so you can still learn and benefit from it!
My biggest wish is to study figure drawing, concept art etc. because I have the
dream
to make official artworks for movies and TV series one day, like my greatest idols Drew Struzan, Richard Davies and Jerry Vandersstelt do it.
Until that day comes, I'm going to do art like this for your and my own pleasure and share it with you on Youtube, Facebook and other social networks!
You can find me on:
• Youtube:
https://www.youtube.com/user/FayerenArt

• Instagram:
https://www.instagram.com/fayerenart/
• DeviantArt:
http://fayeren.deviantart.com/
• Twitter:
https://twitter.com/renee_delage
Update April 2019:
I'm not sure what happens in the future because of article 13 (new European copyright law.) Maybe I'm not able to create any more 'Fanart' related artworks. So I've decided to expand my content and finally to draw and paint animal artworks, too. :))
Please check out my
twin sister
! She draws and paints portrait artworks, too.
Her Patreon site is:
https://www.patreon.com/jeanne_dart
Many thanks for stopping by! :)
Fayeren
Who'd have thought it's possible that I get so much support!
Thank. YOU. very. much!
It means a lot to me! <3

2 of 6
Recent posts by Fayeren Art