Paula Muldoon
is creating violin music
Select a membership level
Carnegie
Free monthly online performances of my latest works (scheduled in the UK timezone)
Royal Albert Hall
- Free monthly online performances of my latest works (scheduled in the UK timezone)
- Access to a 30-minute violin practice session per month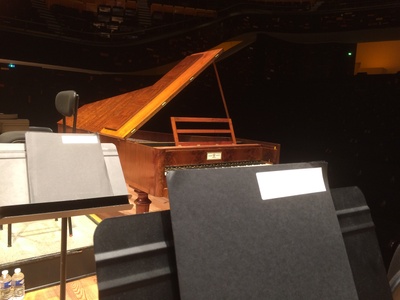 Philharmonie de Paris
- Free monthly online performances of my latest works
- Access to a 30-minute violin practice session per month
- Private 30-minute online violin recital on your birthday
About Paula Muldoon
Welcome to my Patreon page!
My name is Paula (aka FiddlersCode), and I am a violinist, composer, software engineer, poet, blogger, and novelist.
I began writing music in 2016 because I needed to express my
creativity
through the most natural medium: the
violin
. I draw inspiration from
people
and
places
, and even my own life experience as a
violinist-turned-software-engineer.
I care deeply about
community
and my dream is that this page become a
virtual
home
to
connect
with all the
amazing
people
I've met on my
travels
- and to
meet new ones
!
If you're not sure about joining, why not
send me an
email
(
[email protected]
) and introduce yourself? I'd love to
hear from you
!
You should become a patron if…
You love violin music.
You want to hear live music but you don't live near concert venues / aren't mobile (patrons get monthly online concerts!).
You are curious about the creative process and want a behind-the-scenes look at what it takes to write and perform music.
You're a violinist and you want to expand your solo rep beyond Paganini and Bach.
You want to support female composers. (Check out this article from The Guardian about the lack of female representation on classical music programs.)
You want to be part of an international community of music lovers.
What does being a Patron mean for me?
You pledge a certain amount for each creative work I produce (composition, recording, or publishing)
It costs as little as $1 per month to become a Patron…it's about the community, not the money. Plus, you can set a maximum amount so you never spend more than you're comfortable with.
Do I get any bonus perks?
Absolutely!
Informal recordings of new pieces from my practice sessions
Practice tips, techniques, and technologies
Early releases of recordings
What are my current creative goals?
Glad you asked! Because I'm a software engineer, I try to use software ways of working when they will help the violin, so take a look at this nifty
Trello board
which has what I'm currently working on!
Thank you so much for reading this and I hope you become a Patron!
An official bio:
Paula Muldoon is a multi-talented violinist, software engineer, writer, and composer based in Cambridge, UK. Her violin career has taken her to many of the world's greatest concert halls in over twenty countries, most recently to Carnegie Hall in New York City. Highlights of her performing career include a stint as guest leader of the Xi'an Symphony Orchestra (China) and numerous recordings at Abbey Road Studios. In May 2019, as part of her inaugural season as leader of the Cambridge Philharmonic, she will be the featured soloist in Richard Strauss' Ein Heldenleben.
In 2017 Paula left full-time violin playing to train at Makers Academy as a computer programmer. She now combines violin performance with her career as a software engineer. She is a sought-after speaker in the programming community, having given talks at conferences, workshops, and meet-ups in London, Cambridge, and Madrid. Her latest musical/coding venture has been performing her own solo violin compositions as part of her conference talks.
When writing code, Paula is especially interested in tools and practices that automate code quality, such as pre-commit hooks, linters, and TDD, and is a stickler for clearly named variables and methods. She is also interested in non-violent communication and improving the way teams work together.
A keen writer, Paula blogs on music, code, and mindfulness/mental health, winning the blogging award at Makers Academy. While at the University of Michigan, her historical novel The White Birds made her the only undergraduate finalist in the prestigious Hopwood writing competition and her translation of the Latin poem Stabat Mater won her the undergraduate classics translation award.
As a composer, Paula recently reached her goal of writing 30 minutes of solo violin music. Her next goals involve further composition and recordings of the newly-written pieces. You can find out more about her work at paulamuldoon.com.
Graduate, Makers Academy (2017)
M.Mus with Distinction, Guildhall School of Music & Drama (2012)
B.Mus with Highest Honours, University of Michigan (2010)
Certificate, New England Conservatory Preparatory School (2005)
I'm hoping to hit 5 Patrons as my first goal, just to make sure people are actually interested in what I'm creating! Once I hit 5, I will schedule the benefits.

1 of 1
Recent posts by Paula Muldoon
By becoming a patron, you'll instantly unlock access to 10 exclusive posts
By becoming a patron, you'll instantly unlock access to 10 exclusive posts