Flight Chops
is creating Immersive, Experiential FLYING Videos
Select a membership level
$1
per Awesome Flying video!
After a great deal of debating, I decided not to go with a "swag" company such as cafepress; Mainly because I'm not about swag, and what I am really trying to do is efficiently raise some funds to make this project great. If I were to set up a store at a place like that, you'd spend ~$25 for a shirt, and the "Flight Chops" project would be lucky to get $5. This way, I bet you can get a cool shirt made for under $15 and Flight Chops still gets $1
(well actually $0.70 because the fee per transaction here is $0.30, (which is a deal after I looked into setting up a merchant account or a Paypal "donate" button, but I digress - so if you really wanna gimme a dollar, see if it lets you put $1.30 :)
I will provide you with a high resolution digital file (sample above)
that you can use to print your own "Flight Chops" T-shirt or whatever else you'd like.

$3
per Awesome Flying video!
You'll get the hi res digital file above,
PLUS additional other alternate logo / slogan lay out designs (new ones are currently being worked on, and I'll take requests if you'd like a certain lay out or wording to be added such as "Keep your Flight Chops sharp!", or "My Flight Chops are sharp!", etc. We're working on several ideas like that.)
PLUS a digital template that I use as a flight journal to augment my logbook - I think this is a critical way to grow and improve as a pilot, and especially as a private pilot like myself who doesn't get to fly a ton; review and reflection are a huge part of staying current and improving!
PLUS a ~30 minute monthly google hang out to talk flying or offer some input on the current thing I am editing / shooting or anything you guys want!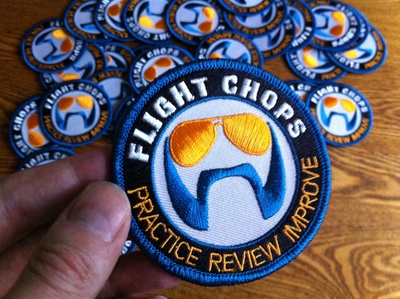 $5
per Awesome Flying video!
You'll get all the perks above,
These won't just be boring raw unedited GoPro shots - They will be engaging, contextual and sunc with multiple angles - but they won't be fully cut down yet - essentially you'll be getting to see the "extra stuff" that I end up struggling to cut away, when I make my shorter videos for a wider audience.
I will give exclusive updates and links via the Patreon feed.
NOTE: Remember to check the feed for existing posts with links to exclusive content!
PLUS I will personally mail you a "Flight Chops" embroidered flight suit patch!
(I'm not about swag, but these turned out rather nicely, if I do say so myself :)

The standard 3" size is also great to stitch onto a hat, flight bag or jacket!

PLUS access to additional flight training and flying footage and bonus videos when I am editing.
About Flight Chops
I love film making (it's what I do for a living) and I obviously love flying - I do it for fun, but take it very seriously from a safety standpoint and am always looking to learn and improve.
My work in TV can be frustrating because much of the time we are fighting to edit things WAY down to fit a tight time slot, or meet network exec requirements, and by the time we're done, the true essence of the content is usually gone.
With "Flight Chops", it has been so liberating to be able to make aviation related content the way I want to make it - I am very respectful of people's time and always work hard to make my videos concise and engaging...
But I am not handcuffed by a time slot, so I am also free to be indulgent and let the content breath as needed; I make it fun, but I also love to explore all the geeky details.
Basically, I'm mostly disappointed by the mainstream aviation TV content, so I am making the flying show that I'd want to see.

I'm currently making 2 new videos per month.
(a new video every 2nd Friday)

My videos will ALWAYS be free - I make them for self analysis purposes and am happy to share.
The only question is how big and how often I can make them.
As the productions get more complex, I've started working with bigger crews, and traveling for shoots to cover amazing things like specific specialized training and type conversion checkouts.
With your help, Flight Chops can keep growing and producing more awesome stuff!
Documenting my Instrument Rating training to completion! Traveling with crew for remote shoots to include amazing things like Warbird checkouts, type conversion training and so on!
(these would result in a multi-part series to be sure we can fully explore the awesomeness of the content!)
2017 UPDATE: With your help, we are pushing REALLY hard to start delivering closer to the final goal - it is a serious possibility that we'll be moving to a weekly publishing schedule soon - check the final goal for more details

6 of 7
Recent posts by Flight Chops