Fou Fou Ha
is creating new shows, national expansion and community development
Select a membership level
Receive behind the scenes videos of our creative process, our travels and performances! Let us know when you will be at a show and receive a custom FFH sticker!
Fou Fun-Ders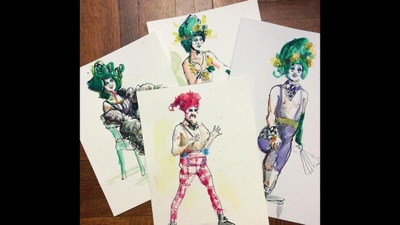 Get a custom FFH T-shirt and autographed sketch of your favorite Fou - just tell us who!
About
For the past 17 years Fou Fou Ha! has developed from a local character dance company into an internationally known theatrical ensemble that has expanded into national branches in four US cities. Since 2001, Fou Fou Ha! has created six stand alone full-length shows and performed in hundreds of local cabaret & circus shows.

We have brought interactive games and variety entertainment to venues and festivals across the nation while developing an ever-growing supportive artistic community. All the while providing a platform for radical expression, modern feminism, gender play, and a positive yet whimsical look into sexuality.

Interest in being a part of the "Fou Dimension" is evident in our nearly two decades thriving in San Francisco, the development of a solid group in New York City known as Fou York, the exciting beginnings of Fou Fou Ha Portland (formed recently in February 2018), and an upcoming audition in Austin, Texas for FFH Austin.

The performance style of Fou Fou Ha! is a combination of eclectic dance pieces, absurdist clown scenes and vignettes, and interactive storytelling where the audience gets to be characters in the show. All of this with a focus on a numinous, magical, and transformative theatrical experience for both the audience and the performers. Our desire is to create a group experience that gives permission to celebrate life, to dance, to laugh, to think about your humanity, and to inspire change.

Fou Fou Ha! is influenced and inspired by fashion and creative expression, by the Drag scene and the inherent lampoon that Drag offers, by the sex-positive and empowering platform that Burlesque provides, and by the beauty of seeing a collective of characters from another dimension bring you playfulness and joy.

But in order to make all of this happen we need funding. We need money for our makeup, our costumes, and our fantastical wigs. We need money to pay for rehearsal space, for administrators, for advertising, and for transportation to gigs. We need money to pay our performers not only for their performances but also for their hard work each week in rehearsals. And that is where our Patrons come in.

Funding Fou Fou Ha! means that you not only believe in supporting performance artists but you also believe in supporting social change: sex-positive queer theater, female created and (mostly) female led performance art, theatrical experiences that make people want to honor the sacred, the feminine, the power in joy and laughter, and the opportunity for people to develop community through collaboration.
...all of this AND we make ya dance...and (hopefully) laugh. That's important to support too!

Your funding will go towards supporting the (4) Fou squads: San Francisco, NYC, Portland and Austin. Each squad has (10) performers and each performer requires the needs listed in our goals. That means up to (40) performers across the country benefit from your contribution!

Current projects:

Menagerie of Fools- Our flagship SF squad is currently working on a new show to be premiered June 8th, 2018 at the SF Circus Center before touring nationally this summer. This show looks at modern day sacred clowning, transformation through myth and archetypal images in search of truth, the authentic, and the power of surrender. In June/July we are taking this show to Electric Forest in Michigan. Additionally, in late summer/early fall of 2018 "Menagerie of Fools" will be produced at venues in the local San Francisco area.
Far Out with Fou York- Our NYC squad is developing a monthly show at House of Yes in Brooklyn featuring original work created by the squad, a brand new Fou look, original character antics, and interactive games. Their work with clowning is forging solo clown shows for some members that are being featured nationally in queer performance.

P-Town Fou launch - Our brand new PDX Fous are rehearsing, forging their characters, developing new choreography, and learning all about the Fou life. They are working on a new full-length show slated to premiere in January 2019.

This Patreon will be managed and divided by each of the four squad leaders in order to ensure a collective vision and transparency. Provisions raised will go towards various needs as they arise in order to support the efforts of all those involved.
$5.53 of $1,500
per month
What we will need on a monthly basis to create high quality costumes and wigs for our performers in all four squads: San Francisco, New York, Portland, and Austin.
1 of 3