Foundups.com
is creating the Bitcoin Global Reverse Fund for launching Social Capitalism
Select a membership level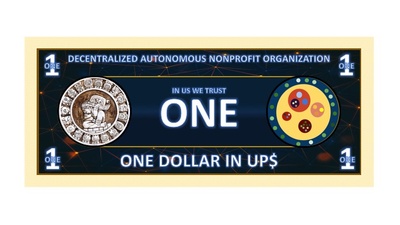 1 UP$ Holder Tier - Supporter
Your total contribution will be credited back to your in your UP$ Wallet on release at the amount total contributed.
- Access to patron exclusive talks and videos
- Access to special events on Discord
5 UP$ Holder Tier - Enthusiast
Your total contribution will be credited back to your in your UP$ Wallet at x5 the amount contributed.
- Access to patron exclusive talks and videos
- Access to special events on Discord
10 UP$ Holder - Patron
As a patron, you'll be recognized for making my work possible.  Your total contribution will be credited back to your in your UP$ Wallet at x10 the amount contributed. 
Credits on an upcoming video
Plus all previous rewards
About Foundups.com
100% of the funds contributed will be used to fund and launch the Bitcoin Global Reserve Fund. The Fund has been seeded with 4.2401 BTC (appox $50K @ $11.7K per BTC) The reserve will be held in the vault until BTC reaches one million in value in the next 5 years: Coinbase Vault Address: 3FnwxW5DNWEVaSsFrs2mabYN8E8qmtWN2p (ONLY send BTC)
"In 2010 I imagined a world run by a new kind of global cooperatives built on the blockchain called Decentralized Autonomous Not-for-profit Organizations (DANOs), back then he called them Open Corps, that are funded autonomously by a kind of global federal reverse called Bitcoin Global Reserve Fund for ushering in Social Capitalism. The Fund will be held in escrow until BTC price reaches one million. Managed autonomously the Fund will seed 1000s of selfless open startups called "foundups" that level-up and become DANOs. DANOs will return 100% of their profits back to the Fund for launching, support and scaling more foundups around 3% will level-up and become more DANOs… and so on and so on and so… ushering in Capitalism 3.0 - Social Capitalism."
Michael J. Trout, Founder.
Understanding why our planet is collapsing. Do you know that nearly every crisis facing our planet are merely systemic outcomes of an endemic problem? Do you know that every crisis, barring some pandemics and natural disasters, can be linked directly or indirectly to
Compounded Annual Growth Rate (CAGR)
or Proof of Growth? For the survival of all species on our planet, we must replace CAGR with its antithesis, Proof of Benefit (CABR). Foundups are open, decentralized, autonomous startups on any blockchain that level-up and become Decentralized Autonomous Not-for-profit Organizations (DANOs) that are validated by Proof of Benefit that usher in Social Capitalism.Introduction:
In 2010 Michael Trout asked a simple question: "Is the startup broken and if so how would we fix it?" The startup is broken as over 99% of pre-seed startups fail to fund; 90% of seed startups that fund fail to launch and or those that do successfully launch as VC backed entities, 70% fail to cross what is called "The Chasm." The answer was to transform the current paradigm of "success = access to closed capital networks" to simply "success = validated idea." And introduce a new kind of startup called a "foundups" — Open, decentralized, autonomous, startups that launch on Open !nnovation Framework built on any Blockchain. Every foundup is tokenized and as they are adopted their value would increase. Eventually, these foundups would level-up and launch as a kind of STO/ICO and become Decentralized Autonomous Not-for-profit Organizations (DANOs) on any blockchain. So in 2010 Trout started working on an idea called the Open !nnovation Framework built on what would be called the blockchain in 2013. Here is the 2011 IP slide from Trout's 35 slide Sliderocket presentation.
How will foundups scaling and driving adoption? Apple, Burt Bees, Facebook, Dell, Amazon and 100s of other now billion-dollar startups all started off an idea and a minimal viable project. Foundups sees a way around the adoption problem of the blockchain by launching a global network of Foundup Houses where foundups are initiated to support the local communities.
Imagine a global network of Foundup Houses where foundups are tested, tweaked and launched virally via a network of 1000s of Foundup Houses! Think of Foundup Houses as "hardware" -- a cross between a maker space or fabrication lab equipped with CNC routers, 3D printers, portable saw mill; a hacker house where people can come together and launch their foundups; and a permaculture homestead for assisting the community grow their own food. Foundup Houses will establish partnerships with organic growers and farmers for the distribution of their goods locally. We are currently developing a Foundups House prototype near Tampa,Florida, with the goal of launching 100 more globally as part of Foundups 2020 STO.
An interesting distinction to a startups, is that foundups do not have customers; everyone who participates are "stakeholders" who earn voting rights and tokens that they allocate "to weight" their vote for increasing one voting strength. The more active stakeholders are, the more tokens they earn and can be applied to their vote strength. Voting strength simply helps to inform someone who much conviction a participant has. Members of a House can make a monthly donation and, based on the level of donation, they get UP$ tokens can select an a la carte menu of items that are made at their local Foundups House and these items are delivered for free locally. Donations can also be applied towards staying at a Foundups House anywhere on the planet. Someone in India could contribute for a year and then decide to visit multiple Foundups House and learn from each.
The objective of Foundup Houses are to launch foundups which are tokenized open brands, meaning any Foundups House can launch products that were developed and tested in another Foundups House allowing them to scale globally. As adoption happens, these foundups will level-up and can eventually launch publicly as DANOs that are valued by Proof of Benefit.
DANOs do not need to start in a Foundups House. They can also be launched via an STO. We are launching five DANOs in FOUNDUPS 2020 STO:
1. PR_DANO - Puerto Rico DANO - seeks to transform PR into a sustainable living example for the planet by bringing autonomous rice and help farming solutions and other permaculture solutions.
2. AW_DANO - America's Border Security DANO. (www.AutonomousWall.com DANO) - "a wildcard DANO" for 2020 presidential elections.
3. EVENT_DANO - Foundups BlockFest.JP 2020 Hakuba, Japan. An Annual event where Upters (folks doing foundups) will come together and celebrate the blockchain and social capitalism.
4. SPACE/GAME_DANO - geoze.ico - a kind of fun game ICO that may even launch your dna into space!
5. EDU_DANO - EDUIT.org eSingularity DANO - Prize for turning any smartphone into an autonomous device that will teach any child an 8th grade equivalent education in Math/Science and Language Arts.
The Problem:
The problem we seek to solve is the biggest problem facing us and tens of thousands of other species that we share our planet with -- our very survival. Every crisis facing us can be linked to a piece of broken infinite "code" that is driving our one global economy experiment (capitalism) that started in the 1700s as the first Industrial Revolution. Recognizing this problem in 2010 and seeing no way to fix it other than creating a new economic sandbox where any "code" be tested, I reached out to the founders of Bitcoin Magazine with an idea of the Open !nnovation Framework built on the blockchain. They went on to launch Ethereum. The "WHY" of the blockchain is not decentralization. That is merely an outcome. The WHY of the blockchain is to usher in Social Capitalism built on Proof of Benefits (CABR) and remove us off CAGR or Proof of Growth. Foundups, one could argue, is the most important initiative on the blockchain, because it seeks to solve its biggest problem.
The Solution:
Imagine a world not built on Proof of Growth (CAGR) but rather Proof of Benefit (CABR) that measures the benefit everything provides to our planet, it's living systems and in sharing with others, ushering in what Jeromy Rifkin called in 2010 "
The Empathic Civilization
." What would your CABR credit score be? Imagine if loans were provided on how individuals or companies:
Help the Planet - where are profits allocated? 100% of the net-profits of DANOs are allocated autonomously to launching, scaling or supporting foundups that solve localized problems that then scale up and solve massive ones.
Help living systems - imagine being rewarded by launching permaculture homesteads that create habitats for our vital insects.
Share with others. - imagine sharing your excess food, profits generated with others in your community or those that don't have access to them. DANOs will fund free education, healthcare or UBI's and other social services that in the past were provided by government.
What would be the value of your stock price if it was measured by CABR? What if companies could buy up their negative CABR score and those funds would autonomously be applied to DANOs and foundups that are working to solve the very problems they have created?
Our solution to tackle the problem on both ends: 1) by launching five seed DANOs that will seed the DANO network and 2) launching a global grassroots network of Foundup Houses where foundups are initiated, tested, grown and launched and owned by everyone as a DANO. Foundups Houses are places where people come together and solve localized problems. From 2014-2016, Michael Trout, head of Foundups, tested foundups and raised over $40K on Patreon to fund them. In 2016 he was offered $5M to launch foundups ICO in Spring 2017. He ultimately rejected the offer.
FOUNDUPS HOUSE "Hardware"
Foundup houses provide localized solutions exclusively to their communities. No product from a foundups house will be mailed or shipped to anyone they are only delivered locally. We are prototyping, testing and delivering nearly 50 products. Organic yogurt, household cleaners, beauty products, fish, eggs, vegetables, wood products, etc. 100 year old Oak needs to be cut down? Great. We cut it down for a small charge. The wood is then turned into boards that are then processed on the CNC router at the house and turned into desirable objects that then can be available to the local community. Foundups Houses will grow food for the community providing door-to-door service such as meal and food delivery to working families -- all these things and much more can be done out of a Foundup House. Every dollar we remove from global industrial corporate complex is a win-win for our planet. Foundup Houses is where the next Burt Bees, Amazon, Apple, Hewlett-Packard, Google and Disney could well launch as DANOs.
DANOs - Decentralized Autonomous Not-for-profit Organizations.
DANOs are a kind of specialized Decentralized Autonomous Organization (DAO) that in
2010 Trout described as Open Corps
. They exist on any blockchain and return 100% of their net profits back into the system for launching and funding and scaling more foundups. Everything is run autonomously. The valuation of DANOs is not done with CAGR but rather CABR, Proof of Benefit. This makes their valuation very stable, unlike what we're seeing on the current market. They are no shareholders who the entity has to answer to that demand ever-increasing exponential growth and returns. Instead, anyone can participate in a DANO via dApp and can vote, nominate and elect who runs the DANO. Setting up a DANO is done by simply defining a new class of member called a "Stakeholder" in the Articles of Incorporation and also stating that no changes to the entity articles or bylaws can be made without the approval of the new class of member of the stakeholder. Everything is viewable by the stakeholders and recorded on the blockchain. The DANO dApp will be produced by forking of the Aragon dApp.
Puerto Rico (RP) DANO - Pain: Over 90% of the products are imported into Puerto Rico. There are 61,000 hectares of unused arable land in Puerto Rico. The opportunity exists to transform PR into a vital farming community as it once was in the '70s. Other countries, such as Japan, Korea and China, have aging farming populations and are going to become like PR. Solution: By partnering with Japanese and open innovation solutions, we will establish an autonomous Rice/Hemp farming/permaculture initiative with Japanese partners in Puerto Rico. Communities throughout PR will place the land and other assets in a 20 year Trust, which will hold the Land and property for 20 years. The value of this Trust will be calculated and tokenized PR_Token. 20% of the value will be provided to the PR islander who simply by installing the dApp and performing KYC will be allocated the tokens. The dApp also allows them to securely vote in all aspects of the DANO.
eSingularity DANO - Pain: over 3 billion individuals have little to no education. We can not build the brick and mortar infrastructure or hire and pay for the teachers or materials needed. But we could do it electronically. Trout first shared eSingularity Vision in 2004 and proposed it to xPrize in 2008 -- "Imagine a world where EVERYONE can get an 8th grade equivalent education via any smart device autonomously." -- "Autonomous education is a valid system of education, which allows children and young people to develop the lifelong habit of being self-directed and intrinsically motivated learners. ... Autonomous education is simply that process by which knowledge grows because of the intrinsic motivation of the individual." And yet there is no device that by simply handing it to a learner will "level-up" that child to an eighth-grade equivalency in math, science and language arts. Why is that? We have the open education content, the cheap devices, and the machine learning and yet a device alone can not autonomously move a child who can't speak to one that can read and write.
Space/Science DANO - Geoze.io - Pain: We all want immortality and we all want to be astronauts. Solution: Geoze is a fun game that teaches CRISPR with the goal of launching our DNA in tardigrades deep into space. It's a space and science foundup that ensures the survival of mankind! We want every kid to become an expert of CRISPR by making it a mad scientist #CryptoKitty game that tries to teach ethics and morality.
BlockFest DANO - Pain: There is no burning-man like an event in Hakuba Japan, one that celebrates the blockchain and dawning of social capitalism. A place where 100s of the next foundups can be developed and ultimately launched as DANOs. Solution: the 2020 launching of BlockFest in Hakuba, Japan -- the Global Event and Educational Center for Social Capitalism and an annual competition for launching foundups into new DANOs.
AW-some "wildcard" DANO - Antithesis to #TrumpWall -- the AutonomousWall.com will use blockchain to technology to solve our southern border issue.
CAGR and its antithesis CABR
Compounded Annual Growth Rate or Proof of Growth is the underlying metric that drives capitalism and ROI for investors. CAGR is an infinite agent that is interacting with a finite agent -- our Planet. And as a result, as explained in game-theory, when an infinite agent interacts with a finite agent, the infinite agent will always win. The cost of this victory is felt in nearly every problem facing our Planet -- Global warming of our oceans, leads to climate change, that leads to extreme weather. It leads to melting or our glaciers that then lead to flooding and habitat loss. It leads to massive die-offs of coral and mass extinction events. CAGR of pesticides from the 1950s to present day can be linked to the bee collapse. CAGR of fishing leads to the collapse of Cod and other species. CAGR of farming led to over 3,000 dead zones in our oceans. These in economic terms these are merely externalities to the cost of doing business. By 2050 we will see the collapse of all our fish in the ocean. Trumps' "swoosh graph" CAGR can be linked to nearly every crisis facing humanity. Which brings us to another reality check? How many planets do we need, If we all lived as American's? We would need four We will never have four and all the technology in the world can not create more stuff than what is already there. This is no longer sustainable and we must change the way we measure ROI from Growth to Benefit.
Compounded Annual Benefit rate, or Proof of Benefit, uses the same CAGR equation but replaces the values with intangibles that measure Benefit. These "benefit" intangibles are measured by the Open Beneficial AI that will operates kind of like the Google algorithm in determining the CABR value of everything. The AI constantly seeking to answer three questions: How is this widget or person helping/impacting the planet (
ecological footprint
)? How is it helping the living systems? and finally how is it sharing with others? Since everything publically available on the blockchain, it means they can be tracked and this which means everything can be ge given a CABR value. So if a product, for example, is being created by items that have to travel from all over the world in order for it to be made or come from harmful mining, all of this can be calculated into the value of that widget's CABR score. If a product is being wrapped in plastic, that's going to affect its score. If a product is using renewable recycled objects, then that can be calculated in value. If the product is only available locally or is made locally sustainably then it can have a positive CABR score.
Trout will showcase the 5 2020 DANOs at UN Devcon5 Osaka via the UNxxxx.com event planned.
FUNDING
Over the past years Foundups has received significant interest in funding. At Devcon2 2016 Shanghai, Trout secured $10M in funding offer from
Olinga Taad - Blockchain for Good and Chandler Gou of BitAngels
and a $5M offer from Brandon Kerzner, heir to the Sol Kerzner billion dollar estate. Who flew Trout to Sol's home in South Africa to plan the launch of foundups Spring 2017 ICO with the pick of celebrities names to choose from. Trout rejected the offer because it meant him surrendering control of Foundups brand - something his mentor the late Steve Jobs, founder of Apple, taught him never to do. Trout could not anticipate his father needing him in 2017, who became thermally ill, until his passing in April 2019.
Securing a group of investors like in 2016 that will fund the STO in exchange for a portion of finite token, The Foundups STO will still exist via our KYC app. The prototype is built. Participants can choose the funding level, order, team leads and location of projects. Trout seeks to secure $10M-$20M in pledges at UN(official) Devcon5, which he is producing (he is not attending the Devcon.org conference) in October 8-11 Osaka UNxxxx.com
Self-funding foundups by Trout when his BTC reaches over $1M a token in the next 3-5 years.
How do we fund and launch foundups globally? By setting up a church for the blockchain. The Metaphysics of Distributed Unconsciousness (MDU) aims to become the official "church" of the blockchain. UnDaoDu the founder of the Myan civilization prophesized the blockchain in the Mayan Zodiac Calendar, UnDoaDu sits on a chain of blocks (blockchain) around him are the 19 who will usher in the 5th Age of Humanity called Social Capitalism.  Emanating from his forehead is Open !nnovation Framework, built on the blockchain commonly called Ethereum. He is channeled by Foundups Michael Trout the founder of MDU, Decentralized Autonomous Nonprofit Organizations and foundups.  
Recent posts by Foundups.com
By becoming a patron, you'll instantly unlock access to 235 exclusive posts
By becoming a patron, you'll instantly unlock access to 235 exclusive posts