GUTS Magazine
is creating a digital magazine of feminist writing and art
Select a membership level
THANK YOU!
Your name on our support page and a shout out on GUTS social media for 2 USD/month
A handwritten postcard, sent to you from GUTS editors AND your name on our support page for 3 USD/month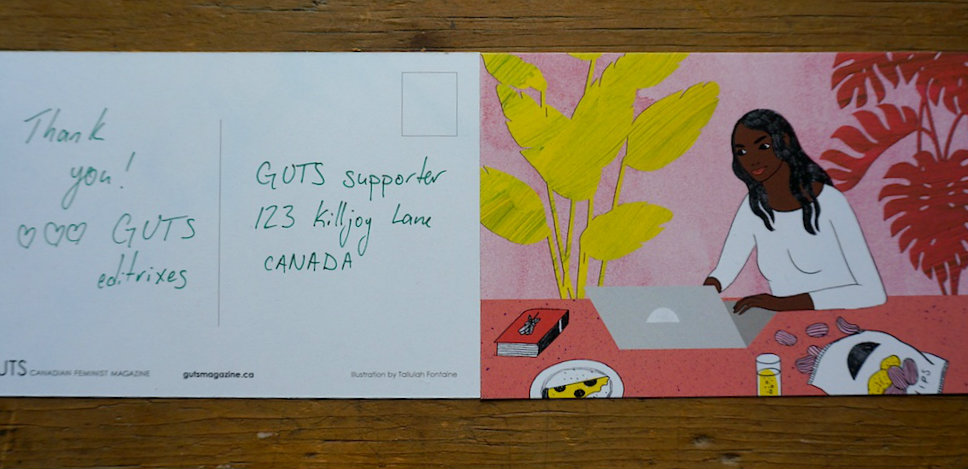 $5 per month
A full set of five GUTS postcards with original artwork, AND your name on our support page for 5 USD/month
About
GUTS is a digital, volunteer-run, Canadian feminist magazine and blog. We support new and emerging writers and are committed to soliciting a wide range of voices.
Check out the work we are doing here!
If you believe in independent feminist publishing, then you should support us.
GUTS offers readers the following:

Blog posts that range from personal essays on reproductive justice and street harassment to reviews of feminist artists in your community
Weekly Sunday roundup of links, keeping you updated on the latest feminist news
Issues on themes like moms, sex, food, land, and futures, featuring thoughtful, engaged, critical writing from emerging feminist writers
Gorgeous original artwork by emerging artists and illustrators
Fun and safe dance parties in major Canadian cities
Free content—and we're going to keep it that way. But we need your help!

Why do we need your help?

GUTS has been able to do quite a bit over the past few years—thanks to donations from our supporters, the Ontario Arts Council and the Canada Council for the Arts, we've been able to produce ten issues, publish regular blog content, and act as a prominent and reliable feminist voice in Canadian alternative media.
Unfortunately, due to recent cuts to the Ontario Arts Council, we've lost a substantial amount of our funding, and are currently working towards our very last issue
. We are using Patreon to help us compensate our contributors and and artists, and to help make this final issue the best one yet.
Already, with our Patreon supporters help, we've been able to complete one of our major goals: a website redesign that makes the site faster and more accessible. Thank you!
Our story
GUTS began in Edmonton, where founding editors Cynthia Spring and Nadine Adelaar were unemployed recent graduates looking to start something great. The idea for an online feminist magazine came out of Cynthia and Nadine's shared interest in the feminist concepts and political theories they encountered in school. They wanted to keep talking and learning about these ideas in an accessible and dynamic space—so they built one.
Together they learned to build a website, drew up a call for submissions, and edited their first issue. They asked graphic designer Jonathan Dyck to make them a logo and illustrate cover images, and threw their first launch party in their backyard in August 2013. Soon enough, fellow Edmontonians Rebecca Blakey and Katie L started writing and editing for the magazine, along with Halifax-based writer and editor Natalie Childs and others. Today the team also includes Brett Cassady Willes and Carmina Ravanera.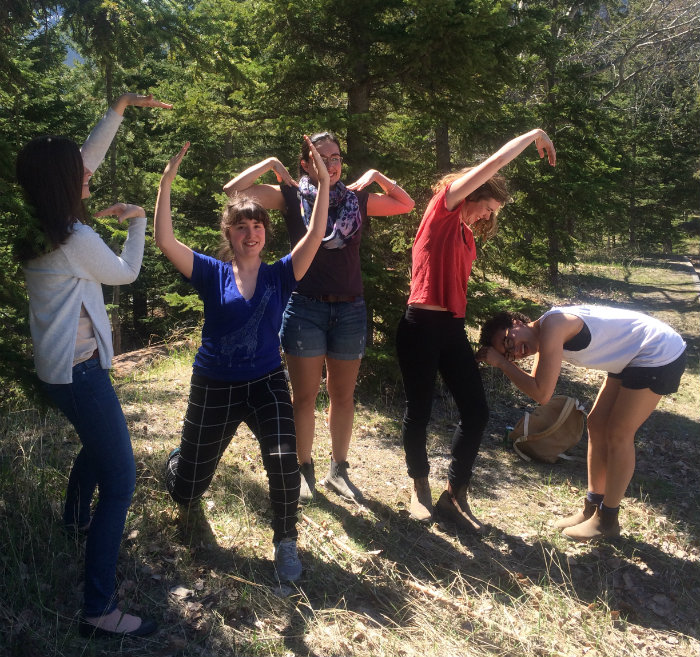 Our collective of volunteer editors works hard to recruit and select content by new and emerging feminist writers and artists; edit and publish bold, thoughtful, and creative feminist work; and circulate content in new and established audiences. In order to make it work, we put in many hours on our lunch breaks and during our evenings and weekends. 
We love the work we do, and we want to continue to grow. If you've enjoyed the work you've seen at GUTS in the past and want more of it, help to keep us going! 

What is Patreon?
We chose Patreon as a crowd-funding website because it offers the possibility of ongoing monthly support from backers. As a magazine looking for sustainable ways to continue our work, knowing that we have ongoing financial support would make an enormous difference for us. Any amount you can contribute is immensely appreciated. If you prefer to make a one-time donation, that's great too! Head here to donate: 
SUPPORT US


PLEASE NOTE:
All Patreon pledges and amounts are in American dollars. If you choose to donate, please be aware that you will be charged in USD. 
WEBSITE REDESIGN: If we receive $250 USD a month in donations, we will continue to produce excellent weekly blog content, our Sunday link roundups, and our biannual themed issues. We will also be able to see through our website redesign! We built our own website in 2013, and we've been wanting to redesign our website in order to make it more functional, beautiful, and responsive for a long time. If we reach this goal, we can do that!
2 of 4
Recent posts by GUTS Magazine
By becoming a patron, you'll instantly unlock access to 3 exclusive posts
By becoming a patron, you'll instantly unlock access to 3 exclusive posts