Geazaki Cosplay
is creating Cosplay, Props and Art
Select a membership level
Chibi Tier
You're awesome, thank you!

Rewards:
- Early access to WIP
- Access to my patreon Lens
- Early access to cosplay pictures and drawings  
Shortie Tier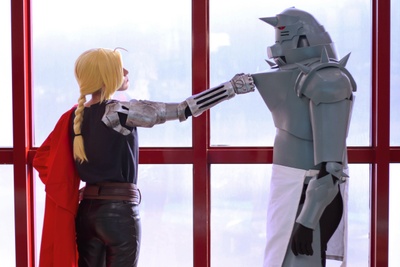 You're still awesome, and I'm still very thankfull!!

Rewards:
- Early access to WIP
- Access to my patreon Lens
- Early access to cosplay pictures and drawings 
- Access to the complete photoshoot albums
- Access to polls
First Print Tier
 Working your way up to unlocking even more stuff! You're a wonderful human being!! Or chimera, but I still love you! 

Rewards:
- Early access to videos 
- Full access to my entire patron only feed
- Unlock the sexy photos (very occasional feature)
- A print we collectively decide in a poll every month
About
Hello everyone, my name is 
Geazaki
! If you're reading this, it means you had enough interest in my content to at least chek it out a little further, and I'm incredibly thankful for that!
I'm a cosplayer, prop maker, and crossplayer. But I've fallen so deep into this activity I'm running  out of resources! So I've come up here searching for some sort of income so I can keep creating more and more costumes and share them with the world!
WHAT ARE YOUR REWARDS?
One of my main focuses is a
cool feed
for you to enjoy. There will be
 early content
, you'll know what my plans are before everyone else, you'll get to see more of my
work in progress
stages,
costests
, and even
commissions
I might be working on! 
As for photoshoots, you'll be the first to see all the
behind the scenes
and have access to
polls
for when I get indecisive and need your help to make decisions.
You'll get
cosplay prints
, of course and sometimes
drawing prints
as well.
I'm also willing to take
your suggestions
for a specific picture or pose you'd like to see a character do.
WHAT AM I CONTRIBUTING FOR?
Cosplay and related things exclusively.
Materials, tools, wigs, fabric, faux fur, lenses, paint, and so on. You can also rest assured eveything I use is
cruelty free
! Also for my photographers and others who contribute as well. 
OTHER LINKS
Etsy 
www.etsy.com/shop/GeazakiCosplayShop

Storenvy 
www.geazakicosplay.storenvy.com/

Instagram 
www.instagram.com/geazakicosplay/
Facebook 
www.facebook.com/geazakicosplay/
Youtube 
www.youtube.com/channel/UCfqwsztf_zEdrKzlvKX7KDw
DeviantArt 
geazakicosplay.deviantart.com/
A LITTLE MORE ABOUT SOME TIERS
- "First Print" tier
I'll send you a print for the last character I've done.
- Photo Upgrade
You can choose virtually any print you want, of any character I've ever done. You can decide the size (10x15cm, 15x20cm, A4) and quality (satin print or high quality gloss photo paper) of your print as well.
- Fansigns
Fansigns are pictures I take and send over digitally, these are not printed out.
These can have a creative twist if you want, a quote or a funny phrase. Needless to say any offensive or political stuff will be denied.
__________________________________________________________
The following two tiers are NOT ENABLED FOR EVERY SINGLE MONTH
- "Photoshoot Alchemist" Tier
You get to suggest poses or scenarios for the character, I will post a publication dedicated to your suggestions instead of messaging people one by one. 
The photo suggestion is exclusive and unique to this tier.
- "Ero Sennin Special" tier
This tier has a 
sexy
print that other patrons (5$ and up) can see, but
only patrons of this tier can actually receive
! (One of the sexy photos for each month may be shared publicly later on, the other will always be only seen by patrons.)
(small, medium or large, matte print or glossy photo paper)
I'm taking your ideas, but I beg your understanding, I will decide what I want or don't want to accept. No nudes, no lewds. I'm considering the safest of the "bodypillow kind" of pictures.
The sexy photo print is exclusive and unique to this tier.
Any questions please contact me before pledging!!

Notes:
 - If this tier has no patrons, there will be no photo or print.
- If I feel like a character would look weird or inappropriate in any "sexy" sort of pose, I will disable this tier for that month.
- If you only pledge and don't message me, I'll take the liberty to do whatever I feel like.
- I only take 3 different suggestions, if you're not among the first 3 you still receive a print. 
- You can instead pick a sexy print from another month in case you missed it.
__________________________________________________________
- TAGS
To make my page a little more organized I use tags. You can find them specified under each post or under the tab "posts" in the left sidebar. The "
Permanently EXCLUSIVE
" tag is dead. From now on there's no content that will be exclusive forever, after a certain amount of time I might share anything I've posted here publicly.
At this point I can also get behind the scenes videos for every single shoot as well.
1 of 1
By becoming a patron, you'll instantly unlock access to 91 exclusive posts
By becoming a patron, you'll instantly unlock access to 91 exclusive posts
Recent posts by Geazaki Cosplay