Geraldine Jayne
is creating Journal & Creative Inspiration To Create A Magical Life
Select a membership level
Supportive Dream Builder
Thank you so much for supporting my dream! In return, you will receive Cabin News posts. These include sneak peeks & general news before it goes public. 

Blog Post Inspiration
Blog Posts: Be inspired with a blog post every week. Many of these will be organic, fresh insights and thoughts, with a peek into my journals and what I'm currently up to. 

Exclusive Creative Video Content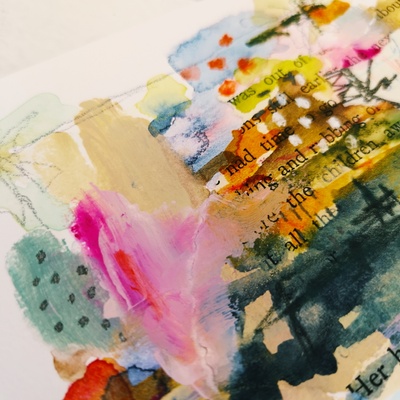 Video content
: An eclectic range of video content based on my creative lifestyle. 
Content will include:
Art journaling
My unique planning style
Creative Tutorials 
Walk through of supplies
Helpful tools when it comes to pursuing your dreams and creating a life you love. 
Some videos will even come with worksheets to help you work through some of the video content and theme for the current month. 
You will also receive the tiers above.
About
Hi! Welcome to my Patreon page! Changes are coming!

My goal is to inspire while creating a positive community of creatives on their own journey of remembering & re-aligning with their truth, while also seeking wonder. I have also created an exclusive Facebook group for my Patrons.

During the month of February I will be focusing on cultivating my studio practice (my studio being my cabin) as I well and truly  Realign with and live out my truth. Patreon will be the place I release most of the news through this crucial phase in my life.



I have had a strong desire for some time now to express my truth in my paintings (and writings). This means setting out on a journey of self-discovery. I partially set off on such a journey last year which included setting new boundaries, practicing self-care, mindfulness, and manifestation work, aka law of attraction. This led me to the work of Dr Joe Dispenza and my inner world changed completely within weeks!

This then prompted me to set out on another journey of self-discovery, but within my art. Art is not just painting. It's about expressing your self, your inner world, healing and becoming whole. As an artist you;



"Must dive deep into the waters of your subconscious and wrestle down your fears and self-doubt." - Nancy Hillis




I yearned to explore, and to experiment without worry being under pressure to make good content. I knew if I allowed myself to play, then the content would follow. So I made the decision to take a month off YouTube and focus on my painting and writing. As I focus on enjoying the journey and process then the content will flow...much like water from a well. 

So this month enjoy exclusive access to my journey. Later in February the tiers will change slightly and I already have snippets of news to share. Videos and blogs will flow organically this month, but there will be an explore video still with a creative follow up, a blog post on crystal study, as well as a video on colour theory...a new theme I want to explore here.





Thank you so much for reading to this point. If you do decide to become a Patreon, thank you SO much! I really cannot thank you enough. You enable me to grow as an artist and in my passion, and as a result, continue to teach others. 


From a fellow seeker of wonder & magick,
Geraldine Jayne Xx
When I reach 150 Patrons, I would like to publish a book or booklet (depending on how many wish to take part) featuring journal pages and testimonies from Patrons. 

1 of 1
Recent posts by Geraldine Jayne
By becoming a patron, you'll instantly unlock access to 178 exclusive posts
By becoming a patron, you'll instantly unlock access to 178 exclusive posts