Godzilla Saves the Day!
is creating Kaiju Comics
Select a membership level
Help Him Save the Day
All I ask is for a little support to get by. I know how hard it can be to support your favorite artist as well as produce material you love with not much in return. So I only ask for a dollar a month in order to keep doing what I love. 
The more support we get, the easier it'll be to make more bonus stuff for you guys down the road as well c: 
Be sure to tell your friends and hit that pledge button! 
Invite a Kaiju Buddy to Play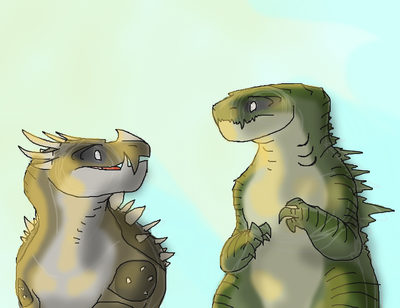 *a doodle of a kaiju of your choice!
Now available more than once per patron! 
* ability to recommend a design for a kaiju sticker to be added to the growing catalog
* option to order a single medium-sized design from the sticker catalog 
(limit to one each month)
Give Him Something to Do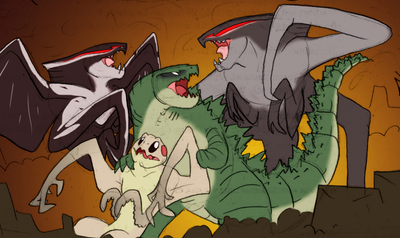 *One free drawing of Godzilla doing as you wish. It doesn't have to be comic related, it could be anything like him eating fish or playing hopscotch
(limit to one request per month) 
*Request a fully detailed redraw of a panel from an older comic I've done.
*option to order a full page of 12 stickers from the catalog
(limit to one page per patron each month, also expect time in between order and delivery dates for them to arrive)
About
Have you ever wondered what would happen if Godzilla were to appear in another feature film, tv show, cartoon, anime, or video game? Well now for just a dollar a month you can find out! 
Here you will find more of the comics you all enjoy, and with enough support you'll be able to see a new comic each month and continue along with Godzilla in his journey to find out what year it is. 
RULES:
* These comics take a lot of time and effort to put together, more than a lot of other things I'm used to. So after doing all the free ones, I need financial motivation to keep on making these.
* Higher prices will motivate me to do certain comics faster
* Commissioned comics will most likely be produced a lot sooner than others
* Patrons with higher pledge amounts will probably have a better say in which comics we will be seeing soon.
* Voting is an option for all, but will probably be handled much more easily if more people agree on what they want to see.
Hope you enjoy your stay
- RoFlo the Animator
If we can reach $100 a month, everyone will get a complimentary kaiju drawing of their choice! Can be from film or an OC of your own! 
1 of 2
Recent posts by Godzilla Saves the Day!
By becoming a patron, you'll instantly unlock access to 1 exclusive post
By becoming a patron, you'll instantly unlock access to 1 exclusive post