HBTeeCo
is creating Custom Apparel, Vinyl, and Glass
Select a membership level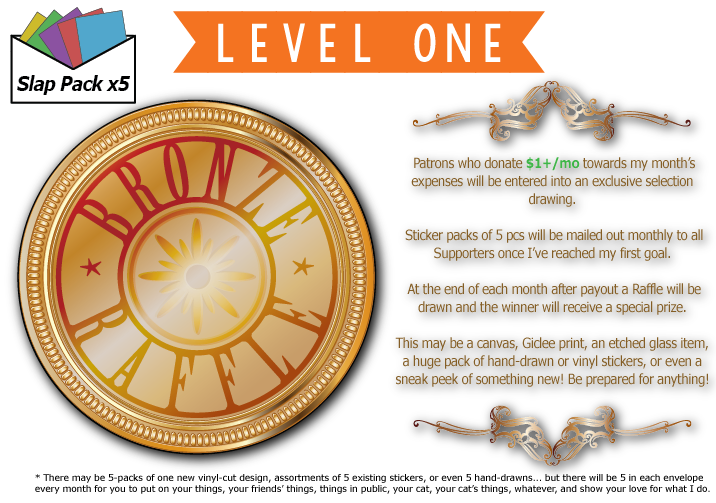 Your prize will arrive appropriately secured, but if you win and would like additional insurance or a specific shipping method, please contact me at
[email protected]
and I'll do everything possible to accommodate.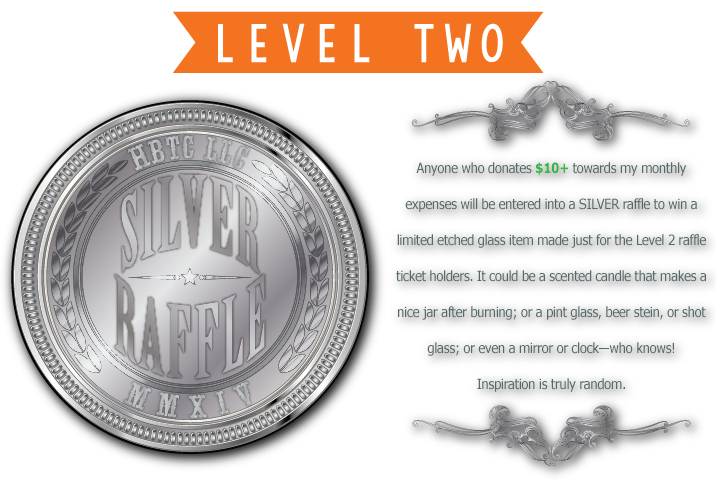 + or +
Your prize will arrive in a Flat Rate box or bubble envelope wrapped in more protective material inside along with the rest of your monthly supporter pack. If you win and you would like additional insurance, please contact me at
[email protected]
Limited (19 of 19 remaining)
+ or +
This prize will arrive in a medium envelope along with the rest of your monthly supporter pack.
*The car stereo faceplate sleeves will be raffled until stock is depleted, thereafter the GOLD raffle prize will be changed to something new.
About HBTeeCo
Hi there, and welcome to my Patreon campaign page!
I'm a 20-something chef with an insatiable drive to create and a lonely set of bedsheets
Pending a  video until I get my butt into gear, here's a blurb...
This is my story:
In December of 2013 I officially established HBTC LLC
(Hidden Bridges Tees and Custom) as a way to organise together and move forward my myriad of artistic endeavours. I've always dreamed of running some sort of custom shop, and when I fell into screen-printing, vinyl graphics and poster design I truly found my niche. I also paint, build furniture and self-contained indoor gardening boxes; build screen-printing equipment such as presses, exposure units and washout booths; build, debug, upgrade and customise computers; and I'm an avid chef, gardener and bookworm.
Why I'm here:
I will always create, but regardless of how much commission work I may actually have at any given point one thing I always
do
have is
no time
. Being able to actually get things done for myself and my print-works & apparel company is Priority One in getting the ball rolling on reaching my life-long dream of being a full-time artist. Time is the biggest overhead cost of almost any business; as the overhead in retail must be covered up front in order to have a finished, packaged product ready to deliver, sell, or be otherwise paid for, Patreon seemed like the place for me to take my indie LLC.
This structure would allow me to purchase the wholesale and supplies I need to continue spending time developing a brand and providing customised services while still having time to sleep and walk the dog every day since I could get
paid
for time not spent at a day job (because you'd be helping me achieve my dream of making
this
my day job!)
Stuff for you:
Almost everything I do will always be shared, blogged, and "free" to an extent, or "available" to purchase for the general public, but different tiers of Patrons will allow me to give hardcore fans & supporters access to other things the regular crowd may not have. This could and will evolve to include things like:
+ Limited, larger or alternate versions/quantities of stickers
+ Limited edition small-run apparel
+ Monthly Raffles
+ Limited edition glass
+ Signed copies of high-resolution Giclee prints of my paintings
+ Recipes I hold close or don't normally discuss to a particular extent
+ Video of me explaining a certain cooking technique
+ Video of me creating or cooking or building, or high-resolution photos/video of the results
+ Time-lapse videos of me drawing and creating and cutting stickers and printing tees and gear, digital time-lapse videos of me working with audio overlays answering questions or talking about my process
+ Podcasts of me working on things on a regular basis as I have more time and develop a larger catalogue. Me answering questions and getting info out there about what I do or am capable of in custom orders, etc.
+ Better quality everything as I'm able to keep up with art supply use/expiration and get better/upgraded equipment to keep up with demands.
Stuff for me:
Anything I get from Patrons will simply go into more supplies for HBTC and time spent developing as an artist, as well as more artistic tools and therefore MORE STUFF FOR YOU! Personal stuff for being a Patron, and more cool stuff for the masses.
Art supplies are EXPENSIVE if you didn't know, especially the things that help the most in lots of situations (ie: digitizer screens, Copic markers, and large wholesale clothing orders to name just a few). As my fanbase and demand grows I'll be able to keep up with my supply overhead and pay others to help with labor which in turn helps my profit margin, pays more people, and literally creates jobs. For a dollar a month YOU could be a job creator!
How it works:
You simply pledge whatever you feel comfortable with on a monthly basis and I give you free stuff on a monthly basis.
The idea is that everyone joins the HBTCrew Monthly Mailer Club by pledging any amount of money towards my endeavours. This signs you up for 5 free stickers/decals per month as well as a BRONZE raffle. The raffle will be held, announced, and mailed at the end of the month after Pledge Payout.
The more people that pledge to my campaign the more supplies and better equipment I can purchase, and the more I'm able to do in return. As more people join, the HBTCrew Monthly Mailer Club will expand in volume to include more stickers, free custom work, a monthly Limited Edition HBTCrew tee, a monthly Free Custom Tee Raffle, and lots of other goodies.
Along with the standard monthly mailer package that
every single Patron
will receive there will be bonus raffles. You may enter any month's raffle by increasing your donation amount to the corresponding pledge tier. The SILVER and GOLD raffles will be held, announced, and mailed at the end of the month along with everything else. If you win or simply don't wish to enter again you may reduce your monthly Pledge back to wherever you wish.
The beauty here is that you may raise your Pledge if there's a prize you like, win the raffle (or receive your special Platinum item), then drop your Pledge back to $1 and stay in the Monthly Mailer Club receiving tons of other free merch the whole time. There's no further purchase necessary and you may cancel your monthly membership at any time, the following monthly Pledge will not be taken from your account.
TL;DR (Too Long; Didn't Read):
I will always be an artist and I will always create whether paid or not because it runs through my veins, but being a Patron of HBTeeCo lets you say, "Hey, I like seeing what you do and I don't want to see you stop, so here's a little something for some more green tea..."
The HBTCrew Monthly Mailer will expand in size and remain a regular occurrence from this point forward, so all fans will be in an extremely limited mailer group supportive of a growing indie project in the heart of the midwest. This also includes the BRONZE monthly raffle prize to the lucky winner.
1 of 6