Havening Techniques® Virtual Campus (HQ Approved)
is creating 3D Virtual Learning Experiences for Students & Practitioners
Select a membership level
Donate
Your donations support the work of Havening Virtual World Campus by helping to maintain the platform, pay admin fees and purchase  office resources. We appreciate and welcome  your support.
  - Entitles you to view our community posts. 
Attend an Event - Introduction to VLE's
Limited (20 remaining)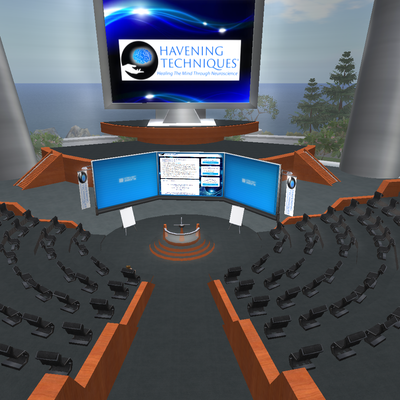 Manage Your Life Programme
Limited (10 remaining)
Start a programme of events that will lead to proficiency in the use of virtual worlds for your own learning and development journey. 
About
Havening Techniques® Virtual Campus is a 3D digital environment accessible via your pc or mac.  It provides an socially immersive platform for peer to peer networking learning and continuing professional development. 

We support the use of virtual technologies to enhance and accelerate the rate at which new information is assimilated, processed and actualised. To this end we target communities that support mental health and well-being in the context of the healing arts and sciences. 

The Havening community provide a rich source of application potential for the use of virtual worlds in gaining certification in Havening Techniques®, methodologies.

Your support in providing patronage helps to fund the platforms we use to generate the learning experiences required for certification in The Havening Techniques®, to become a practitioner. The platform is a secure safe place to network and share learning experiences , workshops  and practice sessions with like minded community members. 

TIER LEVELS
Joining a tier at the appropriate level will allow access to community benefits designed to support your learning journey. Each reward has its own benefit structure depending on the level of experience you want to engage with. Some levels have limited access only.

Join options:- There are two options for each tier level
1. I would like to support every creation
2. I'd like to set a monthly limit

Option 1 - When you choose this option you will be charged for each new creation/post/article that I post. For example if you choose to join Attend the event (a per creation level) you will be charged $30:00 for a single event. But if I don't have any more events that month, then you will not be charged. However if I do two events in one month you will pay $30:00 for each so $60.00 in that month. 

Option 2 - When you choose this option you will be charged monthly for the amount set at that level. This option is recommended for the Manage Your Life Programme level. 

Access the zone
We will give you everything you need to access Havening Techniques® 3D Virtual Campus for FREE. However, requesting access at this level is available if you need one to one support setting up your avatar account. An avatar account is mandatory for all those wishing to enter and engage with the virtual learning environment related to Havening Techniques®, attend one-off events or participate in extended peer to peer networking and study sessions . This level only prepares you to Access the Zone and does not permit entry.

Attend the event
Attending an event requires that you are able to access the zone and are ready to participate in a structured session under the guidance of an experienced mentor. You will be required to understand and follow key guidelines for the benefit or your own and other's quality of experience. Each event will have its own topic and learning objectives for it's outcomes. Patrons who are not able to attend will be able to view a recording of the live event. Patrons will be notified in advance of any event dates and when this level of reward will be activated/charged to your account. (Limited access)

Manage your life programme
Manage your life programme access requires that you have attended "Introduction to Virtual Worlds" event or have activated that level of reward. Now we get down to the main level of learning how to use virtual worlds for learning and change.  A series of monthly sessions will be run by an experienced mentor to help you setup, run and actualise your own virtual havening practice sessions. You will also have unlimited access to learning resources. 

Personal Progression - Mentorship
Personal Progression require that you have attended at least one Manage your Life session. You will be able to book a one to one mentor session to support your learning journey as well as free entry to attend exclusive group sessions that address your specific issues, exclusive expert interviews and manage your life guided sessions.
Recent posts by Havening Techniques® Virtual Campus (HQ Approved)
By becoming a patron, you'll instantly unlock access to 3 exclusive posts
By becoming a patron, you'll instantly unlock access to 3 exclusive posts