Li Zard
is creating Hellbound Guardian
By becoming a patron of Li Zard you'll be an active participant in their creative process.
Select a membership level
About
My video still says there's reward tiers, but it is a dirty liar. This is a glorified tip jar.

About Me and My Work


Yo! I'm Li "
Shockodile
" Zard and I make the webcomic 
Hellbound Guardian
!


Hellbound Guardian
is an action/comedy story about people who die and make bad decisions (not necessarily in that order, but mostly in that order) resulting in them having to fight demons and other sludgy monsters. It contains plenty of things that I love; headstrong dumbasses, powerful non-binary folks, reptiles both giant and tiny, and fantasy garbage happening to regular people.
More specifically, it follows Avery, a young adult who's spent most of her recent years struggling to deal with her PTSD after a childhood trauma. Her impulsive reactions and poor coping methods are more than questionable, often landing her in more trouble than she was in to begin with. It's a challenge, but overcoming the hurdles and finding healthy ways to go on are integral to her success in her latest misadventure: fighting back a demon army as a holy guardian of humanity. She's not thrilled.
Why I'm On Patreon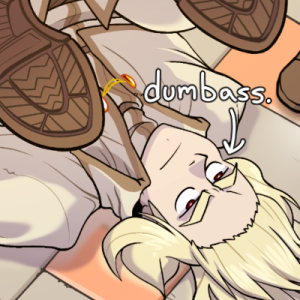 Making
Hellbound Guardian
 is something I can only really afford to do in spurts. This Patreon is a tip jar so that I might be able to afford to indulge in those spurts more often. That was kind of a gross sentence.
What I'll Be Making

The comic! Ideally I'd like to be making it. Y'know, just in general. I think that'd be grand.

What You'll Get For Your Support
cute photos of my dog and/or lizard
actually you'll get those even if you don't support me
this is just a glorified tip jar
I hope you'll consider contributing to
Hellbound Guardian
, so that I might return the favor by surviving long enough to complete this dang comic!
Thanks for reading!
At $999 a month, I will remove this unsightly joke goal from my page, much to the assured relief of everyone who comes here.
1 of 1