Hidden Azeroth
is creating World of Warcraft exploration videos!
Select a membership level
Avid Explorers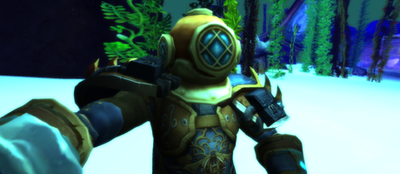 The purpose of this patreon is mostly to serve as a way for anyone who wants to help me cover the financial costs of making Hidden Azeroth to easily donate, and because of that, there are no real rewards offered. 
I'm never going to put content behind a paywall, as the main goal of my channel is to make WoW exploration easily accessible for everyone. Please know that pledging won't get you access to any additional videos, articles, or exploration guides.
 
However, if you still want to help support the channel by pledging, I would love the help! I cover all the costs out of pocket, so I'm extremely grateful for anything that helps lighten the load!  
Patreons will also get access to the Hidden Azeroth Discord server, where you guys can talk with me about explorations, as well as suggest areas you'd like me to cover in upcoming videos! 
Includes Discord benefits
About
Hey guys, Hidden Azeroth here...
First of all, welcome!
If you're not familiar with my work, I make videos detailing exploration methods for various hidden or inaccessible areas in World of Warcraft, as well as showcase and talk about the history of these areas for those who can't explore them for themselves!
I make it a point
never
to showcase explorations that can give players any unfair advantages like allowing them to skip fights or get additional loot, and will never use cheats, hacks, or third party software in my exploration videos. My explorations are always done without any hacks or cheats, both to respect Blizzards EULA and to allow players to easily explore the areas for themselves.
So what's this Patreon for?
First of all, I want to state that
I will never put any of my content behind a paywall
.
One of the things that I love most about the exploration community is its inclusivity; anyone can participate and experience the wonders of exploration for themselves. On that principal, I don't want anyone to be prevented from seeing an exploration or guide I release because they are unwilling or unable to pay for them. 
That being said, as much as I love making Hidden Azeroth, a lot of work goes into making each episode. For every video I make, I have to do all of the following.
Find a relatively easy exploration method to showcase.
Perfect a route to run during the video.
Do hours of takes so that they can be spliced together into one seamless run.
Edit the takes into a smooth video.
Record, edit, and balance voiceovers.
Postprocess, upload, and make stuff like title cards.
Take still screenshots and write the corresponding blog posts.
And all of that takes a lot of time. Each episode takes me 15-20 hours to make, with longer episodes taking even more time to do. On top of that, the videos take a non-zero amount of money to produce. I've have to purchase stuff like video editing software and audio recording equipment, as well as cover upkeep costs like paying for the hiddenazeroth.com domain name. 
Which brings us to why I've made a Patreon. 

The purpose of this Patreon is to help me cover the various costs I incur while making these videos. If you like the content but are unable to help out, or simply don't enjoy it enough to think it's worth contributing to, that's totally ok! I'm going to continue making episodes of Hidden Azeroth either way, because I love getting to share these explorations with other players. And as much work as it is, they're a lot of fun to make! 
However
if you enjoy the videos and want to help me out, I'd be incredibly grateful. 
What will pledging get me?
The only tier is at the $1 level, and that's because it's the absolute minimum Patreon will allow me to list a tier price at. While you won't get any additional videos or content for the reasons explained above, I've made a Discord server that everyone who pledges will be invited to.
This gives you guys the ability to get in contact with me directly, allowing you ask me any questions you may have, give feedback on my videos, or just chat with me about whatever's on your mind. 
I'll also be consulting everyone in the server about what explorations they want to see me do when I start working on a new video, and using the server to let people know about when to expect upcoming videos. 
Please know that regardless of whether or not you decide to pledge, I am incredibly grateful for all the support you guys have given me. I never expected that my little exploration blog would be so well received, and it's extremely humbling to know how many of you take time out of your days to delve into these hidden areas with me. I look forward to uncovering the mysteries of Azeroth with you all in the years to come. 
Keep exploring, 
- Hidden Azeroth
Become a patron to
Connect via private message
Recent posts by Hidden Azeroth