HoopsandHipHop
is creating Pokémon videos and remixes
Select a membership level
The $1 reward tier, now with more value than ever! Patrons who pledge at this tier will receive:


- Your name appearing at the end of all my videos as a thank you for your support!


- Early access to all Pokemon Cardinal episodes, a new series coming to my YouTube channel beginning July 2020! You'll get an exclusive first look before anyone else!


- Early access to standard Saturday videos, when available. Not guaranteed to happen every week due to time constraints, but whenever I am able to get a video done a few days early, you will be the first to see it! 


- The ability to vote on a video you would like to see for "Patreon Day" which will be the third Saturday of every month.


- A monthly newsletter, detailing all the goings on with the channel, including insider info on upcoming projects!

Get ready for some serious rewards! Patrons who pledge at the $5 tier will receive:


- All rewards from the $1 tier.


- A behind the scenes look at my new series on YouTube, Pokemon Cardinal! This will include a look at things like beta designs of Pokemon, developer commentary, scrapped Pokemon, and more!


- Early access and instant downloads on all my remixes, so you can start listening to them wherever you go right away!


- Access to and downloads for Patreon exclusive music and remixes that will never be posted anywhere else!

Gym Leader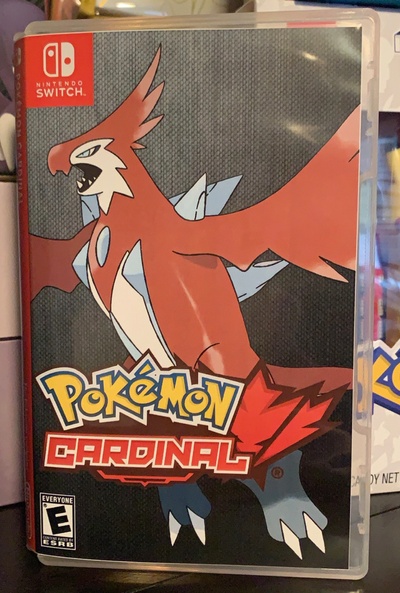 This is where it gets serious! Patrons who pledge at the $10 tier will recieve:


- All perks from lower tiers


- A one time gift of a custom Pokemon Cardinal game case, sent directly from me to you! (pictured above). This case features box art officially styled on both the front and back, and is even doubled sided in order to feel as legit as possible! This will act as a special thank you to those of you who decide to support me at this level!


- A 30 minute Skype/Discord call with me every month! We can chat about Pokemon, the channel, or anything in between. This would be a great opportunity to get to know you!

About
Hello! Firstly I would like to thank you for checking out my Patreon page! Whether you've been a follower of mine for a while or are brand new to what I do, your support means the world to me and I'm so grateful you have decided to give my Patreon a look. I have a passion for creating content on YouTube, and it has been my dream for almost five years to have YouTube as my full time job. We have come a long way in that time, and it's all thanks to you. However, I recently graduated college, and as I'm sure you can imagine the pressure to make my dream a reality has increased a little. So, I have opened up this Patreon as not only a way to provide you lovely, amazing people with a way to support my content if you so choose, but to also offer my best fans exclusive benefits and content that no one else has access to! I can guarantee you that no one out there has a bigger passion for content creation than I do, and if you pledge any amount of support to  me, you are becoming a part of something truly special. Thank you all once again for your support and consideration, and I hope you enjoy my content!
$442.94 of $500
per month
When I reach $500 per month, I will hold a special giveaway for some awesome merch from the Pokemon Center online store, exclusive to my patrons!
1 of 1
By becoming a patron, you'll instantly unlock access to 255 exclusive posts
By becoming a patron, you'll instantly unlock access to 255 exclusive posts
Recent posts by HoopsandHipHop