Iron Body Martial Arts
is creating Traditional Martial Arts, Strength, Power and Conditioning Train
Select a membership level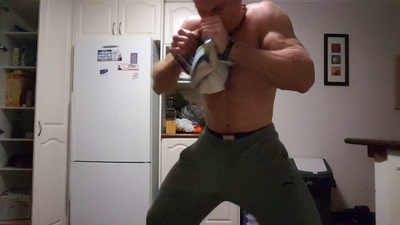 INITIATE...
As an INITIATE you are WELCOMED into the GROUP or INNER CIRCLE, to learn and contribute if you wish.
YOU are HAPPY WATCH and TAKE WHAT YOU NEED.
ASK a few QUESTIONS and Make REQUESTS.
Fellow MARTIAL ARTIST or COMPLETE BEGINNER.
YOU may NOT BE, IN TO, ANY or ALL of what you see, BUT YOU HAVE an OPEN MIND, OR STUDIES of your OWN. AND SEE BITS YOU LIKE.
THERE are things of VALUE HERE for YOU. EVEN if it is just STRENGTH TRAINING, or a SPECIFIC method of CONDITIONING. FITNESS ADVICE/ FOOD AND MEDICINE MANY ASPECTS of MARTIAL ARTS.
72 SECRET ARTS OF THE SHAOLIN. 
YOU GET:
NEW- Direct advice and Guidance For ALL PATRONS.
NEW- INVITE to EXCLUSIVE FB IBMA private COMMUNITY CHAT PAGE (You need facebook). Here you get training updates, and my general day to day stuff ALL TIERS ARE HERE. 
Access to PATRON ONLY feed and COMMUNITY where YOU can make REQUESTS for lesson TOPICS and seek HELP and GUIDANCE with your FITNESS and/or MARTIAL ARTS TRAINING.
YOU are ONE of the GROUP and YOUR SUPPORT of my youtube vids and channel is APPRECIATED.
More PICTURES and TRAINING UPDATES from IBMA.
FEEL good about supporting IBMA :)
VIDEOS FIRST to YOU guys/ based on topic.
DISCIPLE
As a DISCIPLE you wish to ENGAGE in TRAINING the recently published SYLLABUS and want guidance on that.
This tier is an EXPRESSION by YOU of INTENT, to TRAIN hard and be considered for RANK of DISCIPLE after such TRAINING- following GUIDANCE (from me) and SYLLABUS themes.
Or being a person who can already exhibit these traits and skills will be AWARDED the RECOGNITION of DISCIPLE and ACCEPTED as an AFFILIATE OF IBMA. AND PROMOTED on MY CHANNEL- IF YOU WISH.
YOU GET, All the perks from the INITIATE tier. PLUS more LENS VID AND PIC UPDATES.
 NEW- INVITE to EXCLUSIVE FB IBMA private COMMUNITY CHAT PAGE (You need facebook). Here you get training updates, and my general day to day stuff ALL TIERS ARE HERE 
ACCESS TO THE SYLLABUS and FURTHER GUIDANCE from me on ALL the TRAINING TOPICS contained.
MONTHLY GROUP VIDEO CHAT/ HANGOUT Q AND A ASSESSMENT if you wish to participate. (FB private group) or other arrangement.
YOU will then be ASSESSED and RANKED on YOUR PROGRESS.. IF YOU WISH.
AND AWARDED CERTIFICATION OF ACHIEVEMENT and Recognition WHEN the Standard is Met.
ALL OF THIS IS DONE AT YOUR OWN PACE. NO RUSH. There is much to do.
NOTE: Feel free to join this tier for info learning and study or to contribute, even if you don't wish to engage in any or all of the above.
DISCIPLE COLLABERATOR
You get all the PERKS from the Previous TIERS.
EXCLUSIVE VIDEO requests, YOUR VIDEO requests will be made within the WEEK. This gives you the OPPORTUNITY to ALSO COLLABORATE with IBMA YOUTUBE and do vid responses ETC, that i will share and promote.
Maybe you are already AN INITIATE OR DISCIPLE, but YOU NEED A SPECIFIC SUBJECT or SYLLABUS VID and you NEED IT NOW..SO you can GET training.
I often do vid requests from all tiers, however they come, when i get time and can do them/ they fit in with my training.
YOUR VID REQUESTS ARE TOP PRIORITY.
GET the answers YOU NEED or EXPLORE ANY TOPIC, post ME A Q AND A ETC.
Note: I am willing to speak about many issues, however will not cover abusive topics, racism, and socially unacceptable things.
About Iron Body Martial Arts
https://youtu.be/BuHhTrYhxYk


NEW FOR 2018!!!!!- SEE the IBMA DISCIPLE SYLLABUS programme on the DISCIPLE TIER as well as the UPDATED TIERS and REWARDS. FOLLOW ALONG TRAINING CHALLENGES and MORE.
NEW: AUDIO CASTS available to ALL PATRONS talking about all aspects of LIFE, TRAINING and MARTIAL ARTS.
Hi guys this is Brett from IBMA, I have been dedicated to traditional martial arts training for the last 15 years, AT LEAST.
IRON PALM AND IRON FIST CONDITIONING AND TRAINING AS WELL AS ALL OTHER ASPECTS OF MARTIAL ARTS/ STRENGTH FITNESS AND POWER TRAINING. 72 SECRET ARTS OF THE SHAOLIN.
Now I want to share and have been doing so on social media and YouTube for about 5 years.
I want to give YOU the TIPS, HINTS and SECRETS to Martial Arts Training that I wish I had, I specialise in Old School Shaolin Style Kung Fu conditioning and training methods from an array of Martial Arts.
I wanted to take this forward by creating a space where true martial artists can come and share ideas like a DOJO OR CLUB environment, were you feel a sense of involvement and where you are free from the Youtube FLAMERS and KEYBOARD WORRIORS.. Our own Place
So join me and become an INITIATE or DISCIPLE.
By PLEDGING you will BECOME PART of IBMA, hopefully, commit to the training and ideas and SHARE in EXCLUSIVE CONTENT and more of my ONE to ONE direction.
Videos will be first here and hopefully the page will builds.
All the above said, if you just want to support the continued content, then that's fine.
Thank you guys for all your support over the years to keep me doing what i'm doing.. see you soon brothers and sisters in the Martial Arts.
Feel free to head over to Iron Body Martial Arts Facebook page as well.
YOUR SUPPORTING THE CHANNEL TO GET BETTER AND NEW TRAINING EQUIPMENT and FACILITIES. This means BETTER and MORE VIDS.

1 of 3
Recent posts by Iron Body Martial Arts