Into The Dark
is creating a site for horror fans. Come and get involved
Select a membership level
The Teen Horror
For a dollar you get my undying gratitude for your support.
Every penny helps and every pledge is important in helping the site grow.
Plus you get the satisfaction of knowing that you are making a difference and helping someone do something that they are truly passionate about.
The Michael Myers
Pledge $3 and I will follow (stalk) you on Twitter and/or Instagram.  No matter how fast you run I will
ALWAYS
walk faster.
You will also get access to Patreon only videos.
The Freddy Kreuger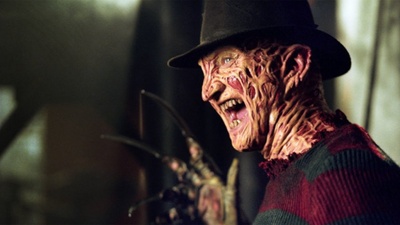 One two Freddies coming for you......with a shout-out for your support.
And of course you get the $3 rewards as well.
On top of this I WILL haunt you in your dreams (maybe)
About
Hi I'm Andy welcome to my channel.

I hope that you enjoy my content, it's a bit scary putting yourself out there but what doesn't kill you...

So why am I on Patreon?

Well the simple, and honest, answer is that I love the horror genre. Always have done ever since I was a kid and hooked on the old Universal monster movies.
I am guessing that if you are reading this you have at least a passing love of all things horror as well.

So welcome to Into The Dark - feel free to leave the lights off.
I am new to the the Vlog scene but it is something that I have thought about getting involved with for some time now and have finally decided to put up or shut up.

Why have I chosen Patreon?  Well it just seems like a better fit for me than YouTube, it allows me to tailor my content to the people who want it and it means viewers are not constantly hit over the head with ads (a real pet peave of mine).

As I have said I am new to this so it will be a learning experience for me as well but I hope that we can have fun along the way.

I will be posting regular videos (I am setting myself a target of one video a week) of film and book reviews, unboxings, general horror discussion and perhaps the odd 'field trip' to a horror convention or two.

My goal is for people to get involved and share their love of the genre with others so please do not be afraid to post comments or suggestions, I want the site to be about a community of like minded people.

As to why you should support me, well without launching into a sales pitch it does take time and effort and with support I can invest in better equipment, spend more time on it and ultimately produce better quality content for you all.

At $500 I can upgrade my current camcorder to a better quality one and also invest in some green screen equipment to further improve the quality of my content.
1 of 3
By becoming a patron, you'll instantly unlock access to 17 exclusive posts
By becoming a patron, you'll instantly unlock access to 17 exclusive posts
Recent posts by Into The Dark