Matt
is creating Videos About the World and Life Abroad
Select a membership level
Add A Little Fuel To The Tour
Every little bit helps... three bucks.  A few dollars can help me grab a cup of coffee in the morning, and contribute to a meal on the road.

Doing this also gives your access to my regular Exclusive Patreon Audio Podcasts, messages and posts.

Thank you so much for contributing to the JaYoe World Tour! It is truly appreciated.

Add A Fiver Of Fuel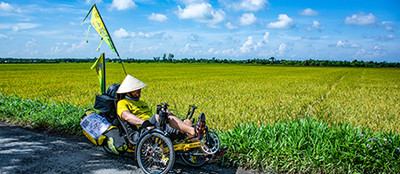 Five bucks can be used for a lot to me on the road.  It's a meal that can give me the calories I need to keep on.  It can get me a good coffee.  It can combine together to fund me in all sorts of ways that will enable me to continue this thing I am embarking on.


It also gives you access to my messages and posts here on Patreon.  Ask me questions and communicate with me as I ride.


I'm asking for your address as well.  From time to time I would like to send you some trinkets and mementoes from my travels.

Adding Premium Fuel
This is incredible!   You are investing in me, and I do not take this lightly.  With donations like this, I am assured that there are passionate people who are invested in me as much as I am invested in the future of the JaYoe World Tour.
I want to make sure you understand how appreciative I am of you and your patronage.  I'll be sending you periodic messages and packages from the road.
About
I make (mostly) daily videos are about a a guy who has set off on a cycle adventure from China to the USA on a recumbent 3 wheel trike all the while trying to check off his bucket list items along the way.



I've already completed a Everest summit expedition, had an expedition thru the largest cave in the world in the jungles of Vietnam, ran marathons in North Korea and gotten hit by a truck on a lonely Chinese highway, ran marathons in North Korea and traveled around China and Southeast Asia.

I built this whole project around my mantra, JaYoe. It's a play on an existing Chinese phrase 加油, which means "to add fuel". I'm trying to add fuel to my life and the lives around me thru inspiring acts of adventure and travel. Up until now I have self funded my tour and video production, but with over 400 VLOG episodes to date and a bunch of video projects coming, I figured it was time to ask for communal help.

We live in an amazing world, where independent artists and filmmakers can produce their own product which can entertain, inform and inspire people all over the world. And they can do this with all the drive and determination of someone at the helm of their own ship. But most of us don't have a studio paying us for our service. We do it because we are passionate. We enjoy it. It drives us. But often times passion projects like this do not get the requisite return on investment, and this forces us to try to pay the bills with a lesser option while sacrificing the quality of our true passion.

I guess what I am saying is if you have been entertained, informed or inspired by my videos, I invite you to join the JaYoe Nation. By giving whatever you can afford to give, you will be helping support my efforts to create, and help me to focus on the things that I love. In turn, I can continue to deliver to the best possible quality videos and interactions with the world as I travel.

And don't worry. If you don't want to give, cannot afford or don't like me that much, I'm totally OK with that too. I still love you.

By the way, if you are wondering what JaYoe means and the message that drives me... i made this little video to help you understand!


$507.87 of $1,000
per month
Wow... this would be cool right?  To receive $1,000 to make the videos I love to make, from the people who enjoy watching them.  It's the perfect storm scenario.
1 of 1
Become a patron to
Unlock 329 exclusive posts
Connect via private message