Jassy J
is creating Guitar Covers, Gear Videos, Original Music, Tutorials
Select a membership level
GUITAR COVER VOTING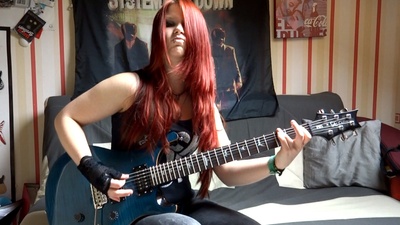 Every month you get a poll where you can pick one song from 4 suggestions I make. The song with the most votes will surely be a guitar cover as soon as I can play it!  
EXCLUSIVE POSTS plus AUTOGRAPH CARD
Everyone pledging 3$ or more per month will receive a special two-sided autograph card - PERSONALIZED! 😀This is my way to say thank you to your awesome support!!! 💗
Ah and besides you unlock some exclusive patreon-only posts!
PLUS: all of the above
PATRON DISCORD LOUNGE + TABS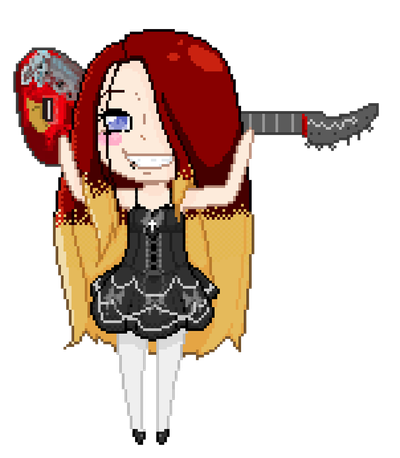 Want to hang out on Discord together and chatting a bit? I will send you a link to the exclusive Patreon Lounge! There I try to check all the messages you sent me  and answer all of your questions! 
As the demand is really high I will also share the tabs I used for my guitar covers here on this page =)
PLUS: all of the above
Includes Discord benefits
About
Welcome to my Patreon Account =)
Rock and Metal
music is
very important
in my life. 🎸 On my youtube channel "
JJ'S ONE GIRL BAND
" you will find several
guitar
and
instrumental covers
as well as
music collaborations
and
original songs
I created in some kind of home production. People can take my instrumentals to create something completely new out of them by adding vocals or jamming to them, the matter is to have fun.
I usually upload 3-4 videos per month on my channel. In addition to covers there are some talking videos where I give general guitar tips or I simply talk about random subjects. 
There are currently 170.000 people subscribed to my channel who enjoy the videos I'm uploading. I'm more than overwhelmed that so many of you got inspired to start making music just because of the stuff I am doing! However, it's not always easy for me to provide the content.
YouTube isn't a parallel universe of people that have nothing to do besides making videos. All of us invest a good amount of time, patience and money to work on our content. As for me, I'm not making anything of YouTube's ads.
Everyone comes to a point where you have to work in order to be able to live - taxes, insurances, rents, ... - everything needs to get paid. This is why a majority of YouTubers have a dayjob so that they can actually live. This is where I want to mention the most important point:
TIME.
Well, you can still create content in your freetime, right?
- some of you might think. But - guess what - it's not THAT EASY. Over the months of working, I am so involved in my job that doing YouTube and composing for my band Oversense got really hard; it's hard to find time to actually work on my career as a musician. It's tiring to have three fulltime jobs at once, everyone can tell.
It's like a vicious circle: I'm working to earn money in order to live in exchange for having less time to spend to work on my career as a musician. Help me get past this circle to have more time for the stuff you guys are supporting me for on YouTube and for being a part of Oversense!
▶️
Since December 2017 I am officially a member of the German Melodic Metal band 🔥"OVERSENSE"🔥.
I spend
a lot of time
for music and rehearsals since it is
my dream to be able to live from my guitar playing
. With Oversense we play a bunch of gigs. So if you are from Germany, be sure to check our Facebook page for recent tour dates!!! It will be a pleasure to meet you guys and talk to you! 
▶️
So why become a patron?
You can support me on my journey as a guitarist! You will get posts about what's happening in my life and more updates about my band!
If you are becoming a patron you will sure be part of a small community we build up together with exclusive content no one but you will get!
 We even have a discord channel where my patrons can talk to me at selected days (language: english) =) This patreon page is my way to say THANK YOU 💗 for all the amazing support you guys are giving me on my youtube channel. I surely don't take it for granted and
I always work hard on my videos to get the best quality content for my subscribers
. So I hope you still like the stuff I am uploading there, haha!
If you want to support me and become a part of the creating process of my channel, feel free to become a patron!
▶️ I've put up some cool rewards for you and if you have more ideas, be sure to let me know! =)
Cheers,
Jassy J
Impressum
Angaben gemäß § 5 TMG
Verantwortlich für den Inhalt nach § 55 Abs. 2 RStV:
Johannes Hartmann
Klappacherstr. 95
64285 Darmstadt
Sowie:
Sandy Brown
Jasmin Pabst
Kontakt:
Telefon: +49 6151 78 75 348
E-Mail:
[email protected]
Umsatzsteuer-ID
Umsatzsteuer-Identifikationsnummer:
007 825 04458
Als Dozent beim Guitarnerd gelten auch für mein Unternehmen die folgenden Datenschutzbestimmungen:
https://gitarrelernenberlin.de/datenschutz/
Anmerkungen nach DSGVO:
(1) Wird man ein Patron, so gibt Patreon die zur Registrierung benötigte E-Mail-Adresse weiter. Diese E-Mail wird für keine weiteren Zwecke im Zusammenhang mit dieser Seite verwendet. Für weitere Informationen wird auf den Datenschutz von Patreon selbst verwiesen.
(2) Die über Patreon versendeten Rewards erfordern die Angabe einer Shipping-Adresse. Gibt ein Patron diese Adresse an meine Seite weiter, so werden diese Daten vertraulich behandelt, weder an Dritte weiter gegeben noch verkauft. Die Adressdaten werden lediglich zur Versendung der Rewards benutzt.
GROWING COMMUNITY: You allow me to get a decent moving cam with image stabilization. PLUS! Working on mixing and mastering on upcoming Oversense albums will get a lot easier since we can afford a producer!
3 of 5
Become a patron to
Unlock 147 exclusive posts
Connect via private message