Jenny-Jinya
is creating Art, Illustrations, Comics and other weird Stuff
Select a membership level
Good Noodle
Many a mickle makes a muckle! Most people struggle with money, so I am beyond grateful if you can pledge ANY amount of money, even if it's "just" one dollar.
For $1 You get access to the Activity Feed, and Work in Progress pics from my Artworks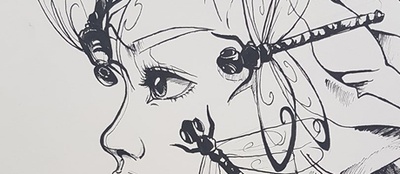 Super Noodle
$5 is a lot! I can get a brush, a copic marker, a sketchbook etc. If you pledge $5, you can message me and request me for a pencil sketch of whatever you want :)
It won't come to your house, but I'll send you a high resolution file you can print/save/do whatever you want with it.
You get access to the Activity Feed, and Work in Progress pics from my Artworks


Hardcore Noodle
 For $10 you can request a semi colored illustration (means, matte coloring, no background) or a mini-comic (maximum of 4 panels) of me. As always you'll have access to my Activity feed and see works here first, before they'll be published elsewhere.
About Jenny-Jinya
Hello! I'm Jenny Jinya, I'm a freelance illustrator and comic artist from germany. I've been making digital and traditional art for many years. I always knew that I've wanted to turn this passion into a Job. I'm currently studying "Digital Media" which includes animation, game design, film and many other creative tools to work with.
Why I need your help
There are two reasons I need your help to be able to continue what I am doing.
The first and obvious reason: surviving as an artist is always hard and takes a lot of time and effort. I have no team to help me, so while studying I need to get my SNS going, promote my work, update my website and improve my skills to name a few things.
The second is that I have an autoimmune disease that makes it impossible for me to work a "normal" job. Creating art is still hard but as a freelance artist I can plan my time and strength in line with the symptoms of my illness.
Rewards
Patrons on Patreon will receive special previews of new working in progress drawings, comics, and secret side projects, as well as HD files of my latest paintings, comic panels, and process videos. You can also recieve physical art pieces that come to your house.
Plus: You enjoy my ongoing webcomic? You can make suggestions on what is going to happen next! If you come up with a good idea it might get considered.
Copic Marker! Every single one, is a good one to fill my collection :)

1 of 4
Recent posts by Jenny-Jinya