Jurassic Adventures
is creating an educational dinosaur school experience for learners in Africa
Select a membership level
Every Little Bit Counts
It has to start somewhere and all the 1 dollars add up and before we know it there will be enough to cover 1 child and then two and then a school.
1 Child Sponsored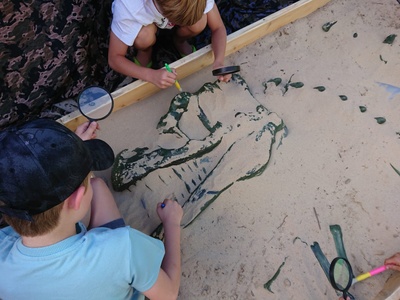 This tier selection will cover the cost of 1 South African Child to experience the Jurassic School Experience. By selecting this tier you be enabling 1 child to experience the dinosaur workshop.
Platinum Support
By selecting this tier you are assisting the overall reach of the program within South Africa and ensuring the children can take part in this amazing dinosaur experience.
About
The Jurassic School Experience leads the children on a breath-taking tour through pre-historic life. They'll discover and interact with a thrilling and amazingly life-like dinosaur puppets and fossils, delivered in a theatrical performance incorporating curricular outcomes that will capture the minds and attention of the children while stimulating their imaginations and developing a keen interest in reading.

We have mindfully incorporated curricular based outcomes into the program to ensure that our program's educational aspects align to that of the schools, because we believe that learning should be more than just a classroom and books.

We have also put together essential gift packages for the learners to assist parents with daily needs such a water bottles, lunch boxes, lunch coolers, draw string bags for PE cloths, school bags and other essential items like stationary as an optional add on to help the learners with small challenges that are often overlooked. 

This unique experience costs less than a movie ticket at $7.95 usd per child. With add on packages starting from $4.95 USD dollars per child for a water bottle, lunch box and draw string bag. Help us share this amazing experience with the children of South Africa and encourage a new way of teaching and learning.
Recent posts by Jurassic Adventures