Kamikaze Digital
is creating Digital Media
Select a membership level
Spare a Buck?
• By providing just one dollar your contribution can build with other Patreons to help the channel grow and improve. One dollar and one view counts, your support is much appreciated.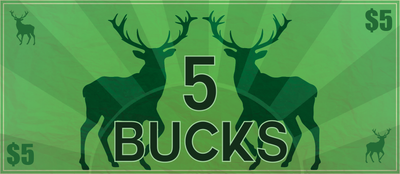 5 Bucks
*NEW*
• You will get 1 hour of my time as a Graphic Designer/Photoshopper to work on whatever project you might have ie, profile pic, youtube banner, twitch background, your business's sign. Normally a $20/hour rate!
• Five dollars gets you a verbal shoutout/thank you at the end of every stream!
• A special Chat Role in Discord, with a chance to join me in the live twitch chat while I game.
• That five dollars also provides a massive boost to the channel and will go towards improving and creating content.
Big Bucks
You're paying the Big Bucks now! You get every benefit from the $5 Shout Out! tier, plus an additional hour of design time! 
Want more? 
Well at this rate you're basically an Associate Producer, so why don't you share some thoughts on what you'd like to see me do/play and I'll seriously take them into consideration for the channel. 
You get to shape our future!
About Kamikaze Digital
Kamikaze Digital started with my cousin, our mutual friend and I as "Kamakazie Kids", a Jackass inspired stunt show with cartoon animations as well. That idea became something more real 10 years ago when I created Facebook and Youtube accounts to go along with it.

Over the past decade I've taken the idea we had to create content and evolved it into Kamikaze Digital, utilizing my Graphic Design skills I would take on small jobs for upcoming Youtube channels and help them create a Social Media Brand that can go across all their pages. I would offer professional services for a discounted price so that they can have a better chance to be taken seriously and grow with their audience.

Most recently I've been trying to balance a full time job with my passion, Kamikaze Digital, as tough as that can be. I've seen growth though, and no matter how small, every view counts. With your support on Patreon we can move towards the goal of becoming independent, so I can focus 100% of my efforts towards Kamikaze Digital and grow it into a team.

We do NOT monetize our videos wherever possible, so you have a better viewing experience.

What do we do?
• We are primarily a Gaming channel, with frequent streams and even edited/produced content
• We also do Graphic Design specializing in Social Media Branding, but I have professional experience in the Sign Industry and can produce media for just about any purpose ie print/video/digital

Where would my Patreon support go?
• Your contribution will directly go towards our goals to improve and grow our content and team.
• Clear goals will be set out and the more support we can get the more I can focus on creating more content eg. Podcasts, more streams, more talent in videos, more edited high value production videos, music, art
• Specifically money may go towards a webcam for streams, a second monitor, purchasing new games, creating contests and prizes, paying for internet, eventually becoming financially supported

Are there any other rewards?
• Of course! As a Patreon supporter I will put a system in place where you can directly effect the channel with your input. Imagine yourself as an investor in our future, we will value your opinion and shape the company along with your views.
• Patreons will eventually get the ability to play games with me, get artwork from me, and even have a "Twitch  Plays" style video where you can tell me how to play a game and guide the experience throughout the stream!