Kat Michels
is creating The Stories of Heroes
Select a membership level
Level 1 - Mary Harris Jones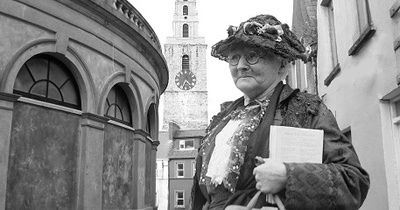 Thank you, every dollar counts! At this level, you will have early access to all of my Heroines of History posts, plus  a monthly Heroine of History fact sheet where I will highlight a woman who did something great to make history!
Includes
Early access to Heroines of History posts
Monthly Heroine of History Fact Sheet
Level 2 - Jeanne Manford
Three times the thanks! You will get the above and . . . access to my Super Hero blog.
Includes
Early access to Heroines of History posts
Monthly Heroine of History Fact Sheet
Access to Super Hero Blog
Level 3 - Fannie Lou Hamer
Thank you for skipping a latte this month to send me that dough! As a huge coffee lover, I appreciate the sacrifice. You will get the above and . . .  access to my 'Kat in the Kitchen' video posts where I will talk about cooking with dietary restrictions and most likely make a mess.
Includes
Early access to Heroines of History posts
Monthly Heroine of History Fact Sheet
Access to Super Hero Blog
Access to 'Kat in the Kitchen' video posts
About
What this world needs more than anything right now, is everyday heroes. Not just heroes on a grand, unrealistic scale like Wonder Woman - although those heroes are fun too - but heroes in our communities, heroes within our acquaintances, and most importantly heroes for ourselves. There are so many people in this world today dealing with silent and invisible struggles and ailments that make getting out of bed and facing the world everyday a heroic act. It is time that those heroes were recognized too.

For only $1 a month you will have early access to my Heroines of History posts and on the first of each month you'll get a Heroine of History Fact sheet. These are American women, and their actions were not motivated by fortune or fame. There was no glory, and in many cases very little recognition for their activities. They simply did what needed to be done, and they did so in an extraordinary way. They roared without making a sound and it is time they were given a voice.

For $3 a month you will have access to my Super Hero blog. In this blog I will explore what it means to me to stand up and become my own hero, with appropriate shout-outs to the heroes in my world who make life worth living.

For $5 a month you will have access to my "Kat in the Kitchen" video series. In this series, I will share what it's like cooking with severe food restrictions, when you have zero formal training as a chef. Messes will be made, but there will be good food as a result ... we hope. This series will piggyback off of blog posts on my website, but never you fear! I will share the links to the blog posts with each video.

For $10 a month you will get chapter sneak peeks into the fictional heroes that I am writing. I will share chapters from the books that I am reading, some in their early drafts, followed by the same chapter in later drafts. This way you can get a glimpse into my writing process, and know what happens in the sequel to "In a Time Never Known" before anyone else!

For $25 a month you will get an autographed copy of any book I publish while you are a patron.

For $100 a month you will get everything listed above (I should have mentioned that earlier. Each tier has access to the content in the tiers below it.) plus I will be your pen-pal. Up to four times a month I will pull out pen and paper and respond to the letters I receive from you. Let's give the USPS some business!


Join me as I explore the world of heroes and tell their stories. Consider making a $5 monthly contribution (about the cost of a cup of coffee here in California) to help share the stories of the heroes in our midst.

Thank you for joining me on this journey.
Call me old fashioned, but I prefer doing research in actual books as opposed to ebooks or on the internet. As you can imagine, I have a well-used library card. That being said, when writing a book an author needs to refer back to her sources multiple times, sometimes months apart. I look forward, when this goal is met, to being able to flesh out my home library with the books I've been drooling over.
1 of 3
Recent posts by Kat Michels
By becoming a patron, you'll instantly unlock access to 112 exclusive posts
By becoming a patron, you'll instantly unlock access to 112 exclusive posts