Krisztina Lazar
is creating Lazar Parrot Tarot
Select a membership level
The Fool: Behind The Scenes
Get a patron-only perspective of in-progress cards and sketches
Includes
Behind-the-scenes art, writing and videos 
The Magus
Member only content includes:
Behind-the-scenes art and videos
a gift in the mail when you first sign up
The High Priestess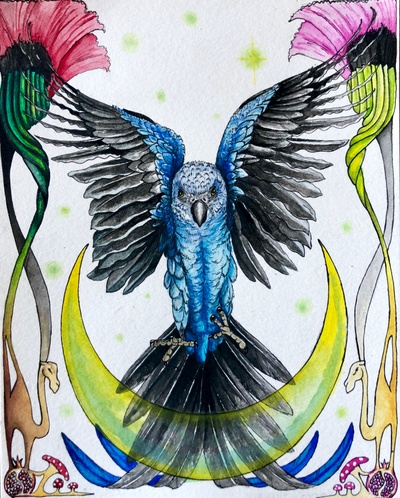 The High Priestess support tier includes:
Includes
Behind-the-scenes art and videos
A gift in the mail when you first sign up
Access to patron-only content
Monthly video about the Lazar Parrot Tarot, for example, discussion on an individual card, etc. 
About
Hello, Everyone! Welcome to my Patreon page :) 
I am working on a tarot deck, Lazar Parrot Tarot. This will be a combination of two things that I love very much, parrots and tarot. I have been a parrot lover for as long as I can remember and I've been wanting to do a significant project that speaks to their amazing personalities, intelligence and emotional capabilities as well as their struggles and challenges they face in the wild and as pets around the world. Tarot has become a part of my life daily, as I do spells, readings and inquiry for myself and others all the time. I thought that using the tarot, with it's archetypes and meanings, to highlight the esoteric correspondences of the cards, as well as tying it all back to the vast and varied world of parrots would be a unique approach to a deck. Each card will feature a parrot, and that parrot will in their essence, relate back to the card that they are on. 
The deck will be a Thoth-based deck, but don't worry, if you are most familiar with the RWS styles decks, there will be enough in each image to make the cards not only recognizable but easily readable. 
The end goal for this deck is to not only have it be available for purchase, but to have a companion book with details and descriptions about each card. 
And now, for a little bit about me personally:
I am originally from Cleveland, OH and I completed my undergraduate Bachelor of Fine Arts at Carnegie Mellon University in 2004. I received my MFA graduate degree in 2011 from the San Francisco Art Institute New Genres department. My paintings have been exhibited in group and solo shows throughout the United States and Europe, most notably at the H.R. Geiger museum in Gruyere, Switzerland. I mentored with several of the leading visionary artists of our time, including Martina Hoffman, Robert Venosa, and Brigid Marlin. I teach my own style of the mische technique to students privately and in groups as well as in a seminar at Carnegie Mellon University. My work has been featured in multiple articles, online galleries and book publications. I live and work in Oakland, CA with husband, African Grey parrot, Sam and cat. Chichibu, who are forever participants in and inspiration for my work.
I hope you will join me on this journey through the 78 cards of Lazar Parrot Tarot. 

When I reach $75 a month, I will be able to write more content and have the content edited on a timely basis. This is one step closer to creating my Lazar Parrot Tarot companion book. 
1 of 1
By becoming a patron, you'll instantly unlock access to 10 exclusive posts
By becoming a patron, you'll instantly unlock access to 10 exclusive posts
Recent posts by Krisztina Lazar