Newark Speaks 2U
is creating content relevant to our communities, we are storytellers
Select a membership level
SHOUT OUT IN SOCIAL MEDIA
Shout out on all social media platforms and a Newark Speaks 2U Tshirt or aTote bag 
A MOTHER'S CRY PILOT IN VIMEO.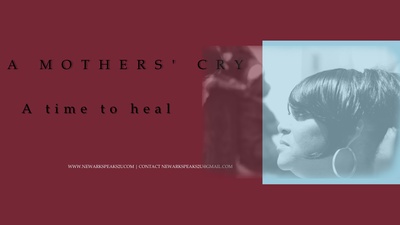 Purchase of pilot episode of A MOTHER'S CRY, shout out in social media and mention in the next episode. 
About
"A Mother's Cry" is a docu-series based on the true stories of mothers who have lost their sons and/or daughters to street and gun violence in Newark, New Jersey. The initial pilot has been picked by JAM cable network on Zingo TV.
Khadijah-Catherine Taylor via Newark Speaks 2U wants to bring the aftermath of such tragedies to the public awareness by getting the answers to vital questions:
"How were these families affected as a unit?"
"How were they affected individually?"
"How did they sustain their family unit relationship and/or with their community, if any?"
We learned at the beginning of our research for "A Mother's Cry" of a case where it was necessary to relocate a mother because of credible threats by gang members.
Newark Speaks 2U targets audiences via Universities, High and Middle Schools, and Public Television access. We want to make our content relevant that will offer direct insight into this social paradigm for television cable stations like Vice TV, ASPIRE TV, NETFLIX, and HULU.
First-year goal:
The project will be marketed to renowned film festivals, i.e. Tribeca, Sundance, and other international film festivals that could offer viable sponsorships and partnerships.
To initiate an interstate journey interviewing mothers who have lost their children to street and gun violence asking the question; "How am I dealing with my loss?"
We also want to discuss how community activists and law enforcement agencies are working together to end the killings of young black and brown humans in these communities.
NS2U wants to take the project to Los Angeles, California because of its diversity, along with its history of gang violence. These facts will allow us to open doors for more personal dialogue with mothers who are willing to take part in our episodes.
We have observed how television news will give the viewers names, maybe an assumed motive, a glimpse of the outraged community, but never give the audience a follow-up on the families who are also victims of such violence.
Season 1
Will be focused on 5 different states:
. Chicago, Illinois.
.Washington DC
.Atlanta, Georgia
.Los Angeles, California
. New York, NY
Season 2
Our focus will be the social justice movements and people who are working together to influence the government to bring change in these communities.
The history of violence in the African-American and Hispanic communities throughout the United States faced with the same problems, with no real solutions. Still battling old problems with no real approach to solving them or government help.
Season 3
NS2U will focus on siblings and fathers and survivors of gun violence.
2. We want to explore, with the help of mental health professionals, how independent support groups and religious organizations are helping families work through their grieving process. Not only families but the communities where these crimes were committed.
Season 4
NS2U will collaborate with Lebanese visual artist, Daniel Drennan Al Anwar.
Drennan created a photograph collection from Lebanon, Syria and other countries where civil wars have taken the lives of young men and women.
We don't want to compare the pain we want to present the global impact of loss and grief.
Season 5
End with a panel discussion, bringing community organizations, religious leaders, the Mayor and health organizations, "THE REALITY OF NEWARK, a panel discussion on the day to day violence.
Ultimately, Newark Speaks 2U purpose is to explore, the effect of these tragedies on the family structure and the communities where these crimes happen more often than not.
Thank you for taking time from your busy schedule.
Khadijah-Catherine Taylor
CEO/Founder
Newark Speaks 2U
862-252-3177
www.Newarkspeaks2u.com
I will be able to travel to Chicago Ill. to film the first episode in Season 1.  I have contacted organizations and individuals who will participate in the project. I have also contacted schools, universities to have interns work with me in the project. In doing so it will be less expensive than traveling with a crew of 6 people at a cost of $25,000.0


1 of 1
Become a patron to
Connect via private message
Recent posts by Newark Speaks 2U