Lee J Plummer
is creating Literature, Art, Wood Work, Metal Work, & Social Media Content.
Select a membership level
Supporter
This tier is that of support, by giving someone such as myself encouragement to move forward with my passions, life's hard, time is hard to grasp, but with a little nudge, a boost, or even a hand, the journey towards success becomes that much easier. 
I enjoy this journey, all I ask is that you join me on it, together, side by side. 
I can't offer you much, but what I can do, is continue in my efforts as an content creator, artist, writer and advocate.
Acquaintance
In this tier we become more than people who walk together in the journey we call life, we become known, exchange greetings, have conversations, and begin the journey towards a friendship, not just for your support, but your encouragement and belief in who I am and what I am trying to do with my life. 
Thank you, and as way of repaying you for your gesture, I would gladly take 10% off any merchandise I were to make for you, wood work that is.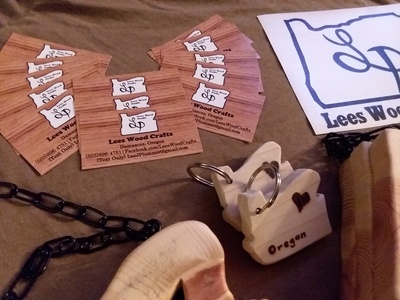 Ally
If you are in this tier I am truly grateful to know you as a Ally, as you are deciding to stand by my side and commit to a belief that is my life. Wow, thank you.
But even at this point I am still limited with what I can produce, so I'd like to offer you the 10% discount of any thing I were to make for you, as well as a free keychain of your home state, as I continue to produce content, strive to finishing a book, and continuing my wood work.
About Lee J Plummer
So first off I am a lot of things, so I like to break it down to being an ambitious person in regards to my passions and dreams. But first and foremost I am a Husband, Father and disabled veteran fighting for his benefits, all of which fuel my desire to find success as authentically possible.
But to you I am an Artist, Writer and all around creator of various things. "Creator" yes, that is what I am, but I try to apply a sense of practicality to is as well as being realistic when it comes to the capabilities one has, I am after all trying to make a life for myself, not just a name, but my overall goal with all of this is to not only provide you all with various content and products, but create a life of sustainability to live as free as one possibly can, well and tell my story so others can achieve their ambitions as well.

So I'm hoping you will see something unlike others here on my page, and I call it ambition.

The ambition to become a published author, so I may share my stories of triumph, stories of strength with the ability to overcome and defy becoming a statistic. My stories come from my life's journey, a vast one with many turns, a story of finding purpose and passion, while expressing the love of being a father, and what he wishes to not only teach his children, but what he wishes to create for them as a family man who desires true freedom to be with the ones he loves. These stories include war, mental health, adversity, being lost and forgotten, and so much more.

Secondly my ambition to create as an artist, a artist who created an original product, The Wooden State Suncatcher, so far I have reached 9 states, Oregon, Washington, Alaska, Colorado, New Jersey, Delaware, Texas, Nevada and New York, and I'm always looking to add to the collection. But I am slowly turning this into a at home business, by creating Picture frames, Key chains and so much more. But I also draw, and I do metal work, mainly jewelry making using metals such as copper, silver and gemstones.

And lastly my ambition as a social media creator, from the things I share online, giving fitness tips, providing inspiration and motivation, mental health advocacy, and soon to be my music reviews on YouTube.

So basically you see what I have to offer and only more will come in time as I grow and structure the things that mean the most to me and who I am as a person. I am no brand, nor do I wish to be a trend, I just wish to reach people, make connections, create memories, and share what I have to provide. Whether or not success finds me, I'm doing what I love, and that is what truly matters, but I also know everyone needs a helping hand from time to time, so I hope in those regards you follow me on this journey called "Life" 

To create a website and store towards my writing and art. Each are separate. One through Wordpress and the other through Etsy(Pattern), both monthly subscrptions.
1 of 6
Recent posts by Lee J Plummer