Lisa Brass
is creating Creative faith devotionals, journals, cards, ephemera, and more
Select a membership level
The Power of One
Limited (299 remaining)
Demonstrating the Power of One, one person, one family, one dollar for the sake of the Gospel.  Contributing $1 gives you Full Access to my Patron Only Stream and one Digital Scripture Encouragement Card Sent to you each month for you to keep or release.
Hope Grace
Limited (499 remaining)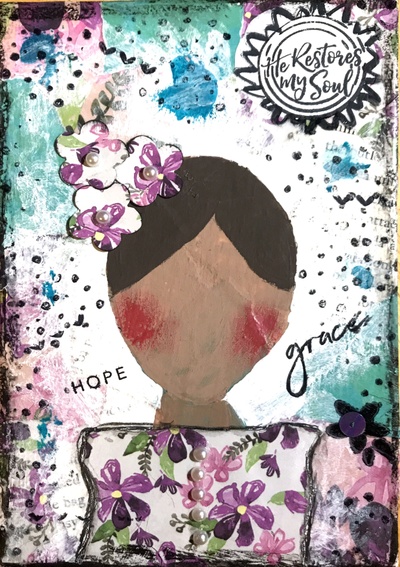 Hope Grace, a faceless girl. She isn't really faceless as she at any moment can represent you, me or someone we know. Her story illustrates my current season of needing my soul restored as I fight to walk in hope and rest in the truth that God's grace is sufficient.  Your donation supports ongoing creative faith ministry in the form of in home classes/workshops, community, and church events.
About
Who is Lisa Brass?
I
encourage
! I
inspire
! I
equip
!  All from a foundation rooted and grounded in faith in Jesus Christ.  I am a homeschooling momma, two sons at home, one son is grown and gone, lol.  I make all kinds of stuff from paper crafts, to products infused with Young Living essential oils. 
Why Patreon?
With your support I can share the light of Jesus and use this platform as a means to equip the body of Christ, specifically women through Titus2 mentorship and providing Visual Faith classes/workshops, products of faith and encouragement, Bibles and more.  I have so much to share with your support.    I love giving and with your support  I will overflow. 
"And may the Lord make your love for one another and for all people grow and overflow, just as our love for you overflows."- 1 Thessalonians 3:12
Also, with Patreon we can be a light to others by sending out missional encouragement cards with scripture written on them.  This cards can be mailed to recipients or released around various cities and towns by waiting of medical waiting rooms, bathrooms, businesses, etc.
What is My Content?
Articles about marriage, personal devotions through visual faith practices
Photographs and eventually some videos about creative faith pages and techniques
Articles about healthy living to include recipes and photographs as stewards of these bodies that God has gifted to us
How Much do I donate?
You decide how much you want to give, as low as $1 each month.  Decide what reward you would enjoy to help you answer this question for you.  Bonus:  with each new patron that you refer, I will send you an extra goodie.  They just need to message me that you sent them.  That's it.
Can I stop my subscription?
Yes, if you decide it's not for you anymore, or money is tight, please feel free to opt out.  You can always reconnect with me here later.
Why do I create?
It's one of my spiritual gifts.  I must!
To encourage others with the word of God through Visual Faith Practice.  

To proclaim the "good news" of the promise that was made to our ancestors.

To be a vessel that God can use to expand His Kingdom
  
1 of 1
Become a patron to
Unlock 13 exclusive posts
Connect via private message
Recent posts by Lisa Brass