Lots of Lore
is creating Lore Videos
Select a membership level
APPRENTICE Researcher
1. Credits at every video episode
2. Become part of our Discord Community
3. Access to interact with our Facebook Community Streams :)
4. Our Appentice Researcher Badge
JOURNEYMAN Researcher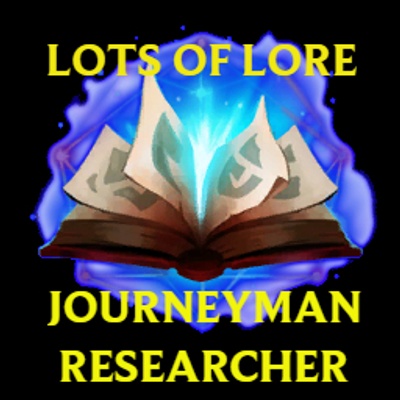 1. Credits at every video episode
2. Become part of our Discord Community
3. Access to our Facebook Community Stream where I'll post updates about our progress, brainstorming, discussions and socializing :)
4. Our Journeyman Researcher Badge
SENIOR Researcher
1. Credits at every video episode.
2. Become part of our Discord Community.
3. Access to our Facebook Community Stream where I'll post updates about our progress, brainstorming, discussions and socializing :)
4. Our Senior Researcher Badge.
5. Access to future badges for each lore video series made.
6. Priority requests given to Lore video creation.
About
Lots of Lore is a channel dedicated to retelling and unraveling stories, organizations and events within our world and alternate worlds. If you have an idea for a future video, let us know in the comments. Lots of Lore does not hold ownership over any of the copyrighted material featured in any of its videos and uses them within the confines of Fair Use.

We are currently focused with League of Legends lore, with future series expanding to other worlds.
$20 goes a long way into helping our channel grow. As we journey to the worlds together, The money raised by your generous efforts go to help purchase filming equipment to be used to increase production quality. Thank You So much for helping.

Equipment List:
BM-800 Condenser Microphone Set. (399PHP or $7.54)
The rest goes into research materials to further improve future content and personal expenditure.


1 of 1
Become a patron to
Connect via private message
Recent posts by Lots of Lore