Luke Steichen
is creating monster masks, sculptures, and busts.
By becoming a patron of Luke Steichen you'll be an active participant in their creative process.
Select a membership level
What kind of clay is that?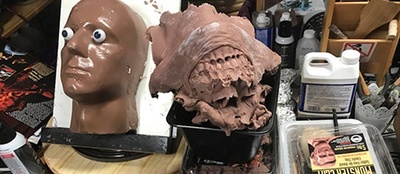 Thank you very much! You get access to all of my posts here on Patreon! These include my any daily progress posts on whatever I am working on, videos, time-lapses, everything. You also get access to my Discord server!
Includes Discord benefits
How did you do that?
Thank you so much for your amazing support! In addition to the posts from the previous tier, you also get access to a special ask me anything channel on my Discord server!
Includes Discord benefits
About
Welcome!
Hello everyone! Welcome to my Patreon! My name is Luke and I love to sculpt and make stuff! I mostly make latex monster masks, character scuptures, and busts, but I also dabble with other creative endeavors like drawing, painting miniatures, and making knives. I'm a huge proponent of bridging digital and traditional art techniques, so expect to see ZBrush and my 3D printer make an appearance too!
Who am I?
Besides being a dad, avid sculptor, and skull aficionado, I'm also a full time game developer! I started out in 2007 as a character artist, but I discovered I have a knack for rigging, tool writing, and other technical art (which just so happens to be a more stable career path). I don't make art at work anymore, so sculpting and making at home are my creative outlets. My art is inspired by my lifelong love of comics, video games, monsters, and practical make-up effects. 
Much of the art I have created for myself over the years has come from a shared world that I have been slowly adding to for years that I'm currently calling Project 47. I have created dozens of stories and characters, and have decades of history blocked out for this world, but only a handful of it exists anywhere outside of my notebooks. I think these stories have a lot of potential to be something great, and I would love to take you along with me as I start really bringing them out into the world. Once I have some of the pieces in my backlog cleared, I plan on tackling some of the key characters that inhabit my world. My ultimate goal is to stop making fan art and primarily focus on producing original works that are wholly of my own design.
If you are interested in any of my previous works and dad jokes, please check out my
Facebook
,
Instagram
,
Twitter
, 
YouTube
, and
ArtStation
! I'm also just getting started streaming my sculpting (traditional and digital), so swing by my 
Twitch
channel if you want to hear awful puns LIVE!
Why Patreon?
I no longer make art professionally, so I find it hard to keep myself motivated to create and finish new pieces. Having Patrons to make some awesome stuff for will go a long way towards keeping me motivated and productive. Eventually I'd like to get to the point where my art finances itself (or maybe even becomes my full time job), but right now I will be relying on Patreon for motivation more than anything else. Once I get things going I want to start producing masks, mini-masks, resin kits, and small pieces for sale, and add physical rewards tiers. I'd also like to record some tutorials and stream more, but those are on the back burner right now.
So, what will your hard earned currency get you? 
I plan to post work in progress pictures of the various projects I undertake, details of materials and tools, workflows, pitfalls that can be avoided, and whatever other useful tidbits I can share. I promise at some point or another I will cover:
1/6 scale and larger figure sculpting
1/6 scale and larger armature building
Monster mask sculpting
Molding, casting, and painting your own latex monster masks
My ZBrush to 3D printing to sculpting workflow that I use for some projects
How to make your own sculpting tools
Random game dev anecdotes (you will get sick of this, I promise)
Woodworking and fabricating (usually things related to sculpting)
Dad jokes (you will get REALLY sick of this)
Upcoming projects and current projects:
1/6 scale werewolf sculpture
Reworking my vampire monster half mask into a full mask
1/3 scale Hellboy bust
1/6 scale Colossus and Wolverine doing the Fastball Special
1/6 scale Samus Aran sculpture
1/6 scale Ms. Marvel (Kamala Khan) sculpture
1/6 scale demon in CX5 wax
1/6 scale original characters
As time goes by, I will continue to update the types of things I post to best support my patrons. I want this to be a place where we can collaborate and share ideas, so please let me know if there are things you want to see.
About Reward Tiers
My Patreon isn't really intended to be a money-making venture at the moment. I'm doing this mostly for the support and motivation that I need to keep pushing myself creatively. I make a good living making video games, however, the materials for the art I make aren't cheap by any standard. Therefore, there are limits to what I can afford to make. As we achieve funding goals together, in addition to being able to try new things and experiment with materials, I will also add additional reward tiers, including ones with physical rewards, that I will tailor to the needs of our little Patreon community.
Right now, there are only two, digital-only reward tiers. 
Patrons at the $1 per month tier get my regular progress posts, write ups, tutorials, materials reviews, and access to my Discord Channel.
Patrons at the $3 per month tier also gets access to the ask-me-anything Discord channel.
Project 47 Launches!
By the time I reach this goal, I'm hoping to have the majority of the fan art pieces that I have been wanting to do completed. At that point I will be ready to focus on bringing my original creations to life!

1 of 7
Become a patron to
Unlock 21 exclusive posts
Connect via private message
Recent posts by Luke Steichen