Joe Slucher and Shona Kinsella
is creating ,Miranya's Oath, an illustrated epic!
Select a membership level
Friend
Thank you for your support!
-Thank you credit on website.
-1 week early access to final art and chapters.
-Access to polls.
-Access to Discord.
-Twitter follow and shout out from Joe and Shona.
Includes Discord benefits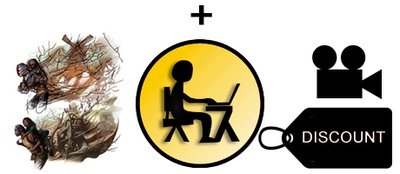 Best Friend
Reward includes everything from the Friend tier.
PLUS
-1 week early access to thumbnail sketches, rough sketches, color studies,etc.
-Early access to draft chapters and deleted scenes from other works.
-Video of Joe reading Shona's writing for the first time. See and hear the very first spark that leads to the creation of the visual art. 
-10% off Joe's prints
-10%off collections of the chapters/artwork we sell.

Includes Discord benefits
Best Friends Forever/Founding Patron
Limited (20 of 20 remaining)
-REWARD INCLUDES EVERYTHING FROM THE $5 SUPER FRIEND TIER and lower as well as a special print limited only to founders on your one year anniversary of supporting the project. We have a plan for this but we want to work with our patrons as the anniversary approaches to ensure it's something you'll enjoy. For instance I would love to print a 12 foot long scroll with the 12 months of art and chapters but that may not be what patrons would like or very practical.
Includes Discord benefits
About Joe Slucher and Shona Kinsella
ABOUT US
Shona Kinsella

Shona is the author of epic fantasy
Ashael Rising
(Unbound, 2017) and dark Scottish fantasy,
Petra McDonald and the Queen of the Fae
(Fox Spirit, 2018). She is also joint editor of the British Fantasy Society's fiction publication BFS Horizons. Shona lives on the bonnie banks of Loch Lomond with her husband and three children. When she's not writing or wrangling children she can usually be found with her nose in a book. She is very excited to be collaborating with Joe on this story and hopes you'll join them for the journey.
Joe Slucher
Joe is best known for his digital paintings of fantasy and surreal subjects. He loves to paint the drama involved in gaming art and enjoys the beautifully melancholy in his personal work. These days most of his art is created digitally using Paintstorm Studio and Adobe Photoshop. He has created artwork for roleplaying games, video games, card games, comics, books, and has art directed for companies. His most well known clients are Wizards of the Coast, and Valve Software. His personal work shows a love for light and texture. Joe has developed an addiction to reading more books than is healthy and is really looking forward to helping to craft and tell this story. He hopes to underscore the emotion and drama of Miranya's Oath with the art and create pieces that aren't just cool but are beautiful.
Together we can tell this fantasy story of epic struggle! Join us as we construct this tale and world through smaller stories of joy, tragedy,betrayal, lust, and greed. Much of this mixed together where no victories are without cost and no loss without hope. The good will do evil and the evil will hope for the good. It's going to be beautiful and we hope you want to be a part of it.
Look at the public posts to begin reading chapters.
WHY PATREON?
This is going to be an epic story and that means it takes a significant amount of time to craft both the art and the writing. Neither of us are independently wealthy so working on this story in our spare time means it would take an extremely long time to be released. We believe that Patreon could help us complete our story much faster.

What You Receive and When
Our Patreon is not meant to be a pay wall but there are some exclusives. Patrons' early access to the process gives them a unique opportunity to comment as things develop and help shape the story. There are also opportunities to receive some unique writing or critique from Shona. If you're a fan of Joe's artwork then you can receive special discounts and opportunities to acquire his originals or limited edition works.
Planned Schedule
7th-10th
- Final art and story posted to Patreon for patrons only. Joe sends discount codes for his store for those Patrons with rewards for print discounts.Follow new Patrons and give shout out. * - we will try to follow and shout out patrons as they join but this is our date for catching up.
Around Middle of the
Month
- Post vid of process with reading audio to Patreon. Sneak peak of draft chapter.
Last Week of Month-Joe reading the new draft chapter. Art process shots begin to be posted. Shona reads through finished chapter near the end of the month.

DISCORD
Joe is usually on Discord between 10am EST and 4pm EST


Community Goals
The most important thing for us is to build a community around Miranya's Oath. We want lots of engaged and enthusiastic readers. As a result, our goals are tied to our number of patrons. We're keen to work on this project and produce as much content as possible and it's a growing audience that will help us do that.
What is Patreon?

Thank You to Our Patrons!
Margaret Williams
Brian Kinsella
Andrew Morris
Michael Prescott
Yukimi Wintel
Lester Ward
Chris Simmons
Jon Nicholas III
Tyler Walpole
Peter Moehrbacher
This is more patrons than we can count on our fingers and toes.Joe will create an additional sketch with each chapter. This sketch will be exclusive to the Patreon and the book.

1 of 5
Recent posts by Joe Slucher and Shona Kinsella
By becoming a patron, you'll instantly unlock access to 55 exclusive posts
By becoming a patron, you'll instantly unlock access to 55 exclusive posts